Session Information
Session Time: 1:45pm-3:15pm
Location: Exhibit Hall C
Objective: To identify and describe experiences that people with PD and their relatives after participation in the self-management intervention NPS (National Parkinson School) find valuable for managing daily life.
Background: A self-management program called NPS was developed as a collaboration of healthcare providers, researchers and patient organizations. NPS is aiming to provide tools and strategies for people with PD and their relatives to increase ability to manage symptoms and consequences of disease and thereby improving conditions for a good life. Self-monitoring and self-management are central concepts. NPS focuses on life with PD, which via 7 sessions consisting of education/lectures and group discussions are mediated. Home assignments make participants practice the new skills in their own life.
Methods: The last session, evaluation of the NPS, was audio recorded in its whole and transcribed verbatim. Data was collected from five separate clinics and analysed both inductively and deductively using Thematic Analysis and by applying the Self-and Family management theory.
Results: Through inductive analysis three themes; Exchanging experiences and feeling support, Adjustment and acceptance of PD for managing daily life and Promoting life satisfaction, were identified and described. The themes are capturing the meaning, value and experience of being a participant of NPS. Deductive analysis indicated that the Self-and Family management theory was useful and valid for this group of patients and generated a modified framework applicable for patients with PD and their families [figure1].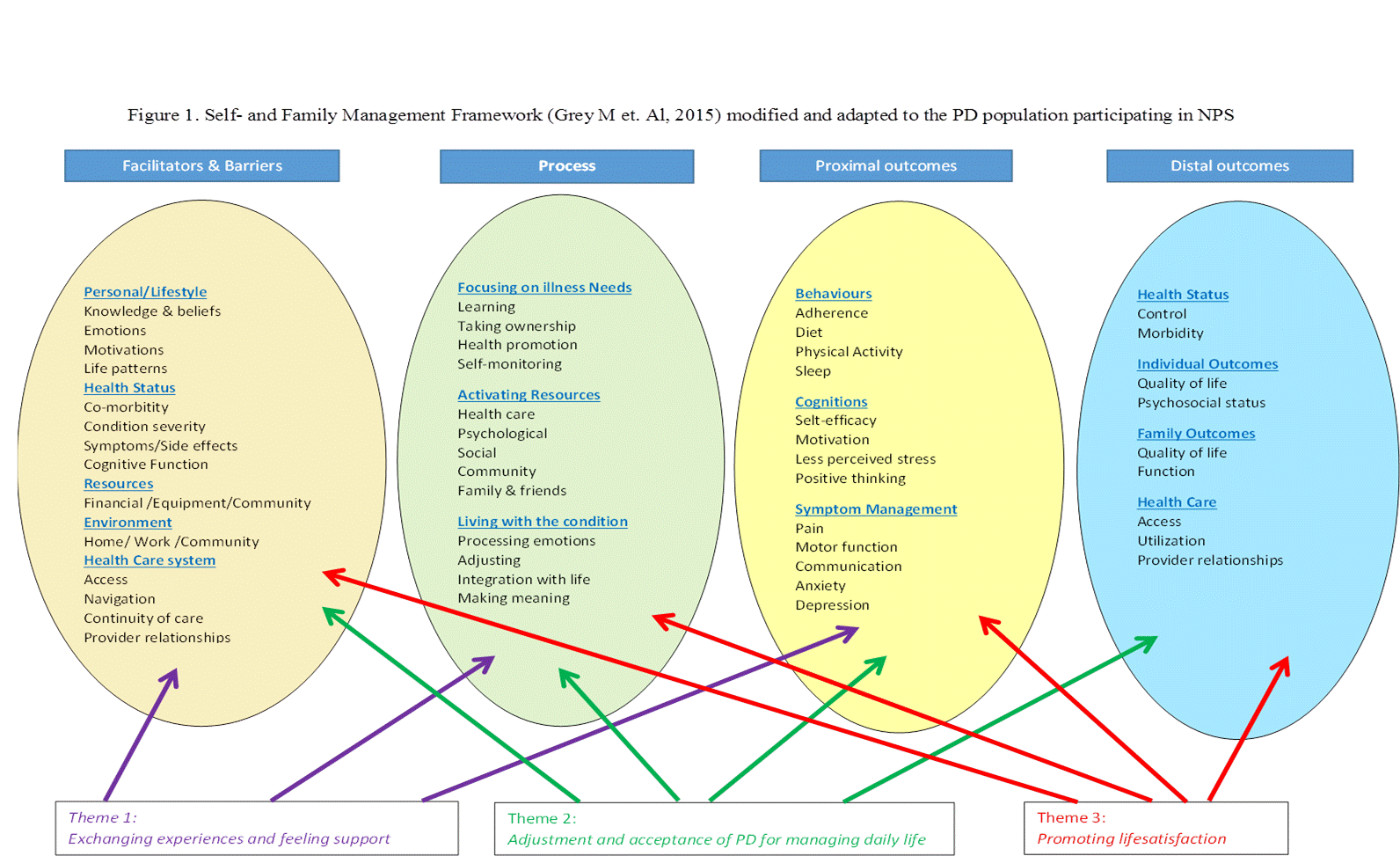 Conclusions: Living with PD affects patients as well as relatives. Meeting others in the same situation gives support and strengthen their self- image. Having the opportunity sharing experiences and practical advices showed that there was a hopeful future to come. Techniques to accept and manage life with PD included seeking information about disease and treatments, self-monitoring in order to adjust to new situations and improve symptoms of disease and having a positive mind-set. Living an active life, participating in enjoyable social, cultural, and physical activities were important to feel happy and satisfied with life. Participation in NPS covered many areas of importance for the ability of self-management in PD. The framework for self-management in chronic disease was found relevant also for the PD population
References: Grey M, Schulman-Green D, Knafl K, Reynolds N. A revised Self-and Family Management Framework. Nursing Outlook. 2015; 63: 162-170.
Nationella Parkinsonkolan (http://www.vfmd.se/nationella-parkinsonskolan/introduktion-33615306)
To cite this abstract in AMA style:
C. Hellqvist, C. Berterö, M. Levander, N. Dizdar, P. Hagell. A national Swedish self-management program for people with Parkinson's disease – patients and relatives view [abstract].
Mov Disord.
2017; 32 (suppl 2). https://www.mdsabstracts.org/abstract/a-national-swedish-self-management-program-for-people-with-parkinsons-disease-patients-and-relatives-view/. Accessed December 6, 2023.
« Back to 2017 International Congress
MDS Abstracts - https://www.mdsabstracts.org/abstract/a-national-swedish-self-management-program-for-people-with-parkinsons-disease-patients-and-relatives-view/