Objective: We present a case of hyperkinetic movement disorder in a 47 year old male with 3 year history of behavioural changes, chorea and dystonia with recent onset orofacial dyskinesia, lingual dystonia with strong family history of movement disorder.
Background: There are five major types of Hyperkinetic movement disorders comprising tremors, chorea, myoclonus, dystonia and tics. They can result from genetic abnormalities and neurodegenerative diseases, structural lesions, infection, drugs and toxins or psychogenic causes.
Method: A 48 year old male presented with involuntary movements of both upper limbs in the form of rapid jerky movements for three years which is insidious onset and progressive along with unsteadiness while walking and recurrent falls for past 2 years. started as behavioural changes in the form of fear, then anger outbursts and suicidal attempts and took antipsychotics. but discontinued for the past 1 year. He also had difficulty in looking to either side,up and down along with stammering of speech for 1 year which is progressive. He had recently developed orofacial and lingual involuntary movements with difficulty in chewing and swallowing food. His sister and son also had similiar complaints.He denied history of diabetes, hypertension, trauma, toxin exposure.
On examination,Cognition was normal. He had orofacial dyskinesia, lingual dystonia, bilateral upper limb chorea with dystonia, lower limb choreiform movements. Ocular movements were restricted with slow saccades. other part of neurological examination was normal.
His routine blood investigations, blood sugar, renal, liver function tests and other metabolic parameters were normal. Serum lipid, thyroid, CPK, were normal. Nerve conduction study was also normal.
His peripheral smear study show > 30% acanthocytes (PIC -1). His MRI brain shows diffuse cerebral atrophy along with bilateral caudate atrophic changes(PIC-2).
Results: Our patient is diagnosed as neuroacanthocytosis as evidenced by clinical features of chorea, dystonia, orofacial dyskinesia, lingual dystonia (feeding dystonia), behavioural changes, suicidal behaviour, with strong family history and peripheral smear showing more than 30% acanthocytes..
Conclusion: To conclude, a strong suspicion of neuroacanthocytosis should be made with the classic clinical features and in all the patients presenting with hyperkinetic movement disorders, a peripheral smear for acanthocytes should be done in order to diagnose this rare disorder.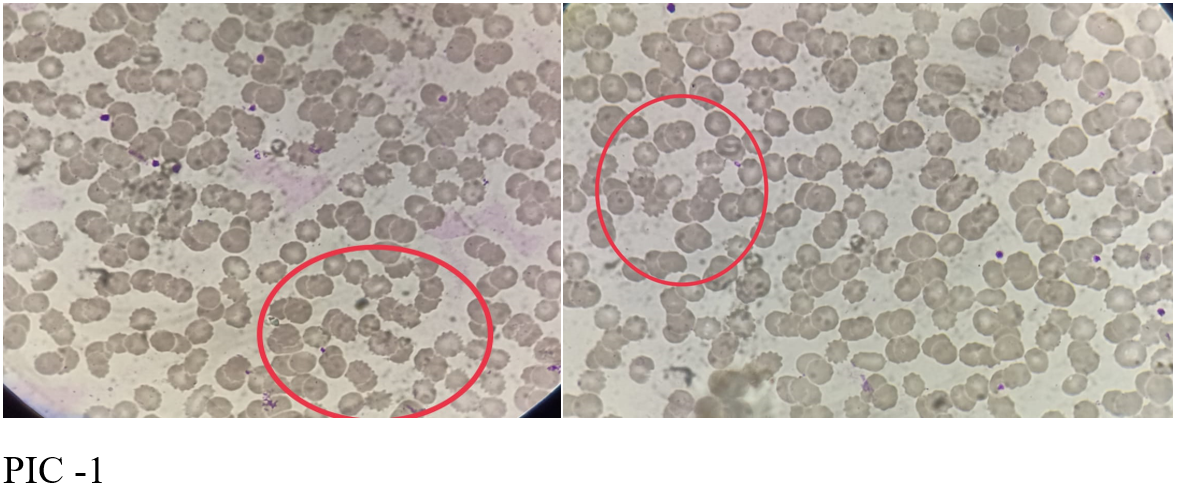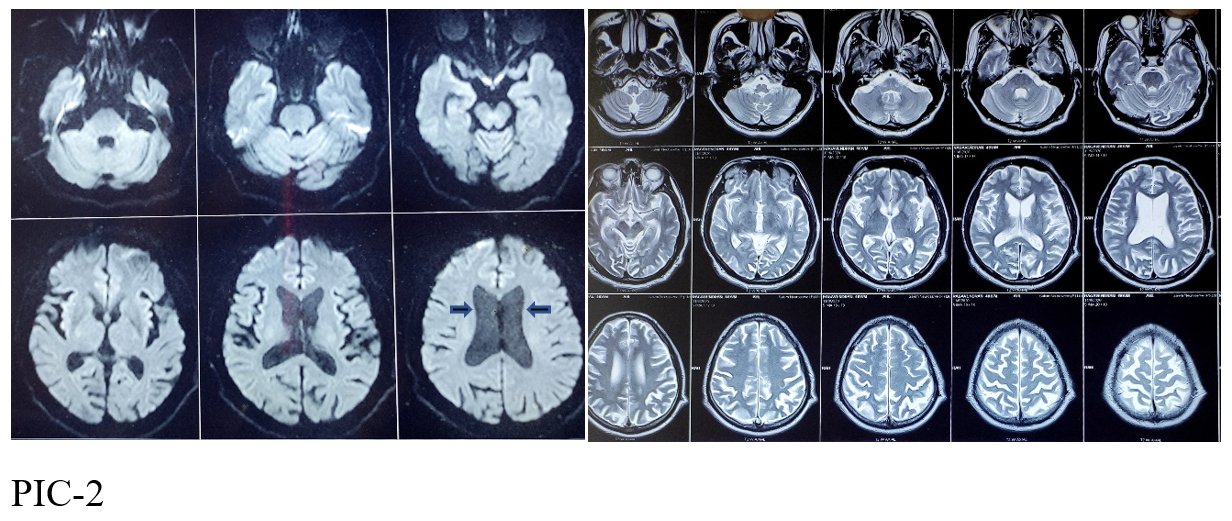 References: Reference:
1. Jung et al. Orphanet Journal of Rare Diseases 2011
2. Characteristic head drops and axial extension in advanced chorea-acanthocytosis. Mov Disord 2010, 25(10):1487-1491. Schneider SA, Lang AE, Moro E, Bader B, Danek A, Bhatia KP:
3. Neurologic phenotypes associated with acanthocytosis. Neurology 2007, 68(2):92-98. Walker RH, Jung HH, Dobson-Stone C, Rampoldi L, Sano A, Tison F,
4. Acanthocytosis and neurological disorder without betalipoproteinemia. ArchNeurol 1968, 18(2):134-140. Danek A: Critchley EM, Clark DB, Wikler A
5. Late appearance of acanthocytes during the course of chorea-acanthocytosis. J NeurolSci 1999, 163(2):175-178. Hardie RJ, Pullon HW, Harding AE, Owen JS, Pires M, Daniels GL, Imai Y, Misra VP, King RH, Jacobs JM Sorrentino G, De Renzo A, Miniello S, Nori O, Bonavita V
6. Testing for acanthocytosis A prospective reader-blinded study in movement disorder patients. J Neurol 2005, 252(1):84-90.Storch A, Kornhass M, Schwarz J
7. Head of the caudate nucleus is most vulnerable in chorea-acanthocytosis: a voxel-based morphometry study. Mov Disord 2006, 21(10):1728-1731. Henkel K, Danek A, Grafman J, Butman J, Kassubek J
8. The neuropathological features of neuroacanthocytosis. Mov Disord 1994, 9(3):297-304. Rinne JO, Daniel SE, Scaravilli F, Pires M, Harding AE, Marsden CD
To cite this abstract in AMA style:
P. A, T. K, S. S, C. P, P. Peter. A rare case of Hyperkinetic Movement disorder [abstract].
Mov Disord.
2022; 37 (suppl 2). https://www.mdsabstracts.org/abstract/a-rare-case-of-hyperkinetic-movement-disorder/. Accessed December 5, 2023.
« Back to 2022 International Congress
MDS Abstracts - https://www.mdsabstracts.org/abstract/a-rare-case-of-hyperkinetic-movement-disorder/