Objective: To investigate differential pattern of brain atrophy between Parkinson's disease (PD) clinical subtypes using longitudinally acquired brain magnetic resonance imaging (MRIs).
Background: Parkinson's disease (PD) varies widely across individuals in terms of clinical manifestations and course of progression. Identification and characterization of distinct subtypes can help parse this heterogeneity, identify the underlying pathophysiology, and predict disease progression across the subgroups of PD.
Method: We used the T1 weighted MRIs from Parkinson's Progression Markers Initiative (PPMI) [1], including data from 142 PD individuals with at least two MRIs (age at baseline: 60.3±9.6 years, average follow up: 2.2±1.2 years, 34% female). Patients were classified into three clinical subtypes at baseline de novo stage using our previously validated multidomain subtyping criteria based on major motor and non-motor classifiers (early cognitive impairment, REM sleep behavior disorder (RBD), dysautonomia) [2]: mild-motor predominant (n=77), intermediate (n=47), and diffuse-malignant (n=18). Deformation-based morphometry (DBM) maps were calculated based on nonlinear transformation of the T1 weighted images [3]. Brain atrophy was measured in 282 cortical and subcortical regions over time. We used mixed effect models to examine the interaction between PD subtypes and the rate of atrophy across brain regions over time, controlling for sex and age at baseline.
Results: Individuals with 'diffuse malignant' PD showed a significantly higher rate of atrophy in comparison to 'mild motor-predominant' subtype across multiple brain regions [Figure 1], including substantia nigra, lateral nucleus of the forebrain, anterior nucleus of the thalamus, temporal gyrus, vermis, deep nuclei, lateral hemisphere of the cerebellum, insular gyrus, midbrain tegmentum, cingulate gyrus and basilar portion of the pons (FDR corrected p<0.05, [Table1]).
Conclusion: We demonstrated an accelerated atrophy pattern within several brain regions in 'diffuse malignant' PD subtype compared to the 'mild motor-predominant' group, distinguishable even after a short follow-up period (2.2. years). These findings suggest the presence of a more diffuse multidomain neurodegenerative process in a subgroup of people with PD, favoring the existence of distinct PD subtypes with a diverse underlying pathophysiology.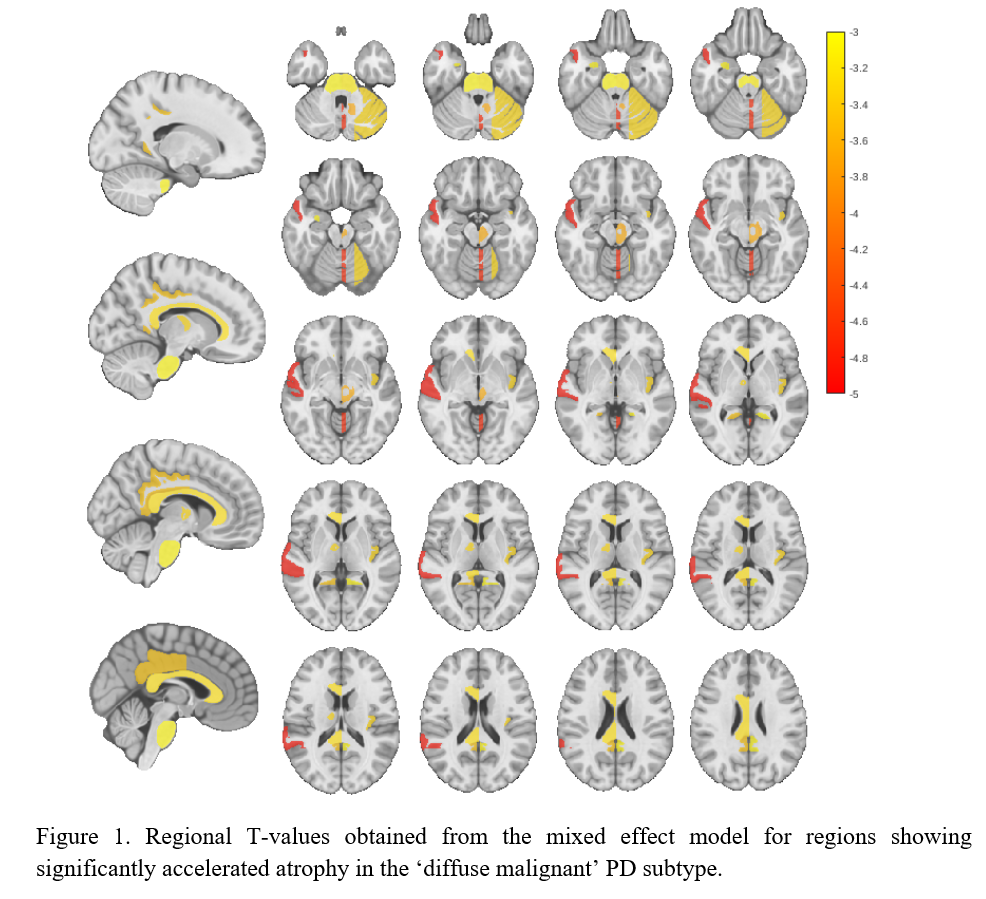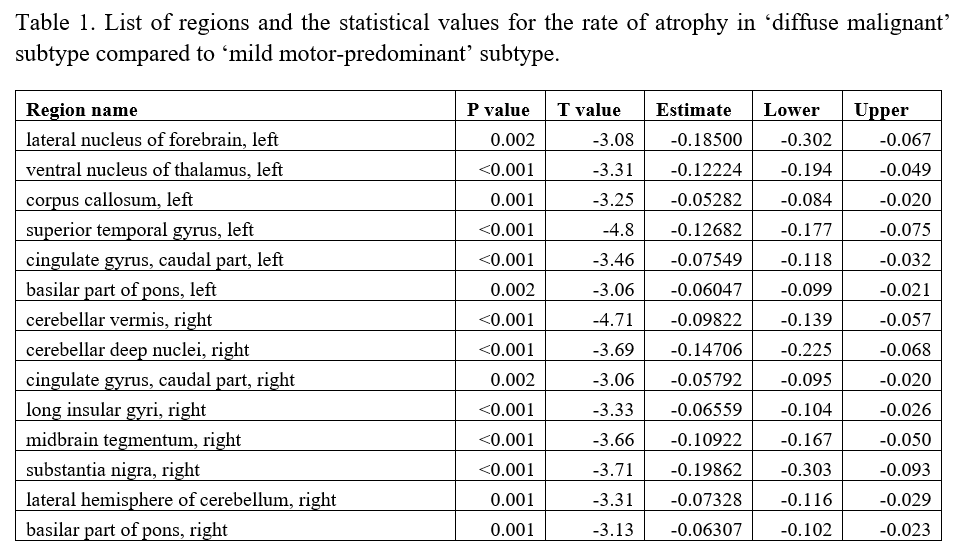 References: 1. Marek K., Jennings D., Lasch S., Siderowf A., Tanner C., Simuni T. The Parkinson progression marker initiative (PPMI). Prog Neurobiol 2011; 95: 629–635.
2. Fereshtehnejad SM, Zeighami Y, Dagher A, Postuma RB. Clinical criteria for subtyping Parkinson's disease: biomarkers and longitudinal progression. Brain 2017; 140(7): 1959-1976.
3. Zeighami Y, Fereshtehnejad SM, Dadar M, Collins DL, Postuma RB, Dagher A. Assessment of a prognostic MRI biomarker in early de novo Parkinson's disease. Neuroimage Clin 2019; 24: 101986.
To cite this abstract in AMA style:
SM. Fereshtehnejad, R. Moqadam, R. Postuma, M. Dadar, Y. Zeighami. Accelerated longitudinal brain atrophy in the 'diffuse malignant' Parkinson's disease subtype [abstract].
Mov Disord.
2023; 38 (suppl 1). https://www.mdsabstracts.org/abstract/accelerated-longitudinal-brain-atrophy-in-the-diffuse-malignant-parkinsons-disease-subtype/. Accessed September 23, 2023.
« Back to 2023 International Congress
MDS Abstracts - https://www.mdsabstracts.org/abstract/accelerated-longitudinal-brain-atrophy-in-the-diffuse-malignant-parkinsons-disease-subtype/