Objective: We aimed to identify differences in multi-parametric diffusion indices (DTI, NODDI, and DKI) between Parkinson's disease patients with visual disturbances and those without.
Background: Non-motor symptoms such as visual dysfunction are an important but not well-understood aspect of the neurodegenerative process of Parkinson's disease. Little research has been done on non-motor symptoms such as vision and their impact on diffusion-based quantitative indices including DTI, NODDI, and DKI.
Method: We performed a retrospective study on 43 PD patients. Of these patients, 25 had no visual disturbances (NVD), 9 had visual disturbances and visual hallucinations (VD + VH), and 9 had visual disturbances only (VD). Patients underwent 3T Siemens Prisma MR scanner using multi-shell diffusion imaging. Analyses involved include fractional anisotropy (FA), mean diffusivity (MD), orientation dispersion index (ODI), neurite density index (NDI), axial kurtosis (AK), mean kurtosis (MK), and radial kurtosis (RK). There were 37 regions of interest (ROIs) extracted from a probabilistic functional atlas of human occipito-temporal visual cortex and were registered to the patient's diffusion space [figure1]. Mean intensity values of all 7 indices were computed from each ROI and used for statistical analysis. Pairwise comparison was used between VD+VH, VD, and NVD using linear regression model controlled for age, gender, and severity of disease (UPDR III). FDR correction was used for multiple comparisons post-hoc with a significance level of 0.05.
Results: VD and NVD groups showed significant differences in FA, MD, and ODI. This data was further subdivided by visual functionality: faces, motion and others, bodies, characters and places, and retinotopic. Fractional anisotropy was specifically impacted in ROIs including retinotopic areas V2d, V3d, v1v, and v2v, with a specific impact on a majority of the areas involving faces, motion and others, bodies, and characters and places [figures2-6].
Conclusion: This study shows that multi-parametric diffusion MRI analysis has the potential to aid in understanding the subcortical differences between PD patients with visual disturbances to those without. This has the potential to highlight micro changes that impact the visual network prior to their manifestation in PD patients.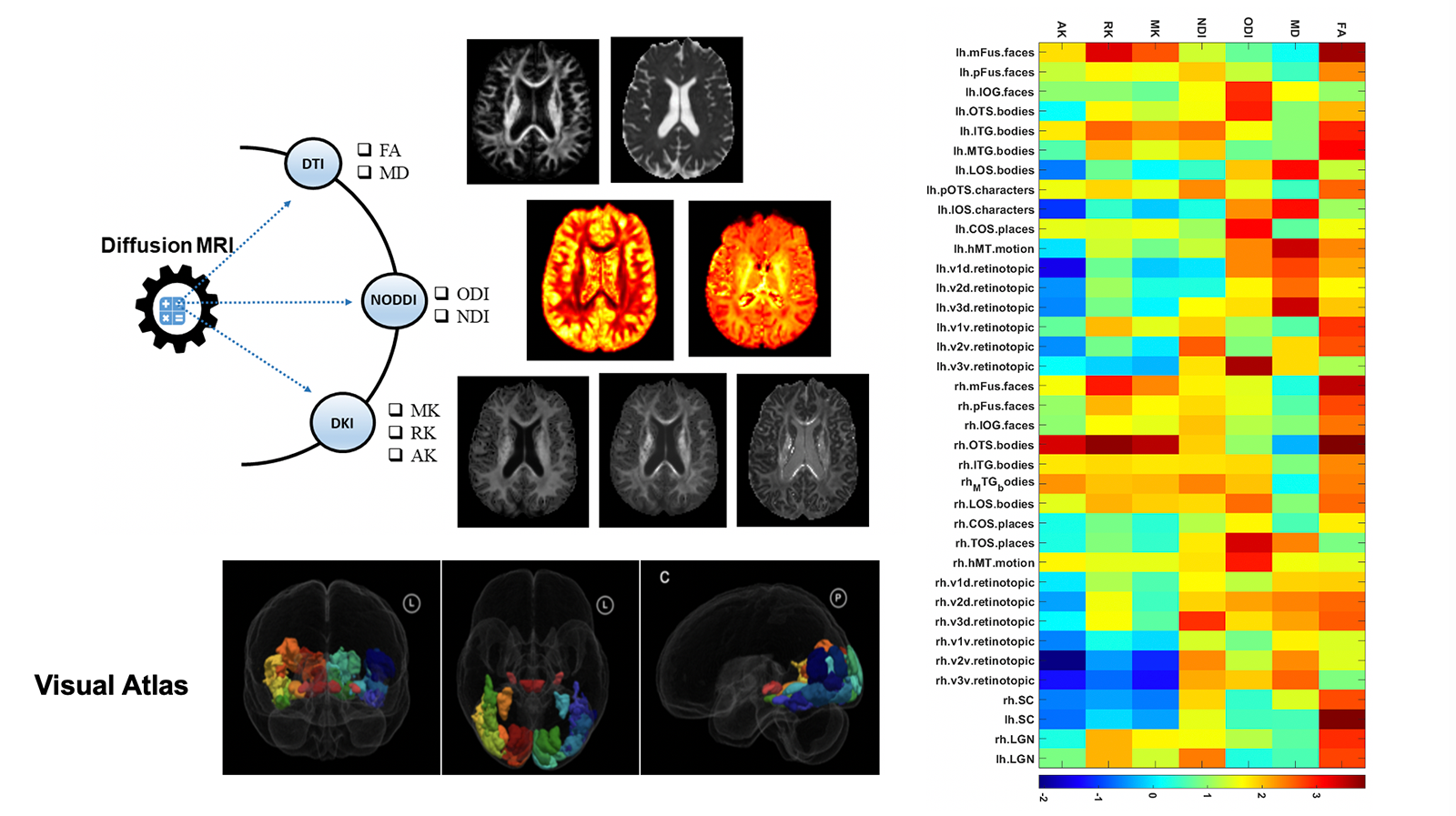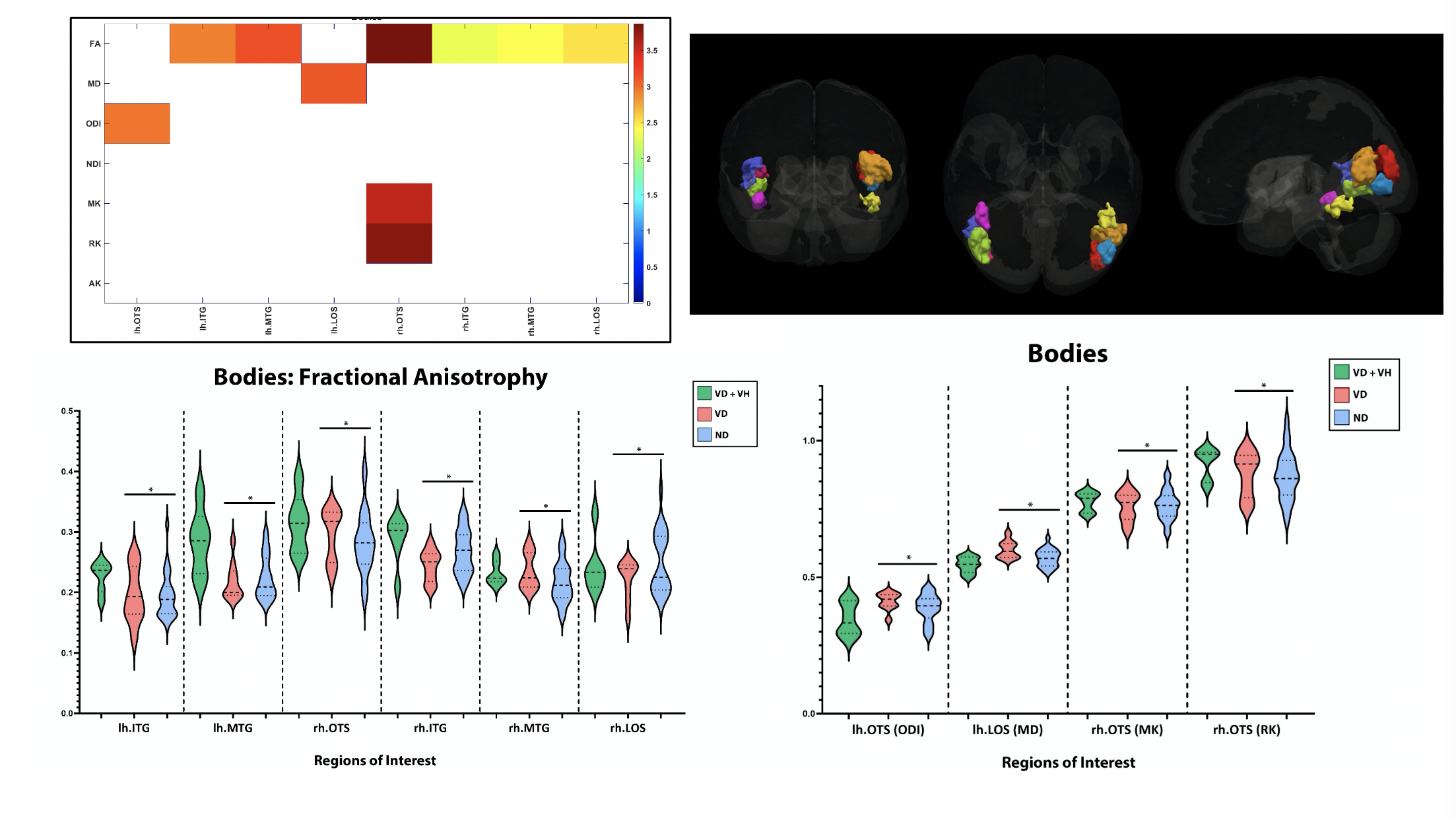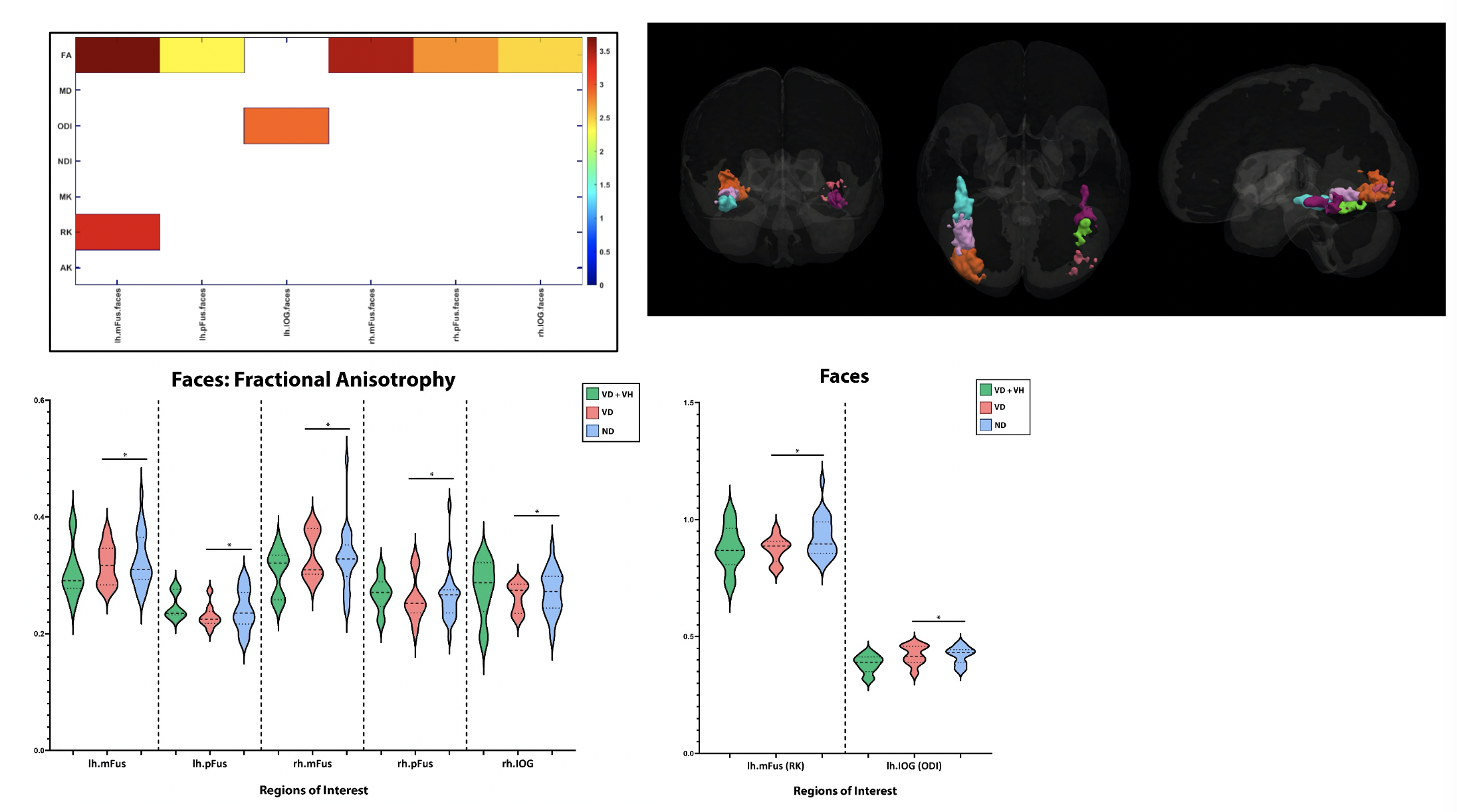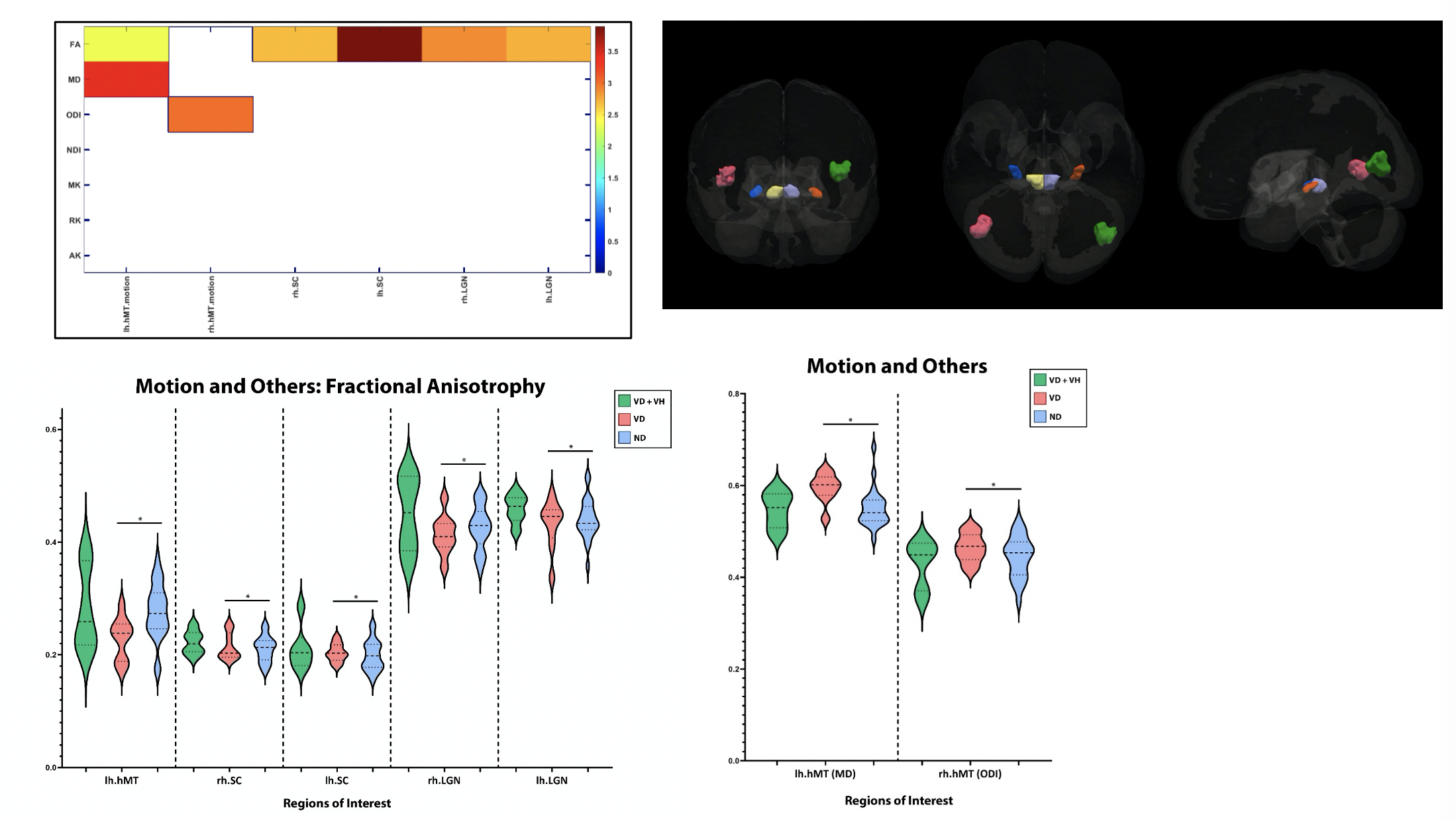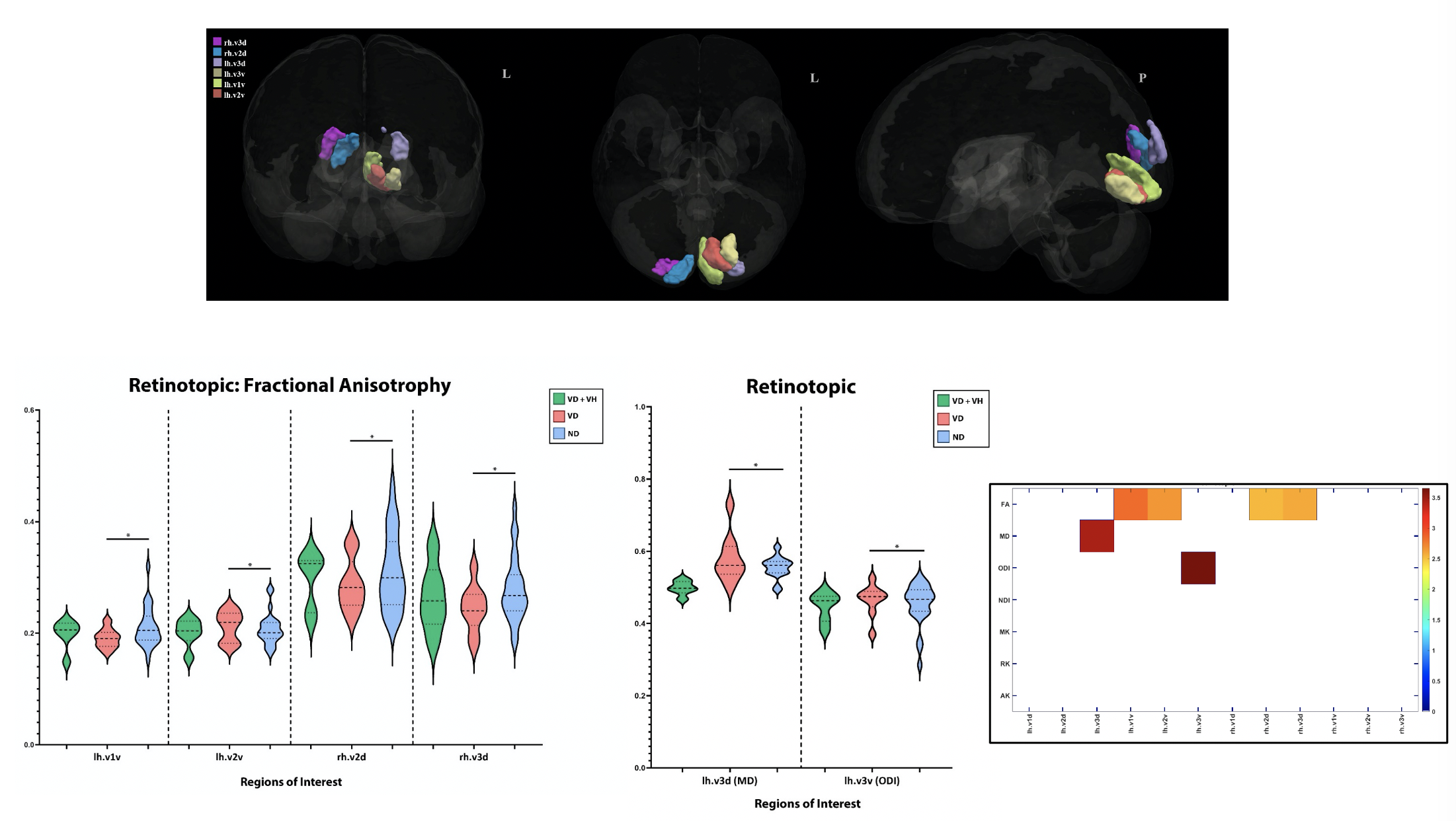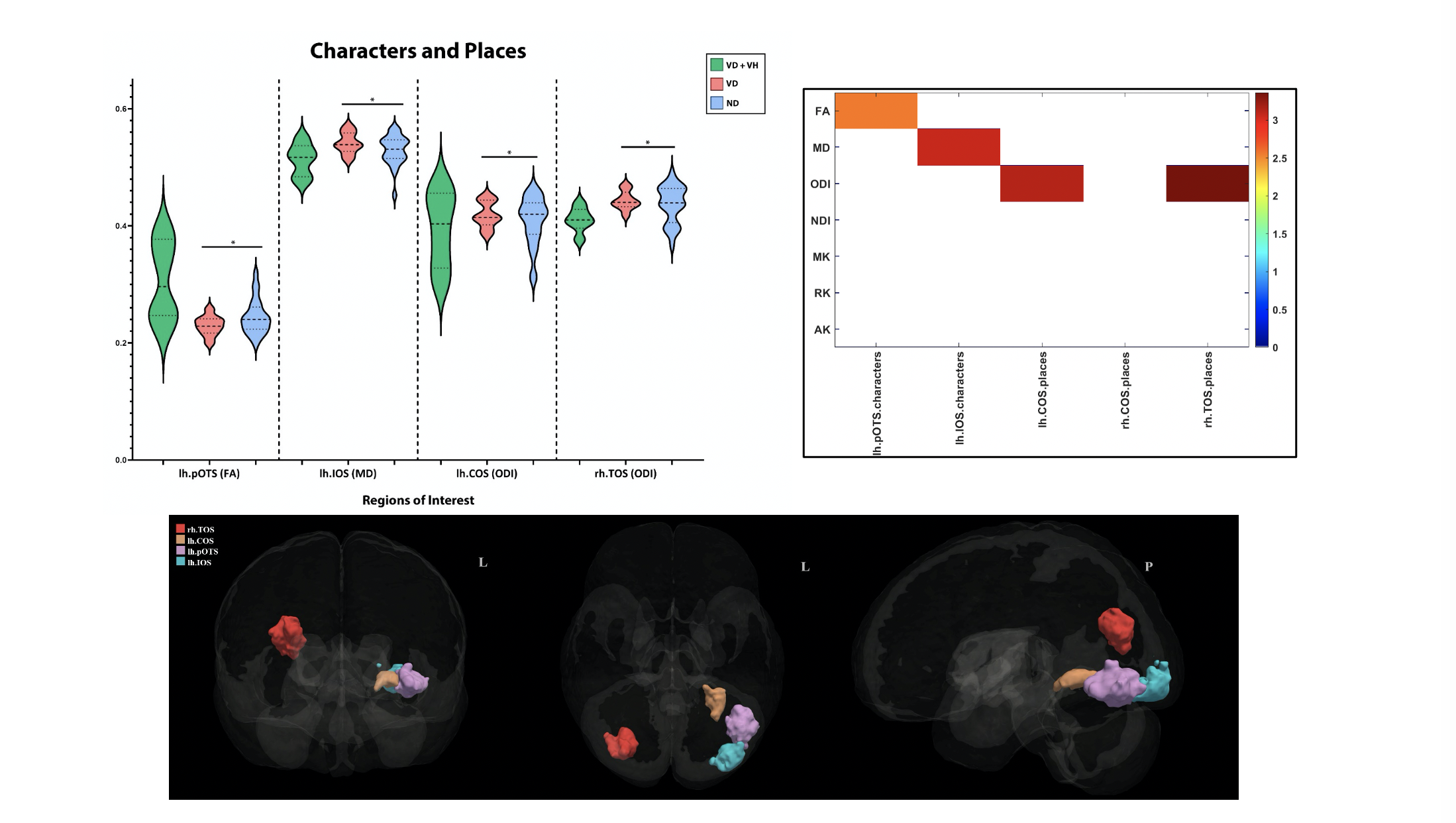 To cite this abstract in AMA style:
K. Shivok, I. Ailes, M. Syed, I. Shelley, A. Alhussein, I. Fayed, T-W. Liang, C. Wu, A. Sharan, F. Mohamed, R. Sergott, L. Krisa, M. Alizadeh. Application of multi-parametric diffusion MRI in detecting visual disturbances in advanced Parkinson's disease population [abstract].
Mov Disord.
2023; 38 (suppl 1). https://www.mdsabstracts.org/abstract/application-of-multi-parametric-diffusion-mri-in-detecting-visual-disturbances-in-advanced-parkinsons-disease-population/. Accessed September 21, 2023.
« Back to 2023 International Congress
MDS Abstracts - https://www.mdsabstracts.org/abstract/application-of-multi-parametric-diffusion-mri-in-detecting-visual-disturbances-in-advanced-parkinsons-disease-population/