Objective: To assess bilateral arm swing (AS) and other gait parameters in patients with PD and healthy subjects (HS) at various gait speeds and to determine the best gait tempo for exercising AS.
Background: Reduction of AS is an early and common symptom in PD [1,2] that is associated with an increased risk of falls [3] and has been identified as a potential target of exercise [4]. Increasing AS has been shown to improve the gait pattern, but the optimal gait tempo for exercising AS is not yet clear.
Method: 36 patients with PD and 32 age-matched HS [table 1] were assessed with a sensor-based gait measurement system over a 40 m walk in a spacious hallway. Subjects were verbally instructed to walk at very slow, slow, preferred, fast and very fast speed in a mixed order (1. preferred, 2. slow, 3. fast, 4. preferred, 5. very slow, 6. very fast). Lower extremity and AS kinematics as well as the AS asymmetry index were compared with ANOVA function and post hoc tests.
Results: Despite the absence of significant differences in cadence, stride and gait speed [figure1] PD subjects exhibited a clear one-sided reduction in AS throughout [figure2]. The AS in patients with PD improved with increased gait speed leading to reduced AS asymmetry in comparison to the preferred walking condition (p = .002).
Conclusion: Reduced one-sided reduction of AS is confirmed to be prominent in mildly to moderately impaired patients with PD at various gait speeds ranging from very slow to very fast. Enforcement of higher gait speed appears to be a promising strategy for training AS and gait pattern in PD.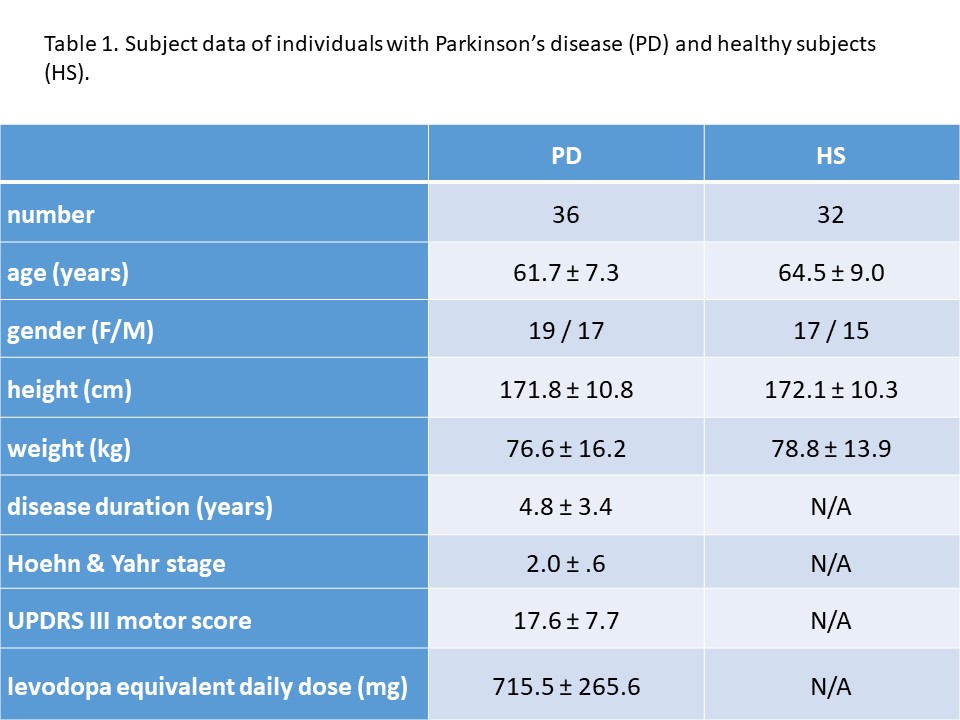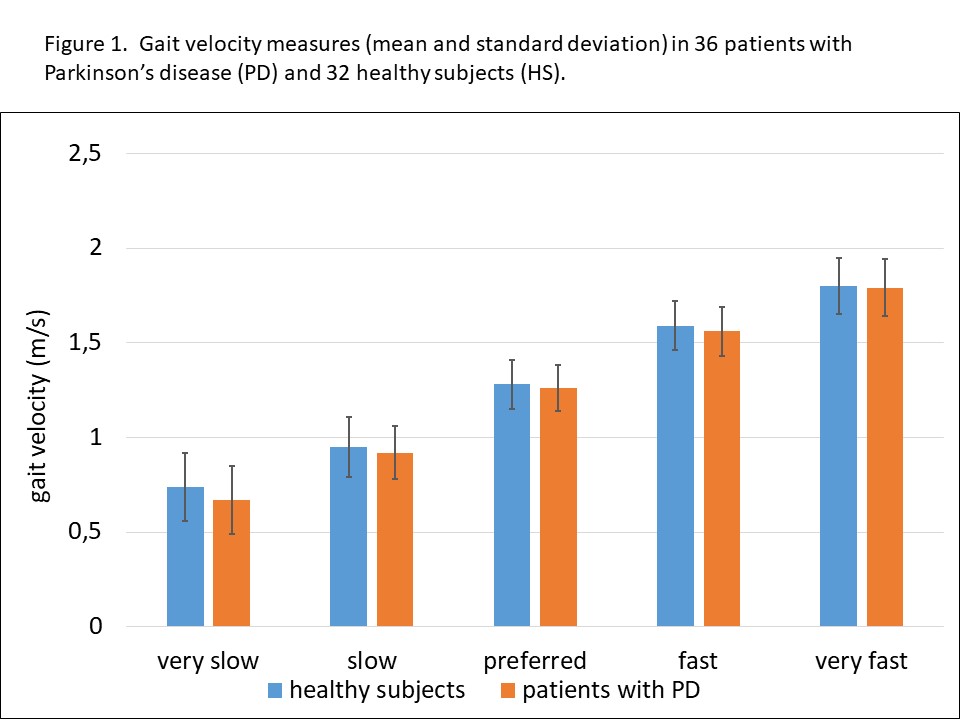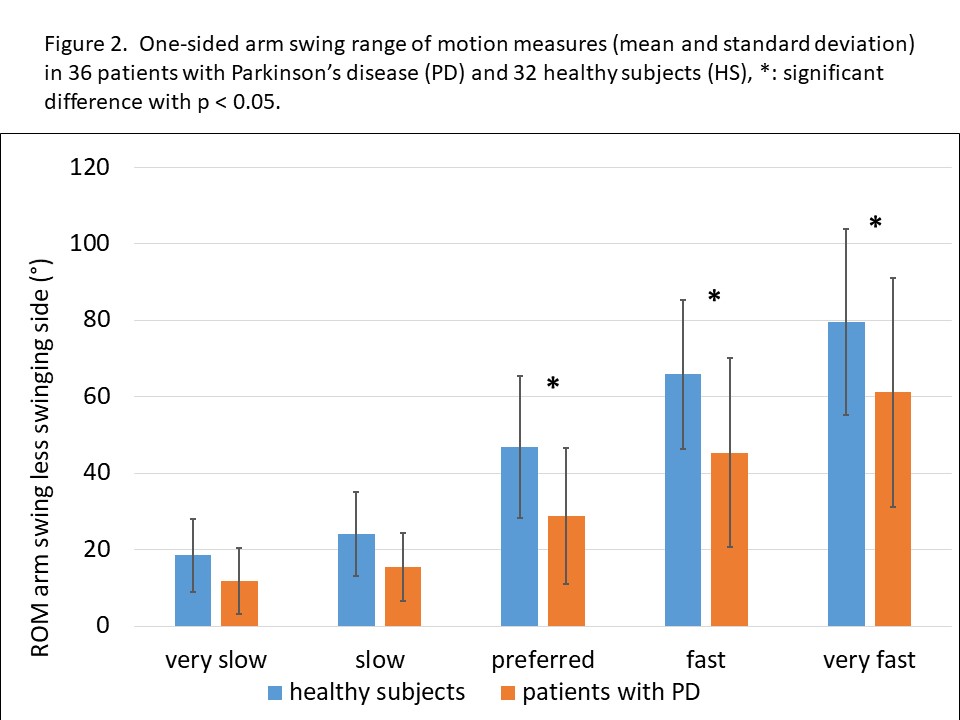 References: 1. Mirelman A, Bernad-Elazari H, Thaler A, et al. Arm swing as a potential new prodromal marker of Parkinson's disease. Mov Disord 2016; 31(10): 1527-1534.
2. Ospina BM, Chaparro JAV, Paredes JDA, Pino YJC, Navarro A, Orozco JL. Objective arm swing analysis in early-stage Parkinson's disease using an RGB-D Camera (Kinect ®). J Parkinsons Dis 2018; 8(4): 563-570.
3. Wood BH, Bilclough JA, Bowron A. Incidence and prediction of falls in Parkinson's disease: a prospective multidisciplinary study. J Neurol Neurosurg Psychiatry 2002; 72: 721-725.
4. Mainka, S, Schroll, A, Warmerdam, E, Gandor, F, Maetzler, W, Ebersbach, G. The power of musification: sensor-based music feedback improves arm swing in Parkinson's disease. Mov Dis Clin Prac 2021; 8(8): 1240-1247.
To cite this abstract in AMA style:
S. Mainka, G. Ebersbach. Arm swing deviations in patients with PD at different gait velocities [abstract].
Mov Disord.
2023; 38 (suppl 1). https://www.mdsabstracts.org/abstract/arm-swing-deviations-in-patients-with-pd-at-different-gait-velocities/. Accessed September 23, 2023.
« Back to 2023 International Congress
MDS Abstracts - https://www.mdsabstracts.org/abstract/arm-swing-deviations-in-patients-with-pd-at-different-gait-velocities/