Objective: To evaluate associations between objective and subjective cognitive function over time in Parkinson's disease (PD) using data from a clinical trial that enrolled patients with early PD not requiring dopaminergic medications.
Background: Tools for counseling PD patients on the potential for cognitive decline are often based on patterns of objective cognitive performance, but cognition is more frequently tested in clinic after cognitive complaints arise. Deficits in some cognitive domains may drive patient complaints more than others. Because there may be different mechanisms underlying multiple cognitive syndromes in PD, understanding the relationship between subjective and cognitive impairment may help to identify mechanisms that can be targeted to have the most impact on patient quality of life.
Method: Baseline, 1, 2, and 3 year Neuro-Quality of Life (Neuro-QoL) Cognition: General Concerns (GC) and Cognition: Executive Function (EF) (subjective measures) from the STEAD-PD III study were used. Baseline Montreal Cognitive Assessment (MoCA) was divided into 4 domains: visuospatial/executive, memory, attention, and language (objective measures). Spearman rank correlations and ANCOVA models adjusted for other clinical variables evaluated associations between baseline MoCA domains and both a) baseline Neuro-QoL and b) Neuro-QoL change over three years. Cox proportional hazards predicted development of PD-MCI based on baseline and time-varying Neuro-QoL reporting.
Results: Adjusting for study site, age, gender, antidepressant use, anticholinergic use, depression, and motor severity, higher MoCA memory performance was associated with better Neuro-QoL-GC (β=0.75, SE=0.391, p=0.05) and Neuro-QoL-EF (β=0.81, SE=0.36, p=0.02) at baseline. [Table 1] There was a trend for baseline MoCA memory to predict the degree of subjective cognitive decline on the Neuro-QoL-EF (β=0.70, SE=0.42, p=0.09). [Table 2] Baseline depression score and anticholinergic use were associated with worsening of the Neuro-QoL-EF and Neuro-QoL-GC. Increasing subjective cognitive complaints in the Neuro-QoL-EF domain were associated with development of PD-MCI over 3 years of follow-up (HR=0.95, CI=0.90-1.0, p=0.039).
Conclusion: Objective memory impairment may be a stronger predictor of subjective cognitive complaints than executive, attention, or visuospatial dysfunction in early PD.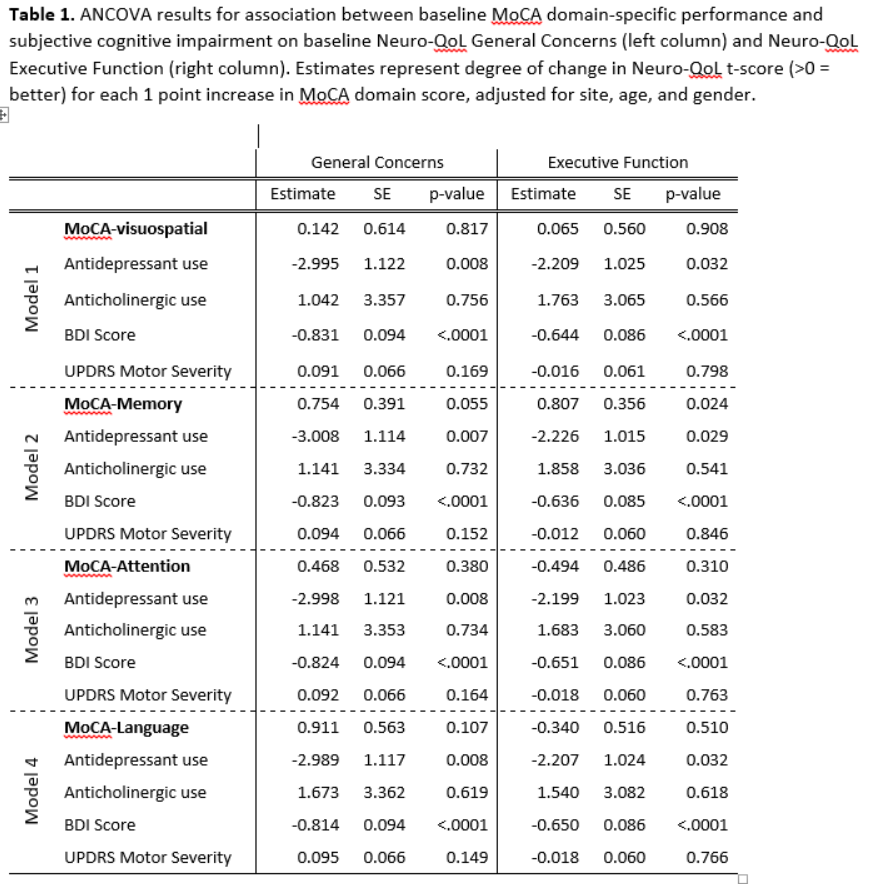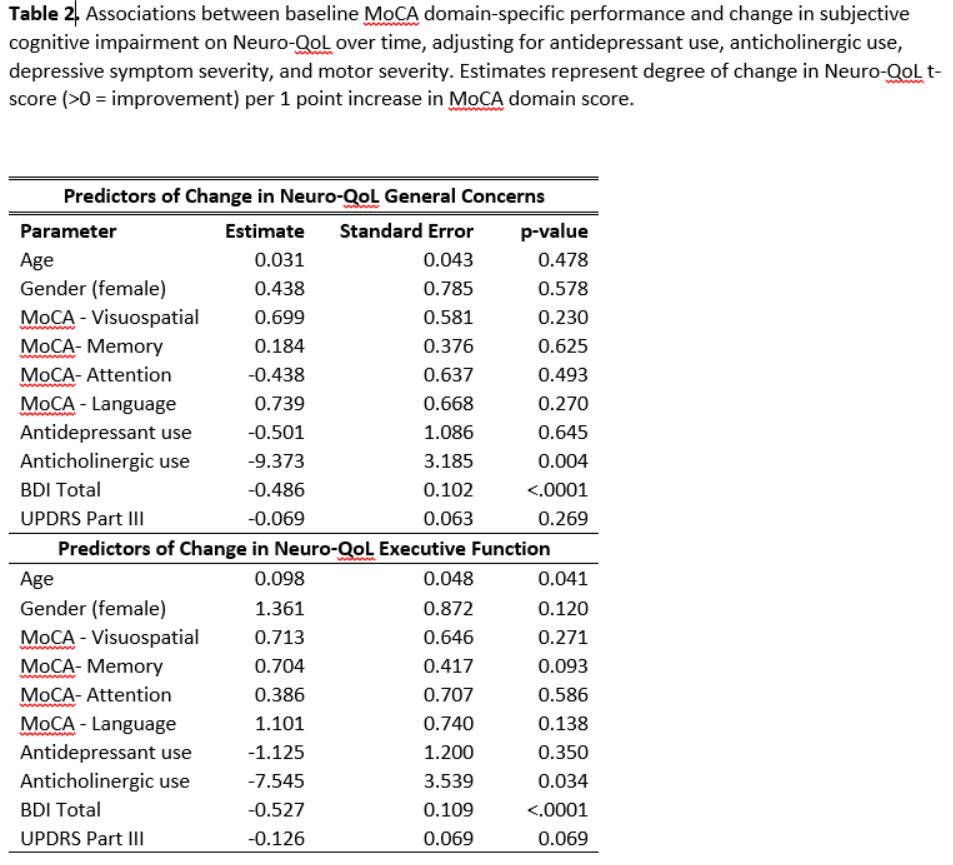 To cite this abstract in AMA style:
K. Mills, R. Schneider, D. Oaks, M. Saint-Hilaire, R. Hauser, A. Lange, K. Blindauer, M. Halverson, G. Ross, I. Litvan, S. Eberly, T. Simuni, C. Marras. Associations between subjective and objective cognitive decline in Parkinson's disease [abstract].
Mov Disord.
2020; 35 (suppl 1). https://www.mdsabstracts.org/abstract/associations-between-subjective-and-objective-cognitive-decline-in-parkinsons-disease/. Accessed December 1, 2023.
« Back to MDS Virtual Congress 2020
MDS Abstracts - https://www.mdsabstracts.org/abstract/associations-between-subjective-and-objective-cognitive-decline-in-parkinsons-disease/