Session Information
Session Time: 12:30pm-2:00pm
Location: Exhibit Hall located in Hall B, Level 2
Objective: To look for additional "atypical" features in a cohort of patients with a referring diagnosis of a certain atypical parkinsonism using the current diagnostic research criteria for each condition and analyse diagnostic certainty.
Background: Atypical Parkinsonian (AP) conditions such as Multiple System Atrophy (MSA), Progressive Supranuclear Palsy (PSP), Corticobasal Syndrome (CBS) and Dementia with Lewy Bodies (DLB) comprise 10-15% of Parkinsonian syndromes. Due to a lack of biomarkers, misdiagnosis is common. Moreover patients may present with "atypical" features for these classic definitions − hence labelled "atypical" atypical.
Methods: Consecutive patients, who were referred with a diagnosis of a particular AP between January 2013 and April 2015 by a neurologist or where a movement disorder specialist at NHNN Queen Square considered this diagnosis, were recruited and the medical records were reviewed retrospectively. We applied each set of current diagnostic research criteria to the cohort to see whether the patient fit the criteria and to further analyse if there were atypical features "outside" the definition and assigned them to the following groups accordingly.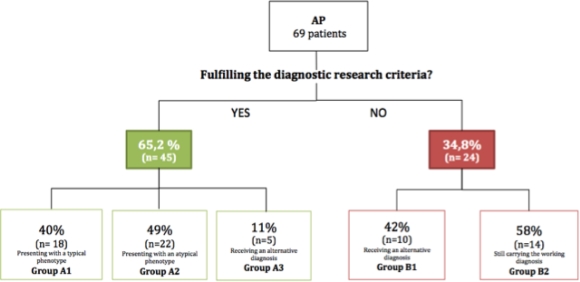 Results: Sixty-nine patients were recruited (14 MSA, 24 PSP, 19 CBS and 12 DLB). 65% of those fitted the criteria. 49% of the latter showed additional "atypical" features and 11% of the same group finally received an alternative diagnosis (half of it based on a genetic diagnosis).
Table 1 : Alternative diagnosis made in group A3 and B1.

| | | | |
| --- | --- | --- | --- |
| Group A3 | | Group B1 | |
| initial diagnosis | final diagnosis | initial diagnosis | final diagnosis |
| DLB (n=1) | MAPT | PSP (n=7) | POLG, Progranulin, Dynactin, Fahr disease (…) |
| MSA (n= 1) | Fragile X premutation | MSA (n=2) | ILOCA, Progressive ataxia and palatal tremor syndrome |
| CBS (n=3) | Posterior cortical atrophy | CBS (n=1) | Posterior cortical atrophy |
"
Conclusions: We conclude that a number of patients carrying a working diagnosis of AP might in fact have a different underlying condition. Genetic conditions can furthermore mimic the clinical phenotype of a AP-therefore being called phenocopies. Among the patients for whom the working diagnosis of a specific AP would be appropriate, a proportion have additional "atypical" features, which would either question their diagnosis or, conversely, would expand the classic phenotype associated with each AP template. Some patients having a phenotype reminiscent of a specific AP, do not fulfil the diagnostic criteria, but might still actually have the condition, highlighting the poor diagnostic accuracy of the criteria.
To cite this abstract in AMA style:
S.T. Hirschbichler, R. Erro, M. Stamelou, C. Ganos, B. Balint, K.P. Bhatia. "Atypical" atypical parkinsonism [abstract].
Mov Disord.
2016; 31 (suppl 2). https://www.mdsabstracts.org/abstract/atypical-atypical-parkinsonism/. Accessed September 25, 2023.
« Back to 2016 International Congress
MDS Abstracts - https://www.mdsabstracts.org/abstract/atypical-atypical-parkinsonism/