Objective: To characterize brain fluorodeoxyglucose (FDG) PET-MRI findings in patients with corticobasal syndrome (CBS) and evaluate its utility in early diagnosis of Corticobasal Degeneration (CBD)
Background: CBS is a relentless neurodegenerative disorder characterized by cognitive impairment and progressive motor symptoms caused by CBD or other pathological presentations. Early diagnosis of CBS is crucial for prognostication but can be difficult due to its clinical heterogeneity and overlapping features with other tauopathies. Apart from autopsy, there is currently a scarcity of measures to objectively diagnose CBS. Recently, integrated FDG PET-MRI has been used to obtain structural and metabolic data simultaneously from patients with movement disorders[1]. We explored the advantages of FDG PET-MRI in early diagnosis of CBD.
Method: Retrospective, single-center observational study conducted at our Center included subjects diagnosed with CBS that had FDG PET-MRI. Clinical data was collected from medical records. Clinical, video, and imaging findings were analyzed. Utility of PET/MRI in early diagnosis of CBD was evaluated.
Results: Our cohort consists of 10 subjects (9 female) with mean age of 71.9 years and mean disease duration 4.2 years [table 1]. All patients met criteria for possible CBS and 5 for probable CBS per expert consensus[2]. Cortical sensory loss was the most common clinical finding, followed by unilateral dystonia and rigidity [table 2]. The most common FDG/PET findings were decreased uptake in the thalamus, putamen, red nucleus, frontal lobe, perirolandic region contralateral to symptoms, and in the cerebellum ipsilateral to symptoms [table 3]. The most common MRI findings were atrophy in the bilateral parietal lobe and perirolandic region contralateral to abnormal exam findings [table 3]. PET-MRI was instrumental in establishing an early diagnosis of CBS in 3 cases and significant for confirming 7 cases of suspected CBS.
Conclusion: Our findings are concordant with the literature including asymmetric FDG hypometabolism and volume loss in the frontoparietal cortices, and FDG hypometabolism in subcortical structures ipsilateral to the affected cortices[3,4]. PET-MRI was instrumental in supporting the clinical diagnosis of CBS, especially in early stage of disease. Future data will incorporate a systematic approach for PET-MRI analysis in addition to the documented reports.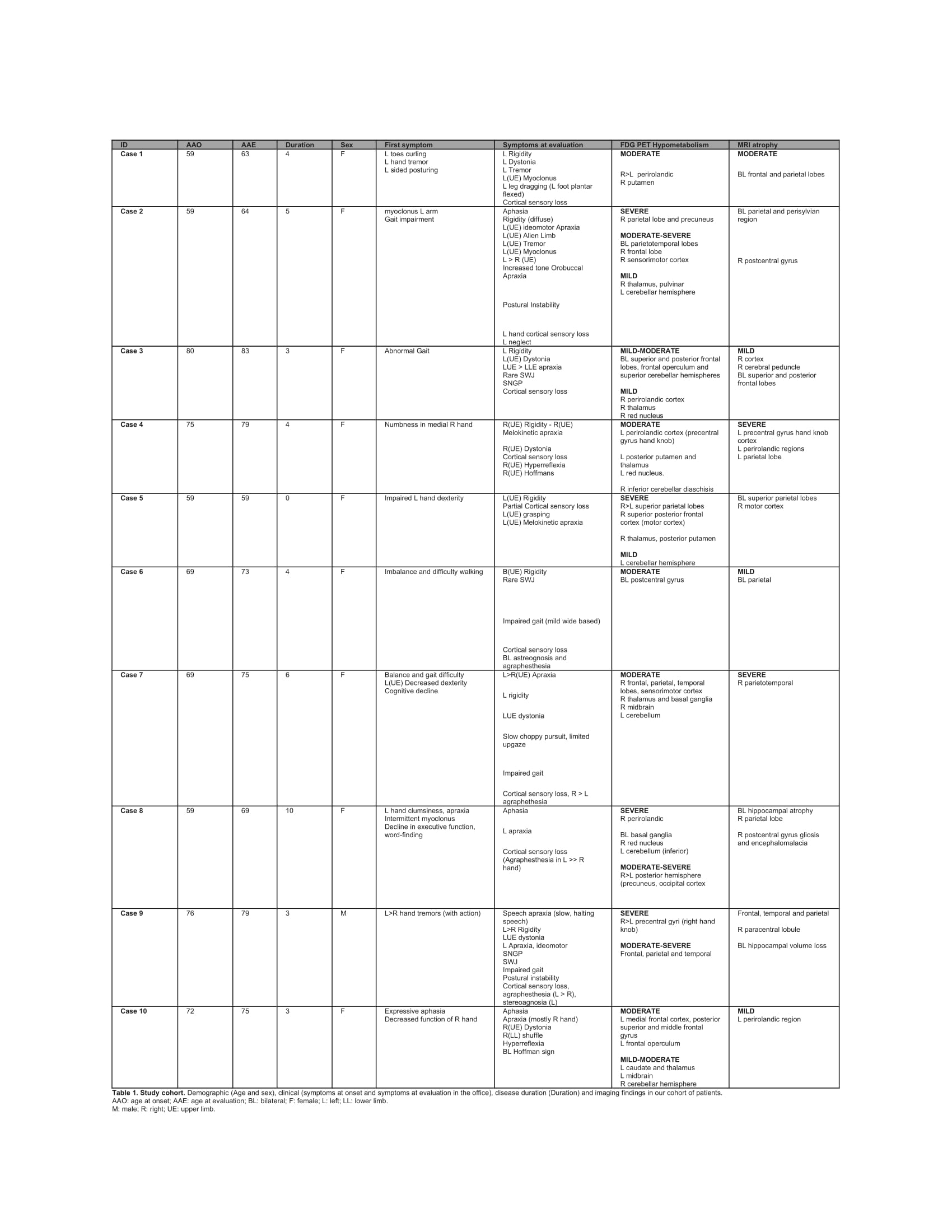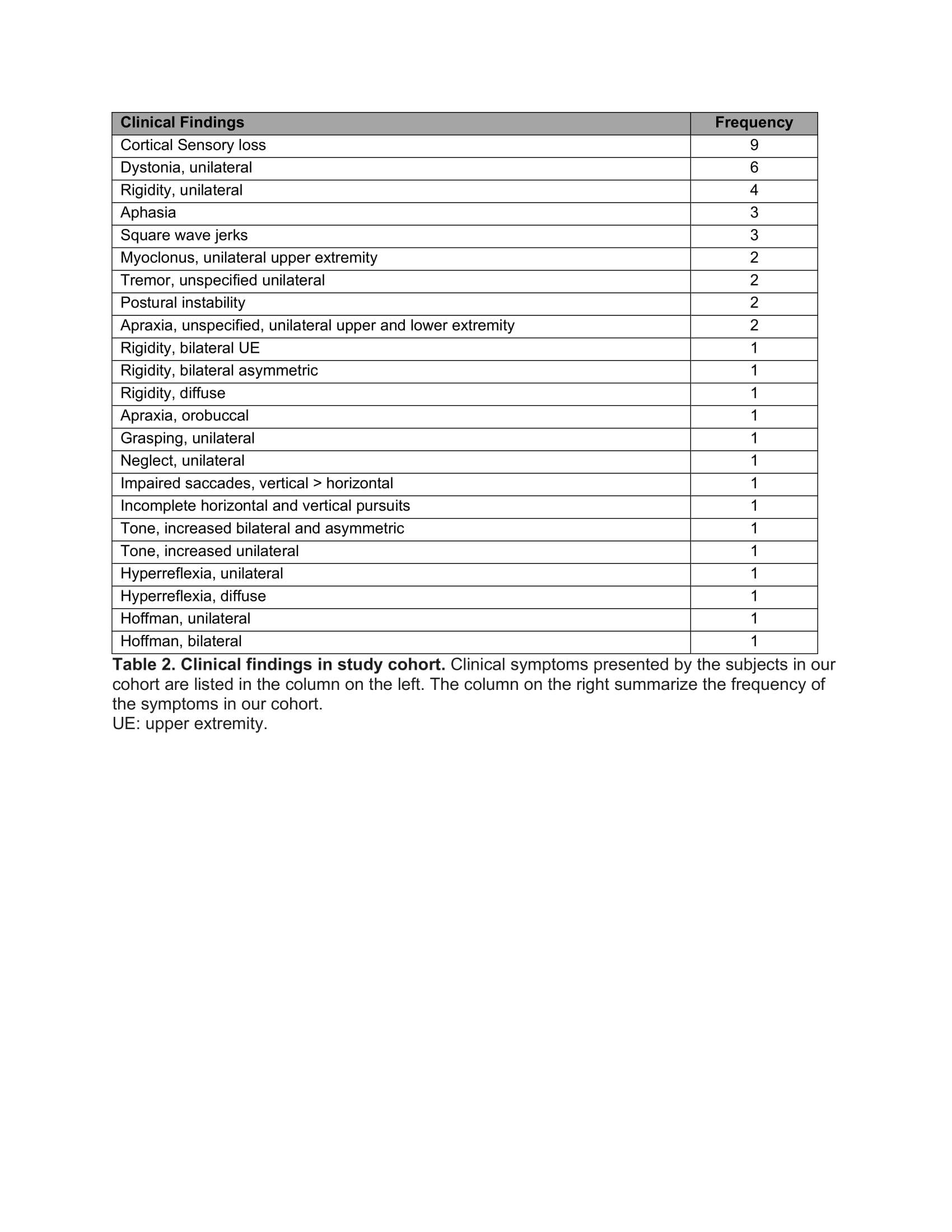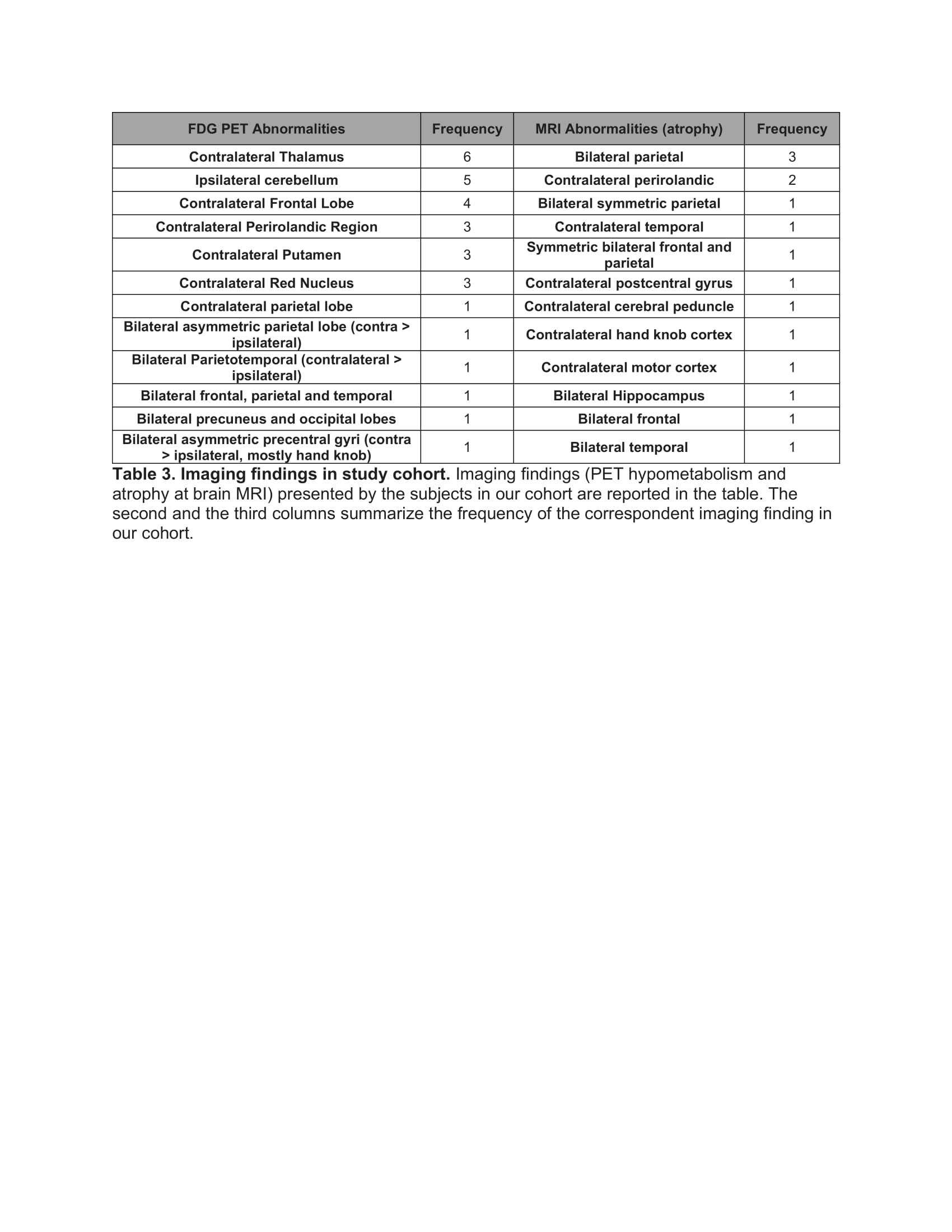 References: 1. Tondo G, Esposito M, Dervenoulas G, Wilson H, Politis M, Pagano G. Hybrid PET-MRI applications in movement disorders. Int Rev Neurobiol. 2019;144:211-257. Doi:10.1016/bs.irn.2018.10.003
2. Armstrong MJ, Litvan I, Lang AE, et al. Criteria for the diagnosis of corticobasal degeneration. Neurology. 2013;80(5):496-503. doi:10.1212/WNL.0b013e31827f0fd1
3. Franceschi AM, Clifton M, Naser-Tavakolian K, et al. (18F)-Fluorodeoxyglucose positron emission tomography/magnetic resonance imaging assessment of hypometabolism patterns in clinical phenotypes of suspected corticobasal degeneration. World J Nucl Med. 2020;20(2):176-184. Published 2020 Oct 7. Doi:10.4103/wjnm.WJNM_62_20
4. Parmera JB, de Almeida IJ, de Oliveira MCB, et al. Metabolic and structural signatures of speech and language impairment in corticobasal syndrome: A multimodal PET/MRI study. Front Neurol. 2021;12:702052. Published 2021 Aug 30. Doi:10.3389/fneur.2021.702052
To cite this abstract in AMA style:
I. Guan, C. Stahl, K. Astudillo, T. Shepherd, S. Frucht, G. Riboldi. Brain FDG-PET-MRI for early diagnosis of corticobasal syndrome [abstract].
Mov Disord.
2023; 38 (suppl 1). https://www.mdsabstracts.org/abstract/brain-fdg-pet-mri-for-early-diagnosis-of-corticobasal-syndrome/. Accessed September 23, 2023.
« Back to 2023 International Congress
MDS Abstracts - https://www.mdsabstracts.org/abstract/brain-fdg-pet-mri-for-early-diagnosis-of-corticobasal-syndrome/