Session Information
Session Time: 1:15pm-2:45pm
Location: Les Muses Terrace, Level 3
Objective: Our main objective is to demonstrate the challenges involved in the diagnosis of parkinsonism in a patient with transverse failure of formation of the upper extremity of the forearm (hemimelia), ipsilaterally to the PD signs and symptoms.
Background: Transverse failure of formation of the upper extremity is also known as congenital amputation. They are classified based on the level of amputation when affects the forearm is hemimelia and the arm is amelia. The incidence of hemimelia is 1:22000 live births.
Method: The case report: This 57-year-old –woman, with left forearm hemimelia, first noted rest tremor on the limb with hemimelia couple of weeks following her retirement. Simultaneously she started with local pain on the left limb (shoulder and arm). She was evaluated by two orthopedists, one rheumathologist and 2 general neurologists. She received the diagnostic of depression, and somatoform disorder. The tremor continued to worse, associated with poverty of body movements.  She was attended at our service with the same symptoms and  some non-motor symptoms, as REM Sleep Behavior Disorder (RSD) and constipation. Neurological examination demonstrated bilateral bradykinesia, cogwheel sign predominantly on the left side(stump), left side swing reduction and unilateral left hemimelia rest tremor. Treatment with Levodopa/Benserazide100/25 mg tid was started with excellent response of all the parkinsonian signs.
Results: The so-called ''jumpy stump'' used as one example to support the concept that peripheral injury can induce movement disorders doesn't fit in this case, as the patient has an inborn / congenital malformation. As her PD symptoms affected ipsilaterally the hemimelia limb, it created some difficulties for the diagnosis. She had two important non-motor signs, the RSD and constipation. As expected in PD, she presented an excellent initial response to Levodopa.
Conclusion: We believe that our case might be the first description, video-documented, of a patient with hemimelia and ipsilaterally PD signs and symptoms. On the video other specialists might find how we performed the neurologic exam and the tips learned with this case. Her parkinsonian symptoms affecting the hemimelia limb, created some issues for a faster and more direct diagnosis.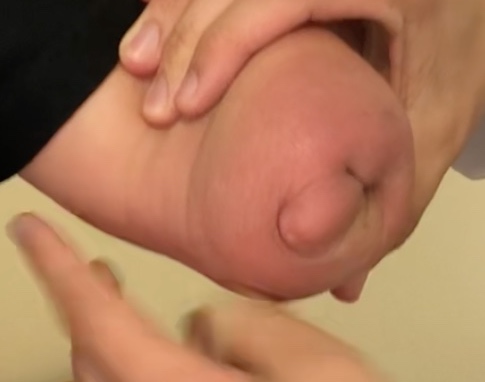 References: 1) Rayan G.M., Upton III J. (2014) Amelia/Hemimelia. In: Congenital Hand Anomalies and Associated Syndromes. Springer, Berlin, Heidelberg 2) Deuschl G, Raethjen J, Kopper F, et al. The diagnosis and physiology of psychogenic tremor. In: Hallet M, Fahn S, Jankovic J, Lang AE, Cloninger CR, Yudofsky SC, eds. Psychogenic movement disorders: neurology and neuropsychiatry. Philadelphia: Lippincott Williams & Wilkins, 2005:265–73. 3) Zadikoff C, Mailis-Gagnon A, Lang AE A case of a psychogenic "jumpy stump" Journal of Neurology, Neurosurgery & Psychiatry 2006;77:1101.
To cite this abstract in AMA style:
G. Fabiani, FMB. Germiniani, HA. Teive. Challenges in Parkinson's Disease Diagnosis in a Patient with Ipsilateral Hemimelia [abstract].
Mov Disord.
2019; 34 (suppl 2). https://www.mdsabstracts.org/abstract/challenges-in-parkinsons-disease-diagnosis-in-a-patient-with-ipsilateral-hemimelia/. Accessed December 2, 2023.
« Back to 2019 International Congress
MDS Abstracts - https://www.mdsabstracts.org/abstract/challenges-in-parkinsons-disease-diagnosis-in-a-patient-with-ipsilateral-hemimelia/