Objective: comparing the effects of muscle relaxants and NSAIDs with EMG biofeedback in improving maximum mouth opening in bruxism.
Background: Bruxism is an extrapyramidal system disorder characterized by an imbalance in the direct pathway in which afferent signals project from thalamus to cerebral cortex. and the indirect pathways of Basel ganglia, in which the afferent signals pass by the other nuclei on their way to the thalamus. Those two pathways involved in the coordination of movement are disturbed, leading to a decrease in the maximum mouth opening [1].
Method: 30 mild to moderate bruxers with limitations in the temporomandibular ROM were allocated in this study. The maximum mouth opening was measured by the digital caliper [Figures 1 and 2], which is valid and reliable [2], and the trismus scale [3] [Table 1]. The patients were divided into two groups: Group (A): 15 patients treated with muscle relaxants and NSAIDs, and Group (B): 15 patients treated with EMG biofeedback for four weeks with a frequency of 3 sessions per week. Patients were not aware of hypertension until the limitation in ROM had already set in. So it was important to make the patient able to recognize the early signs of the raised tension before the limitation started and then quickly deactivate the muscle by practicing quick posture or position of the mandible to facilitate the release of the muscle tension, such as gently closing the eyes, smoothing the forehead, parting the teeth, and placing the tongue on the roof of the mouth. In each trial, the patient has been asked to release the tension in a gradually shorter amount of time (5 seconds or less is a great goal) and by opening the mouth wider [Figure 3].
Results: The mean & SD of maximum mouth opening for subjects in both groups post-study were 33.5 ± 4.5 and 37.8 ± 3.3 mm, respectively. There was a statistically significant difference in post-study mean values of maximum mouth opening among the two groups (P = 0.006) in favor of group B [Table 2].
Conclusion: This approach has been approved to be a method of relaxation for the oro-facial muscles associated with bruxism and will directly control the limitation in maximum mouth opening. As it's considered to be an aberrant pattern of muscle hyperactivity, it is approved that it be altered by the motor learning process through an "error detector strategy."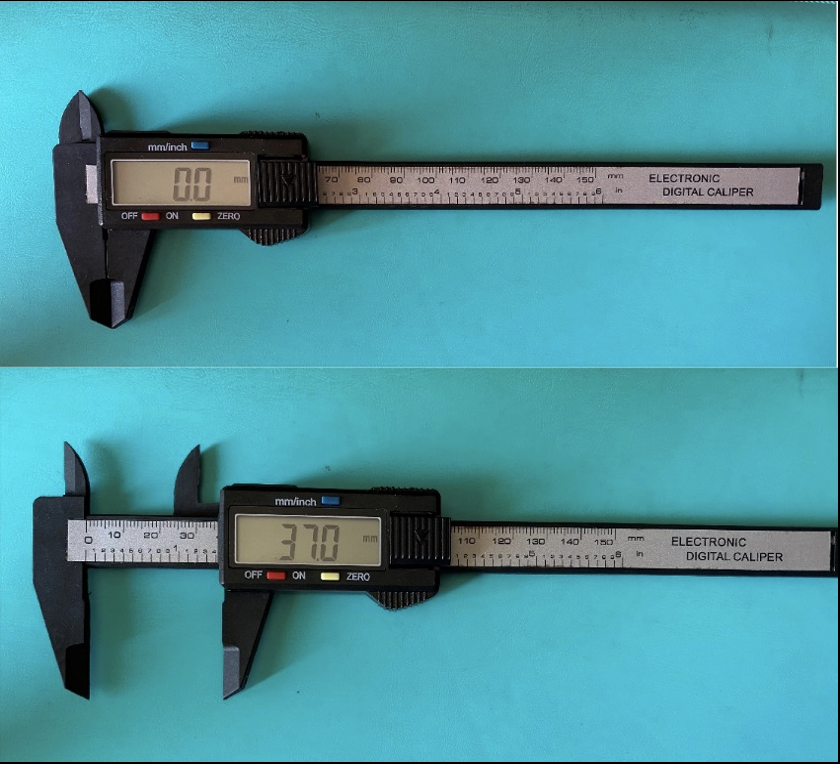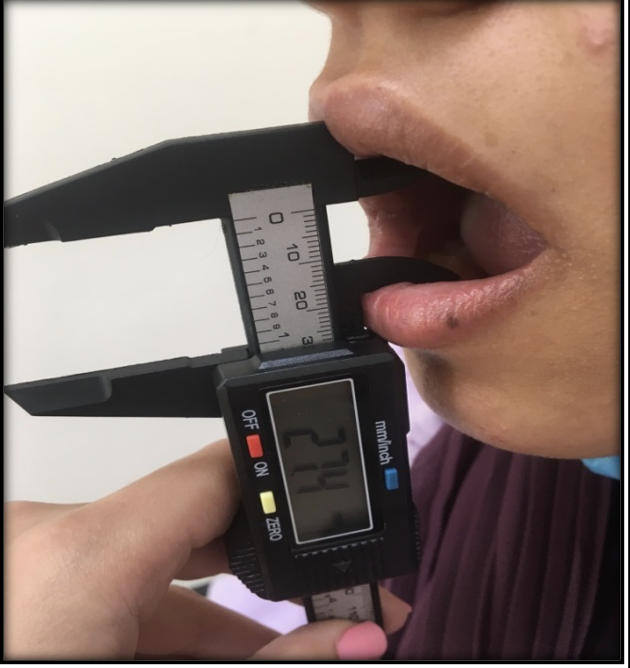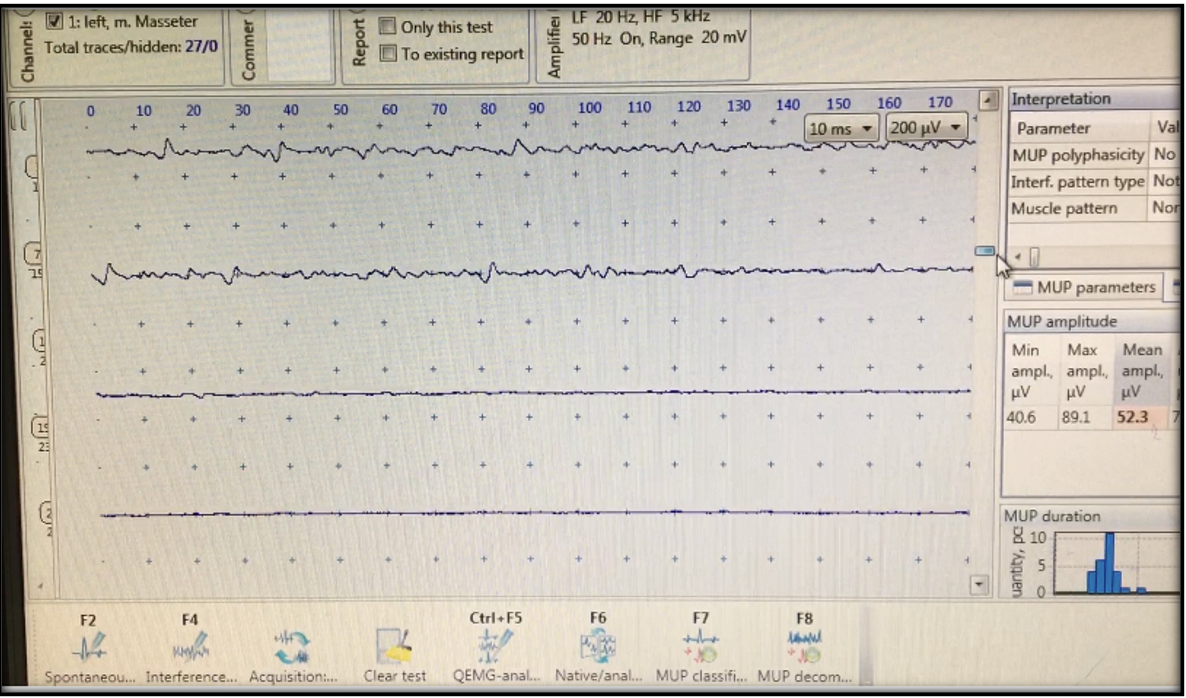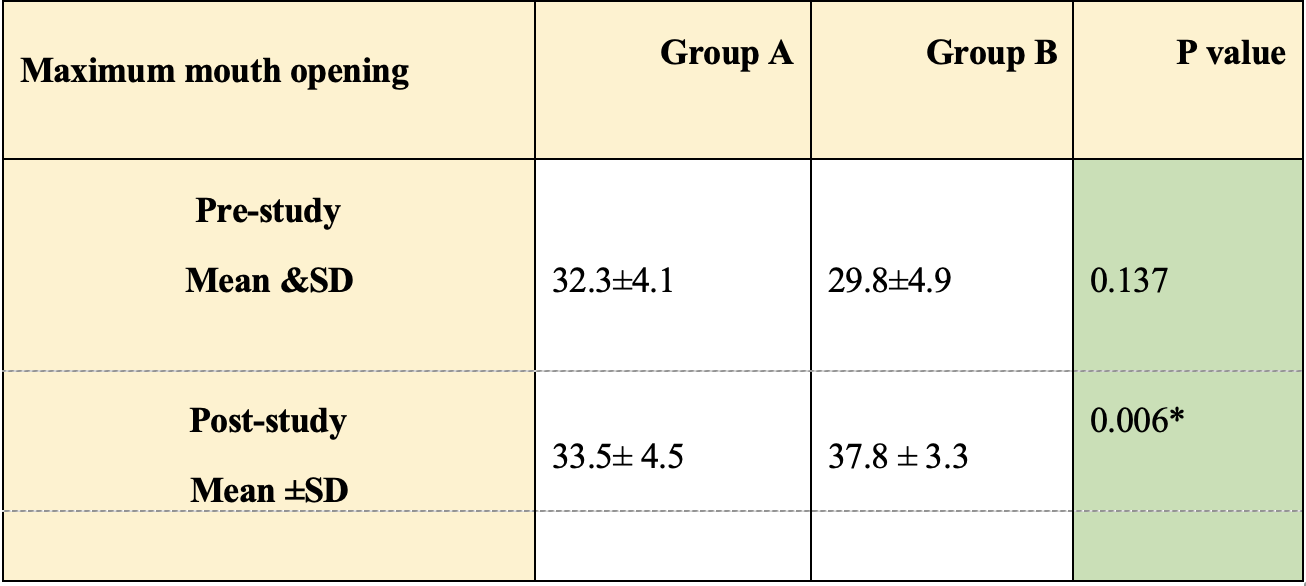 References: 1-Burke, D. J., Seitz, A., Aladesuru, O., Robbins, M. S., & Ch'ang, J. H. (2021). Bruxism in Acute Neurologic Illness. In Current Pain and Headache Reports (Vol. 25, Issue 6), pp.1-8 https://doi.org/10.1007/s11916-021-00953-4
2-van Hinte, G., Leijendekkers, R. A., te Molder, B., Jansen, L., Bol, C., Merkx, M. A. W., Takes, R., Nijhuis-Van der Sanden, M. W. G., & Speksnijder, C. M. (2020). Reproducibility of measurements on physical performance in head and neck cancer survivors; measurements on maximum mouth opening, shoulder and neck function, upper and lower body strength, level of physical mobility, and walking ability. PLoS ONE, 15(9 September). https://doi.org/10.1371/journal.pone.0233271
3-Santiago-Rosado, L. M. , & & Lewison, C. S. (2020). trismus . StatPearls Publishing. Sato, M., Iizuka, T., Watanabe, A., Iwase, N., Otsuka, H., Terada, N., & Fujisawa, M. (2015). Electromyogram biofeedback training for daytime clenching and its effect on sleep bruxism. Journal of Oral Rehabilitation, 42(2),pp.83-89. https://doi.org/10.1111/joor.12233
To cite this abstract in AMA style:
MYA. Amine, U. El-Dakrory. Comparative Effects of Medical Treatment and Tension Deactivation Via Electromyography Biofeedback Intervention to Improve Maximum Mouth Opening in Individuals With Bruxism [abstract].
Mov Disord.
2023; 38 (suppl 1). https://www.mdsabstracts.org/abstract/comparative-effects-of-medical-treatment-and-tension-deactivation-via-electromyography-biofeedback-intervention-to-improve-maximum-mouth-opening-in-individuals-with-bruxism/. Accessed September 21, 2023.
« Back to 2023 International Congress
MDS Abstracts - https://www.mdsabstracts.org/abstract/comparative-effects-of-medical-treatment-and-tension-deactivation-via-electromyography-biofeedback-intervention-to-improve-maximum-mouth-opening-in-individuals-with-bruxism/