Objective: demonstrate a clinical case of antecollis that occurred in a patient after COVID-19 disease.
Background: despite numerous studies in favor of the attack of SARS-CoV-2 on the central nervous system, there are still many unknowns regarding the frequency or consequences of neuroinvasion [1, 2]. The role of infectious etiology in the development of neurodegenerative diseases such as parkinsonism has already been proposed [3].
Method: case report.
Results: an 80-year-old woman complaining of forced head bending, frequent falls. The debut of the disease occurred in February 2022, 10 days after COVID-19 disease, when antecollis gradually began to appear, which increases in the sitting and standing position and decreases in the supine position.
Family history: the patient's mother had a tremor of the hands and head from the age of 25.
In the neurological status: the forced inclined position of the head – antecollis [figure1], parkinsonian gait, hypomimia, dysphonia, resting tremor in the hands. There are no cognitive, oculomotor, urination disorders. The laboratory and instrumental examination revealed no deviations.
Conclusion: We present a unique case of abnormal posture antecollis following a COVID-19 infection. Further monitoring and study of patients with neurodegenerative diseases and COVID-19 will reveal pathogenesis issues in the future.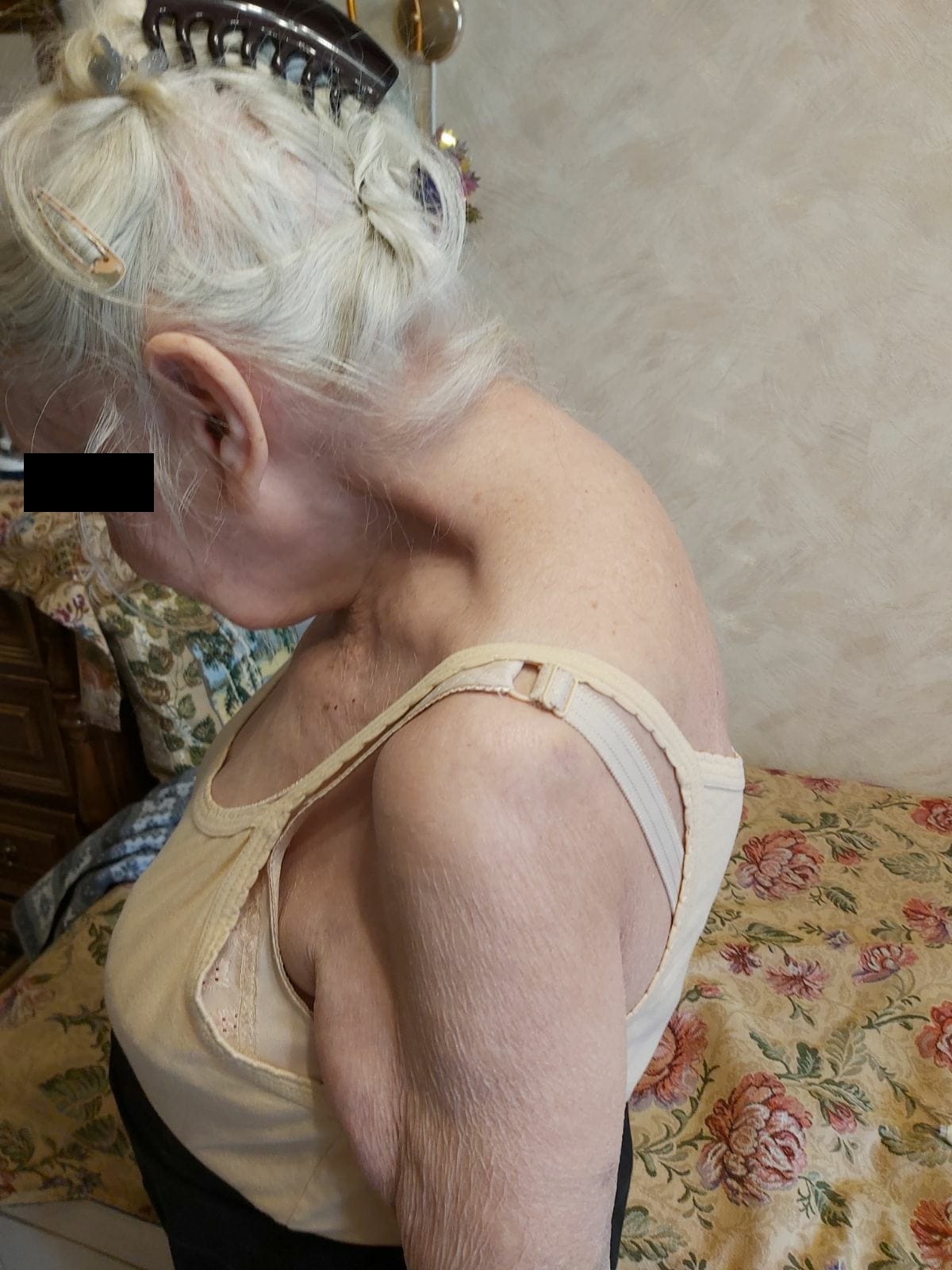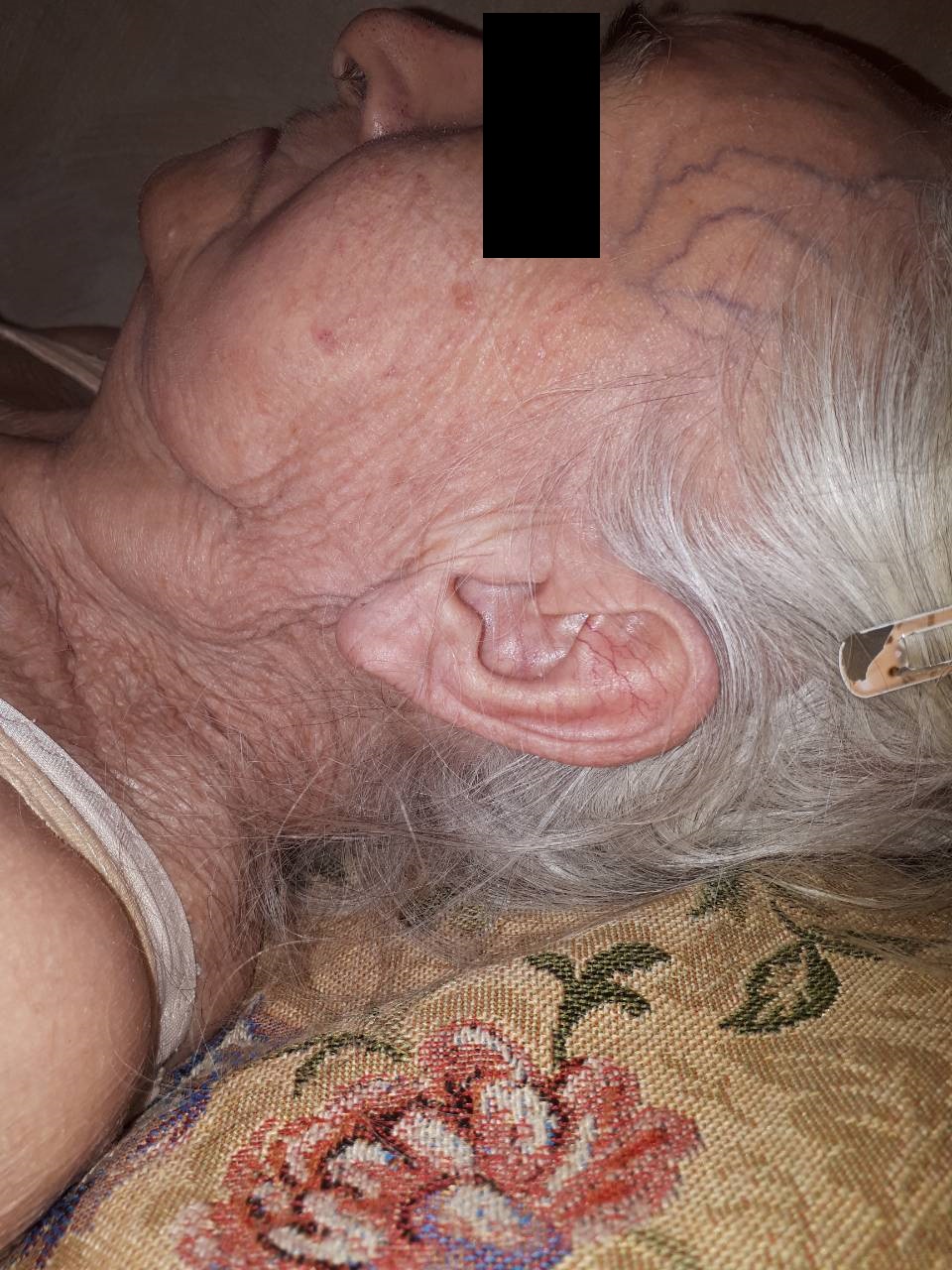 References: 1. Bouali-Benazzouz R,. Benazzouz A. Covid-19 infection and parkinsonism: is there a link? Mov Disord. 2021 Aug;36(8):1737-1743. doi: 10.1002/mds.28680.
2. Moriguchi T., Harii N., Goto J., Harada D., Sugawara H., Takamino J., Ueno M., Sakata H, Kondo K., Myose N., Nakao A., Takeda M., Haro H., Inoue O., Suzuki-Inoue K., Kubokawa K., Ogihara S., Sasaki T., Kinouchi H., Kojin H., Ito M., Onishi H., Shimizu T., Sasaki Y., Enomoto N., Ishihara H., Furuya S., Yamamoto T., Shimada S. A first case of meningitis/encephalitis associated with SARS-Coronavirus-2. Int J Infect Dis. 2020 May;94:55-58. doi: 10.1016/j.ijid.2020.03.062.
3. Marreiros R., Müller-Schiffmann A., Trossbach S.V., Prikulis I., Hänsch S., Weidtkamp-Peters S., Moreira A.R., Sahu S., Soloviev I., Selvarajah S., Lingappa V.R., Korth C. Disruption of cellular proteostasis by H1N1 influenza A virus causes α-synuclein aggregation. Proc Natl Acad Sci U S A. 2020 Mar 24;117(12):6741-6751. doi: 10.1073/pnas.1906466117.
To cite this abstract in AMA style:
S. Kopishinskaia, I. Velichko, O. Ivanovskaia. COVID-19-associated antecollis: a case report [abstract].
Mov Disord.
2022; 37 (suppl 2). https://www.mdsabstracts.org/abstract/covid-19-associated-antecollis-a-case-report/. Accessed September 23, 2023.
« Back to 2022 International Congress
MDS Abstracts - https://www.mdsabstracts.org/abstract/covid-19-associated-antecollis-a-case-report/