Session Information
Session Time: 1:45pm-3:15pm
Location: Hall 3FG
Objective: To proposed the design principles for home modification in Parkinson's disease based on home visit program.
Background: Falling is a significant cause of morbidity and mortality in Parkinson's disease (PD) with the majority of these falls occurring in the patients' homes. This is partly because PD patients spend most of their time in an inappropriate or unsafe home environment. Therefore, home modification is recommended to make their environment more suitable, thereby reducing the risk of falls and improving patient, and caregiver quality of life.
Methods: We performed a pilot home visit programme involving a multidisciplinary team in PD patients who had history of falls at home within a past month. Data was collected via a validated PD home safety questionnaire based on the concept of Personal (P)-Environmental (E) fit. Then, design principles for home modifications were then proposed with the aim to improve patient safety.
Results: Five PD patients' homes were visited. Their demographic and home environmental data are shown in table 1,2. The environmental problems identified could be divided into 4 issues: steps and unsmooth slippery floors; narrow and complicate circulations; insufficient lighting; and inappropriate home and daily living equipment considering patient's build or physical capabilities. Reflecting these findings, six design principles for PD home modifications were proposed with reference to HY staging (table 3). The principles are: 1) "Safe Environment", reducing the risk of and, mitigating damages from accidents; 2) "Good Orientation and Initiation", enabling patients to initiate and terminate movements with confidence; 3) "Ability to Access and Reach" allowing convenient and safe access to different parts of a patient's home.; 4) "Ease of Use", equipping patient's home with appropriate aids; 5) "Optimal Stimulation", stimulating the senses; and 6) "Sympathetic Design for Caregiver", planning with care-givers in mind.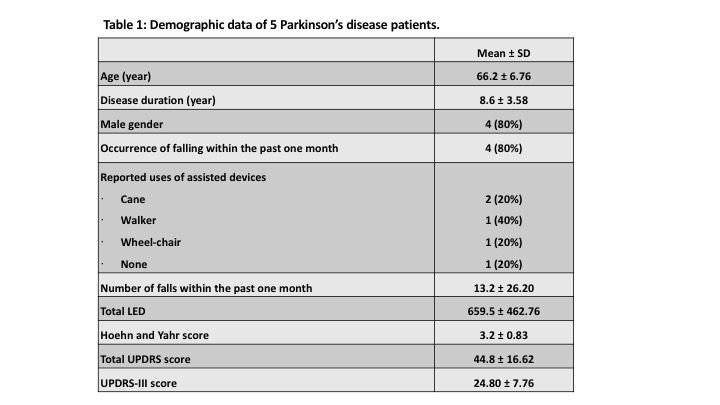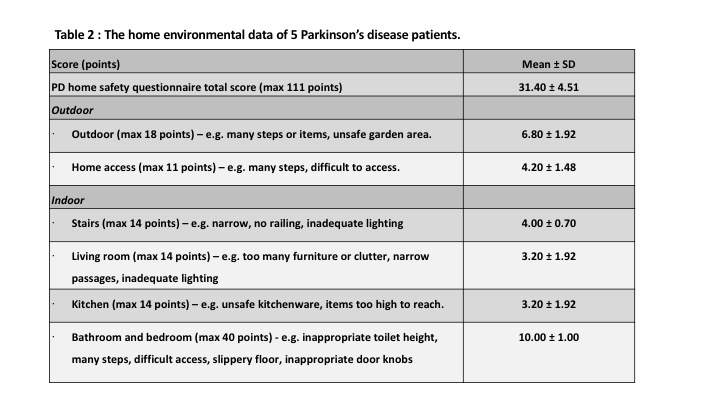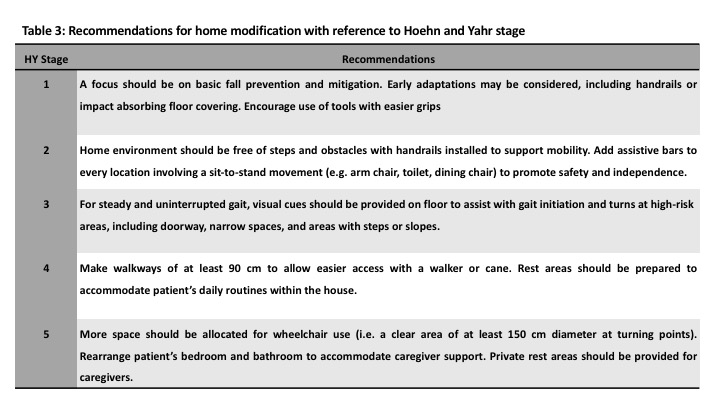 Conclusions: Design principles are identified from our pilot study as essential elements for a multidisciplinary team to consider in home modification for PD patients. Further studies involving large number of patients' homes are needed to evaluate the impact of home environmental modifications on patient's related outcomes, such as falls or fewer injuries.
References: 1. R. Bhidayasiri, O. Jitkritsadakul, N. Boonrod, J. Sringean, S.M. Calne, N. Hattori, and A. Hayashi, What is the evidence to support home environmental adaptation in Parkinson's disease? A call for multidisciplinary interventions. Parkinsonism Relat Disord 21 (2015) 1127-32. 2. B. Slaug, S. Iwarsson, J.A. Ayala, and M.H. Nilsson, Housing accessibility problems for people with Parkinson's disease. Acta Neurol Scand 136 (2017) 501-510.
To cite this abstract in AMA style:
T. Jantanapornchai, J. Sringean, S. Pensook, P. Sankham, N. Kantachadvanich, S. Phumphid, R. Bhidayasiri. Creating a safe home for Parkinson's disease patients: Designed principles for modifications [abstract].
Mov Disord.
2018; 33 (suppl 2). https://www.mdsabstracts.org/abstract/creating-a-safe-home-for-parkinsons-disease-patients-designed-principles-for-modifications/. Accessed December 5, 2023.
« Back to 2018 International Congress
MDS Abstracts - https://www.mdsabstracts.org/abstract/creating-a-safe-home-for-parkinsons-disease-patients-designed-principles-for-modifications/