Objective: To report deep brain stimulation (DBS) outcomes of rare neurodegenerative movement disorders from three tertiary movement disorders centers in Turkey.
Background: Deep brain stimulation is an effective treatment for dystonia, essential tremor, and Parkinson's disease in patients with motor complications. This has encouraged the application of DBS to treat other neurodegenerative disorders such as hereditary neurodegenerative disorders (HND), which present with a variety of movement disorders in childhood and young adults.
Method: Nine DBS patients (aged 7-42y) were included with the following NHD diagnosis: Neurodegeneration with brain iron accumulation (NBIA) (n=1), pantothenate kinase-associated neurodegeneration (PKAN) (n=4), neuroacanthocytosis (NA) (n=2) ,and Coenzyme Q8A (CoQ8A)-related ataxia-dystonia (n=2).
Results: Two patients with CoQ8A-related ataxia-dystonia responded very well to DBS within a short period. One NBIA patient suffering from postural and action tremor was almost symptom-free for 10 months. However, patients with generalized dystonia secondary to PKAN did not respond that well. One of the PKAN patients was a 7-year-old girl who presented with a dystonic storm and unfortunately died due to sepsis three months after DBS surgery. The symptoms were relieved 20% in another PKAN patient after DBS, yet discontinued the treatment because of unmet expectations. The other two generalized dystonia patients with PKAN had a 10-40% reduction in their complaints after GPi DBS and this improvement continued up to three years. The NA patient with severe choreoathetosis had a 3-year follow-up and responded well to DBS (70% improvement), and the symptoms of the other NA patient with feeding dystonia relieved 50% over one year [Table 1].
Conclusion: Despite progressive course, DBS seems useful in select cases with rare HND with movement disorders. Ongoing studies on pathophysiological mechanisms of these rare disorders may eventually lead to treatment or prevention; however, DBS will apparently be a game-changer in the symptomatic treatment of these patients.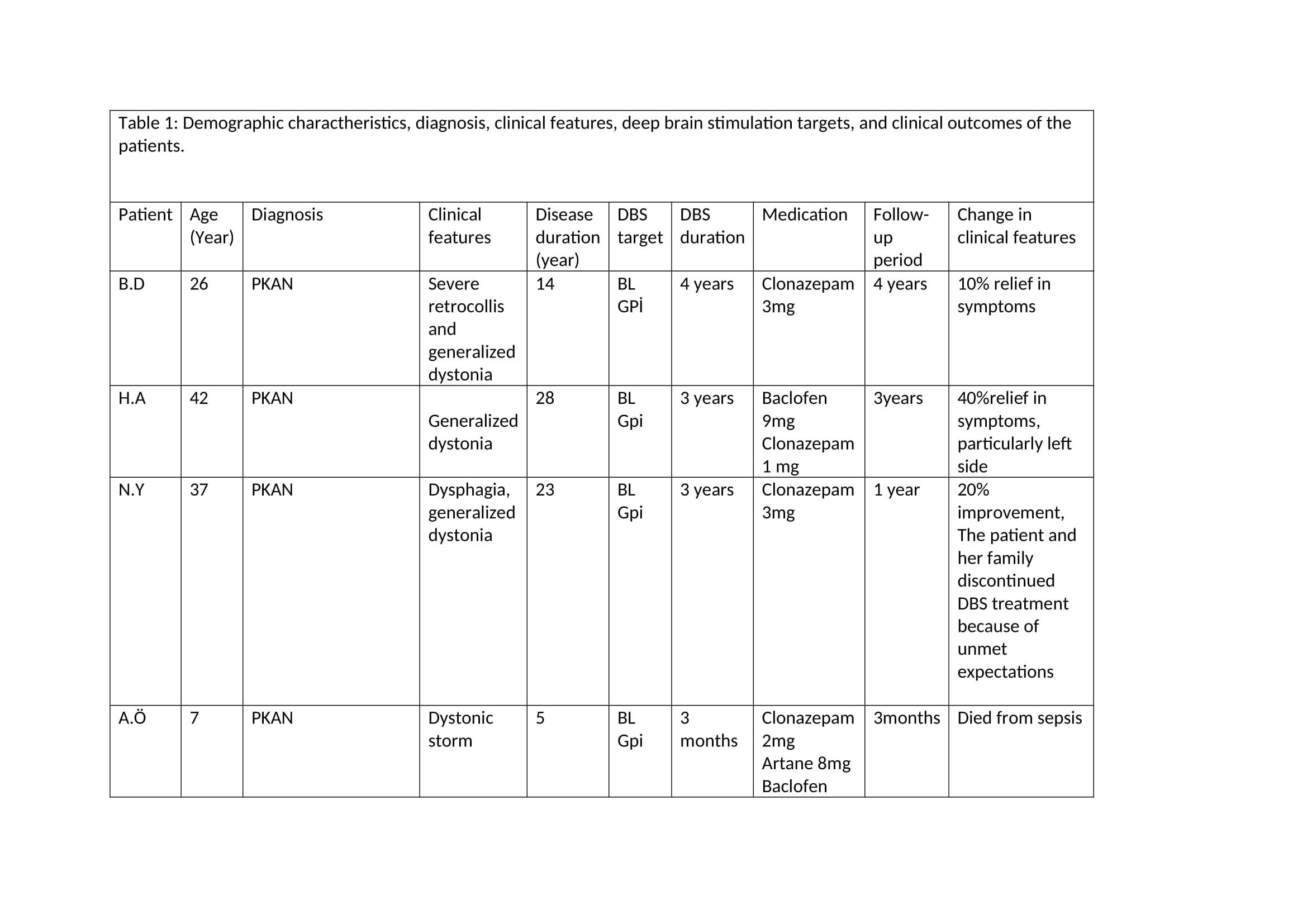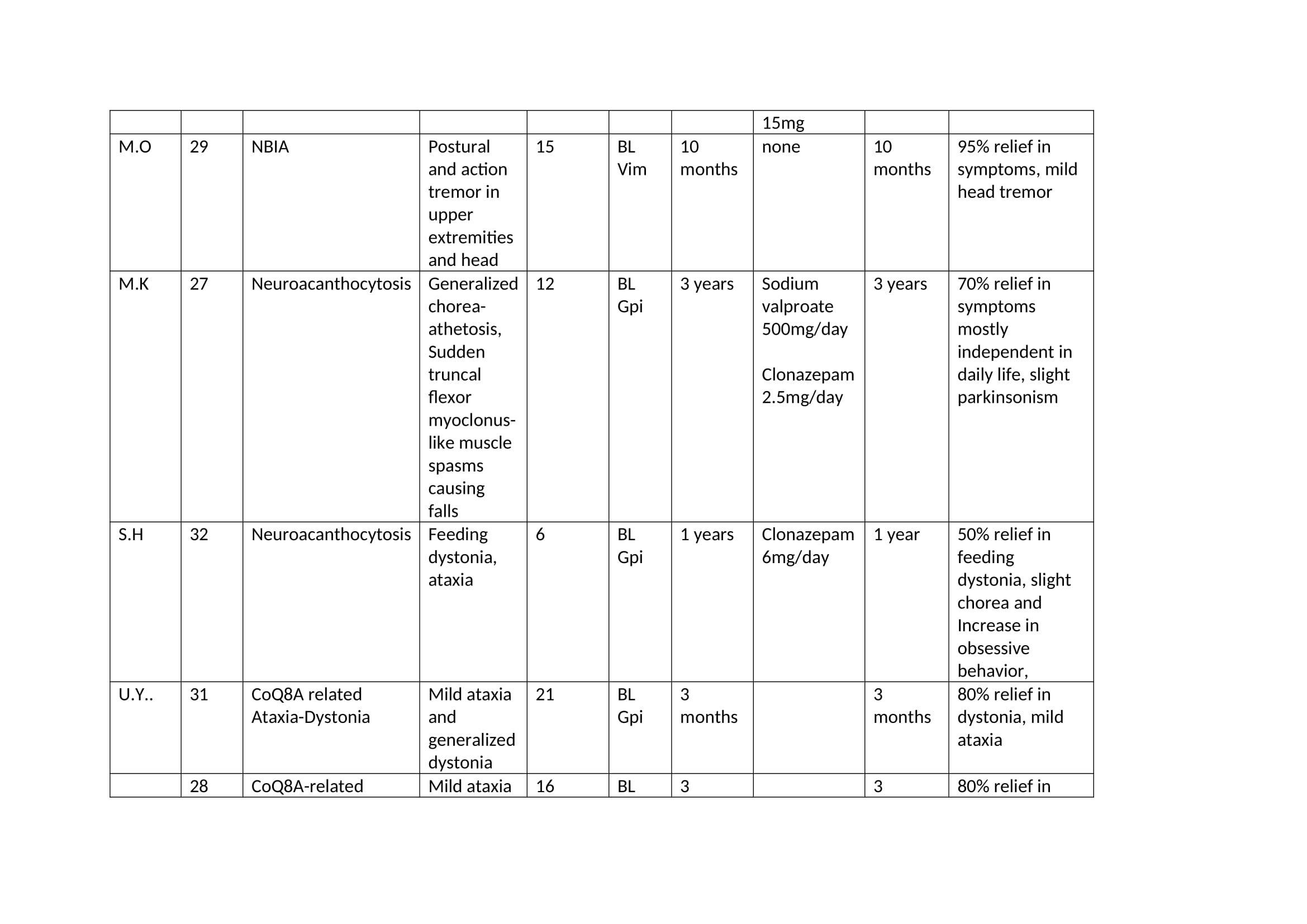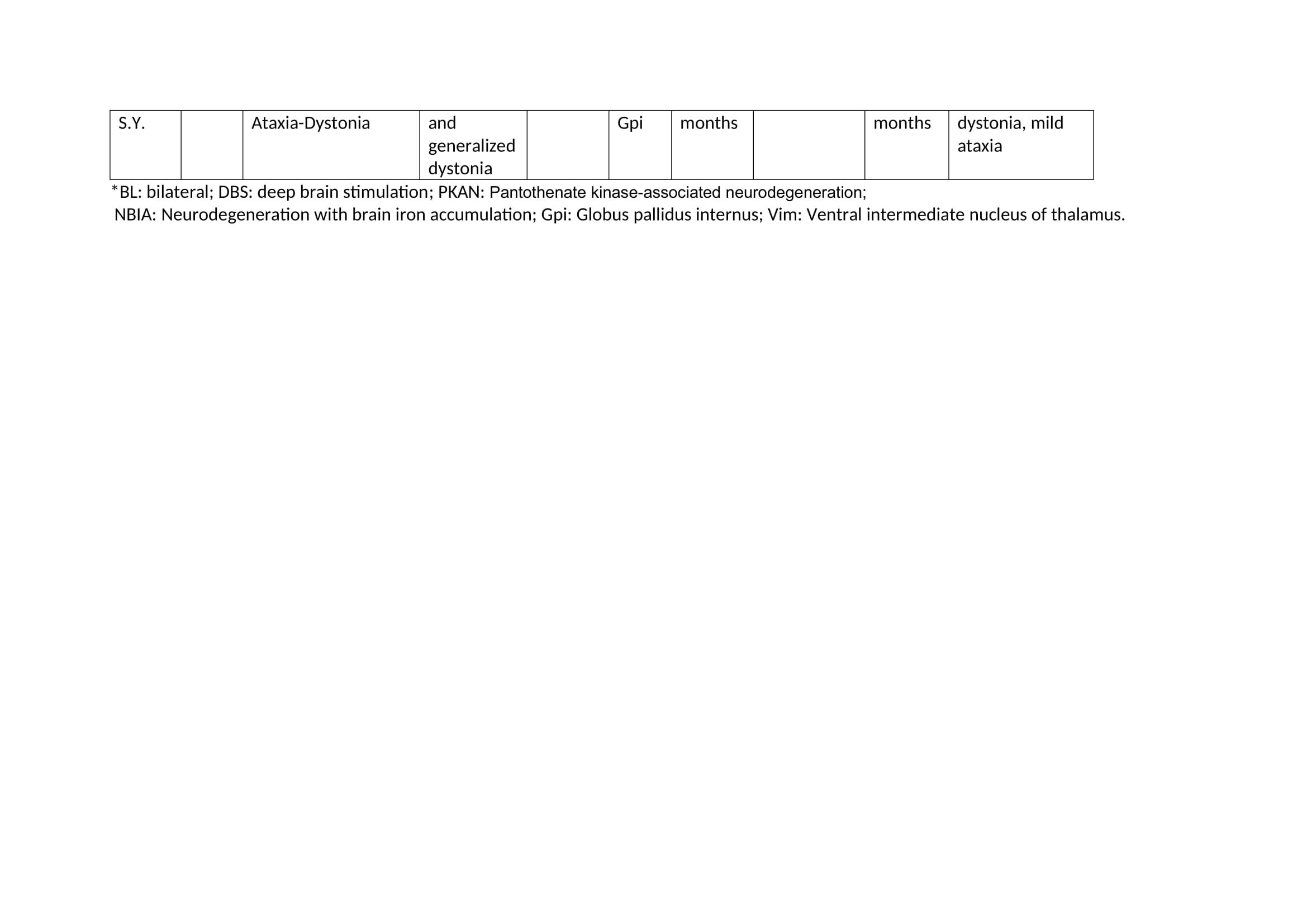 To cite this abstract in AMA style:
N. Durmaz çelik, B. Samanci, G. Yalçın çakmaklı, A. Aksoy Gündoğdu, E. Erzurumluoğlu, Y. Samanci, M. Vural, B. Bilgiç, H. Hanağası, B. Elibol, S. özkan. Deep Brain Stimulation for Rare Neurodegenerative Diseases: Three-Center Experience [abstract].
Mov Disord.
2022; 37 (suppl 2). https://www.mdsabstracts.org/abstract/deep-brain-stimulation-for-rare-neurodegenerative-diseases-three-center-experience/. Accessed September 28, 2023.
« Back to 2022 International Congress
MDS Abstracts - https://www.mdsabstracts.org/abstract/deep-brain-stimulation-for-rare-neurodegenerative-diseases-three-center-experience/