Objective: This multicenter study was designed to investigate the association between multiple peripheral immune biomarkers and the risk of Parkinson's disease (PD).
Background: Several studies have shown that PD pathophysiology is associated with increased inflammatory status. However, discordant results in the literature and a lack of information regarding the stability of inflammatory factors in different cohorts have hampered progress.
Method: We measured the levels of 5 typical cytokines (IL-8, TNF-α, TGF-β, IL-10, IL-6) and 5 focused chemokines (CXCL12, CX3CL1, CCL15, CCL3, and CCL20) in 76 PD patients and 76 healthy controls in the discovery cohort by using the Meso Scale Discovery (MSD) assay. Moreover, a validation cohort of 80 PD patients and 80 healthy controls were recruited from four multicenter locations. In addition, a further verification in an exploring set of idiopathic REM sleep behavior disorder (iRBD) was also performed.
Results: In the discovery set, CXCL12, CX3CL1 and IL-8 levels were significantly elevated in PD patients compared to controls (p<0.05, Table1). The ROC curve of the combination of these three biomarkers produced a high AUC of 0.89 (95% CI 0.84 to 0.94, p<0.001, Figure 1). Moreover, four biomarkers (CXCL12, CX3CL1, CCL15 and IL-8) were significantly associated with PD in the discovery cohort after Bonferroni correction in the logistic regression analysis (Table 2). For the validation cohort, these four biomarkers remained significantly associated with the risk of PD, while for iRBD patients, levels of CX3CL1 and IL-8 were elevated as well, comparing to the controls (Table 3).
Conclusion: In this study, we found that elevated levels of CXCL12, CX3CL1, IL-8, and decreased levels of CCL15 are significant independent predictors for the risk of PD. Our findings may provide a basis for future personalized medicine whereby PD patients with abnormal inflammatory profiles can be identified early and receive timely therapeutic interventions.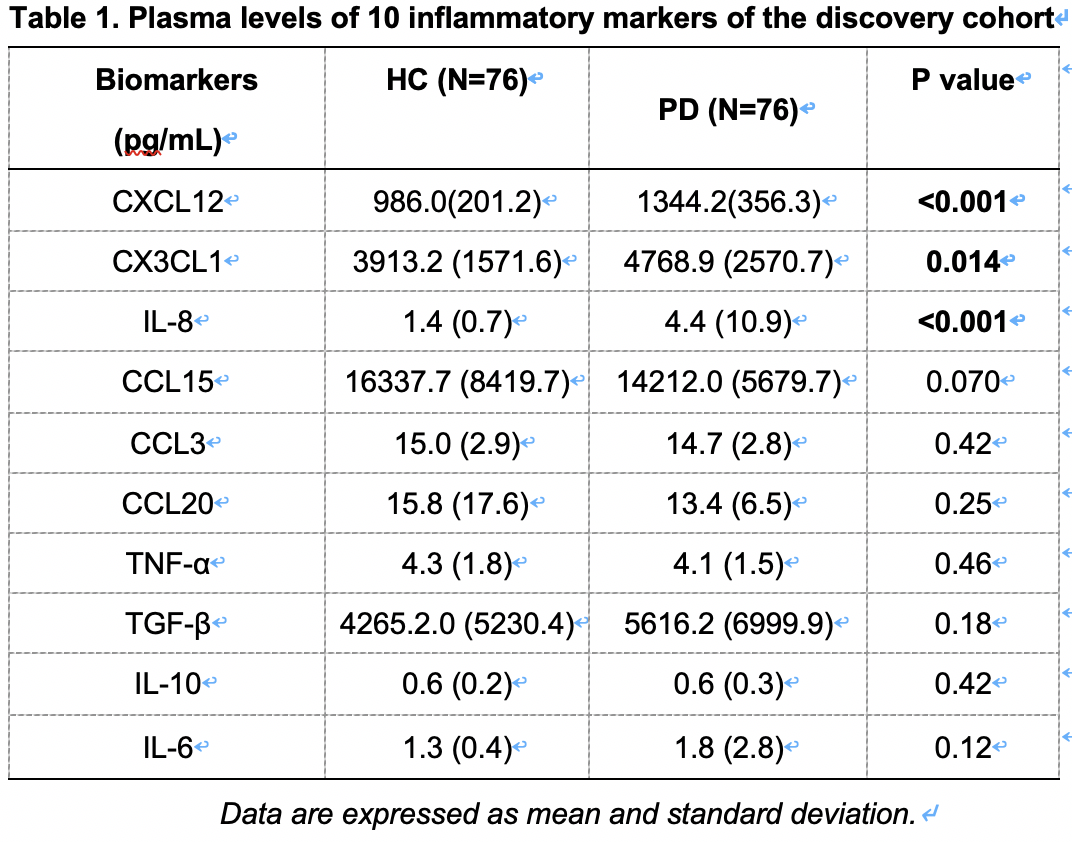 To cite this abstract in AMA style:
Y. Li, J. Liu. Development and validation of a profile of peripheral immune biomarkers for Parkinson's disease: A multicenter, retrospective study [abstract].
Mov Disord.
2020; 35 (suppl 1). https://www.mdsabstracts.org/abstract/development-and-validation-of-a-pro%ef%ac%81le-of-peripheral-immune-biomarkers-for-parkinsons-disease-a-multicenter-retrospective-study/. Accessed December 5, 2023.
« Back to MDS Virtual Congress 2020
MDS Abstracts - https://www.mdsabstracts.org/abstract/development-and-validation-of-a-pro%ef%ac%81le-of-peripheral-immune-biomarkers-for-parkinsons-disease-a-multicenter-retrospective-study/