Objective: To increase awareness of the late post-stroke movement disorder associated with hypertrophic olivary degeneration.
Background: A 65-year-old man with a past medical history significant for hypertension, chronic Hepatitis C virus, liver cirrhosis, diabetes mellitus, and schizophrenia was admitted to the inpatient stroke service with right-sided weakness and ataxia due to a hypertensive left pontine hemorrhage.
Method: Over three outpatient visits, the patient continued to have incremental improvement in his right-sided weakness with persistence of the hemiataxia. Ten months after the initial presentation, he was noted to have a 1.5-Hz tremor of the soft palate and uvula, not previously noted on exam. The patient denied audible clicking, abnormal sensations, or movements in his ear or palate. Serial FLAIR MRI demonstrated progressive T2/FLAIR intense lesions in the area of the left medulla ([figure1A] 3/2019, [figure1B] 6/2019, [figure1C] 11/2019). The patient was diagnosed with hypertrophic olivary degeneration with associated palatal tremor.
Results: Hypertrophic olivary degeneration is a rare disorder that typically develops in the weeks to months following a structural brainstem or cerebellar lesion in the Guillain-Mollaret triangle [1]. On MRI, this appears as an increased T2/FLAIR signal intensity and enlargement of the inferior olive. Patients develop 1.5-3 Hz palatal or oculopalatal tremor due to loss of inhibitory inputs into the denervated olivary nucleus, leading to sustained, synchronized oscillations. Patients who develop palatal tremor secondary to brainstem or cerebellar disease only rarely develop audible clicking, but frequently develop ipsilateral cerebellar dysfunction [2]. Once patients develop palatal or oculopalatal tremor, it generally continues for life. Treatment options are limited, but some evidence exists for the use of gabapentin, memantine, botulinum toxin injections, and deep brain stimulation [3].
Conclusion: Our case illustrates the importance of monitoring for the emergence of tremor, even months after initial insult, in patients who have sustained lesions within the Guillain-Mollaret triangle. These patients will not often present with audible ear clicking, and tremor may only be observed on physical examination. As seen, these lesions can continue to evolve over time. Repeat imaging is warranted in any patient developing unexpected new neurologic symptoms following initial insult.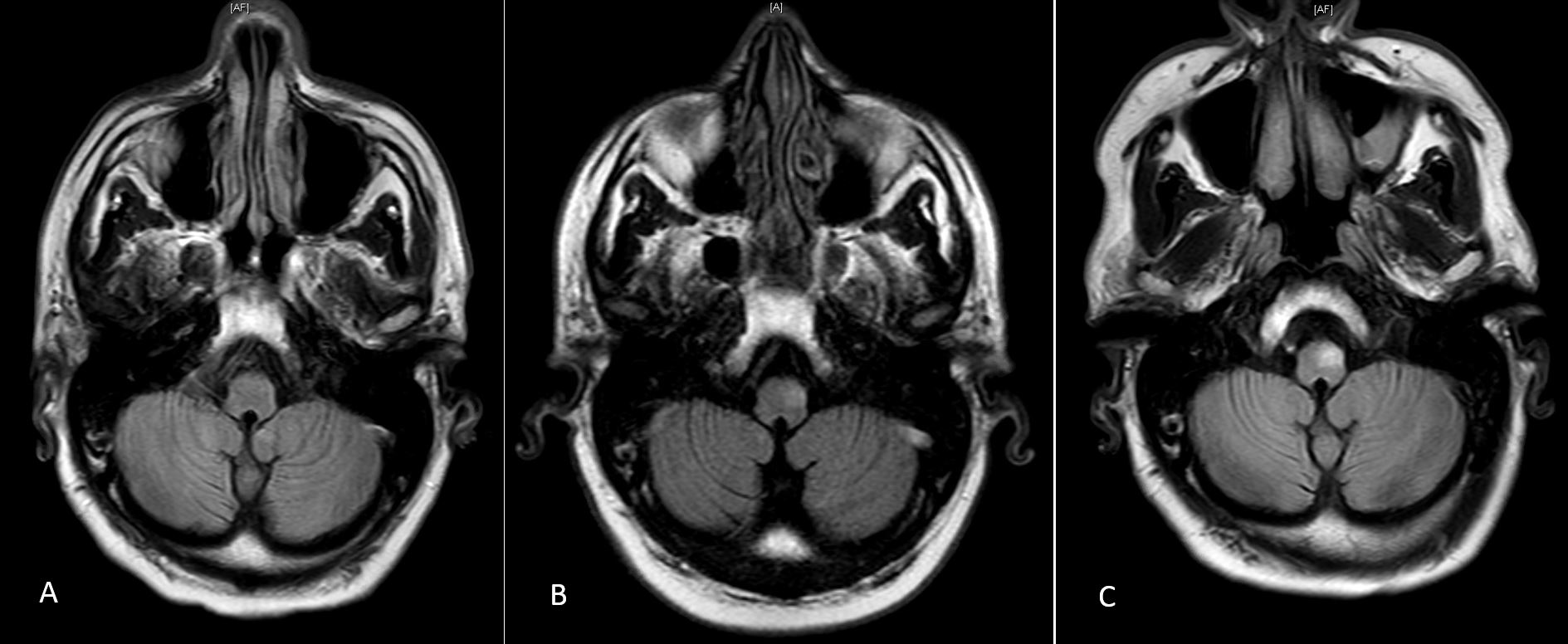 References: 1 Van Eetvelde R, Lemmerling M, Backaert T, et al. Imaging Features of Hypertrophic Olivary Degeneration. J Belg Soc Radiol 2016;100(1):71 2 Deuschl G, Toro C, Valls-Solé J, et al. Symptomatic and Essential Palatal Tremor. 1. Clinical, Physiological and MRI Analysis. Brain 1994;117(Pt4):775 3 Tilikete C, Desestret V. Hypertrophic Olivary Degeneration and Palatal or Oculopalatal Tremor. Front Neurol 2017;8:302
To cite this abstract in AMA style:
K. Bird, M.H Saint-Hilaire, G. Curiale, S. O'Shea. Development of Hypertrophic Olivary Degeneration Following Pontine Hemorrhage [abstract].
Mov Disord.
2020; 35 (suppl 1). https://www.mdsabstracts.org/abstract/development-of-hypertrophic-olivary-degeneration-following-pontine-hemorrhage/. Accessed November 29, 2023.
« Back to MDS Virtual Congress 2020
MDS Abstracts - https://www.mdsabstracts.org/abstract/development-of-hypertrophic-olivary-degeneration-following-pontine-hemorrhage/