Objective: The aim of the study was to examine nutritional behavioral age-related impact in Parkinson's Disease patients.
Background: COVID-19 caused serious psychological and nutritional impact. There is limited published literature about how nutrition affected patients with Parkinson's disease.
Method: From August to October 2021, we evaluates PD patients of all ages who were divided in two groups, under 60 and over 60 years old. They answered an online survey consisting of a validated questionnaire of psychological impact on Covid-19 and three-factor eating questionnaire-R18, (TFEQ), including three eating behaviors: restrained (RE), uncontrolled (UE) and emotional (EE). The lower the score, the higher problem of eating behavior.
Results: 50 patients were recruited (54% male, mean age 61.6±13.1 years), 54% had over 60 years and 46% under 60 years. Eating behaviors of patients reported lower scores for emotional (31, 62%), uncontrolled (29, 58%) and restrained (26, 52%) eating. Psychological impact of Covid-19 was reported, less motivation (74%), more stress (70%), less energy (68%), mental exhaustion (66%), and sleep problems (56%).
A negative significant correlation was found between RE and age (r=-0.46, p<0.001). Patients over 60 years had lower scores of RE (X2= 11.458, p = 0.001) (Table 1). Women had the lowest score in uncontrolled (55.2%) and emotional eating (48.4%), and men in restrained eating (57.7%). No significant results were found between psychological impact and age.
Conclusion: While no significant differences were observed in the psychological impact, during COVID-19 pandemic, women presented more stress and mental fatigue. They were also the worst performers in eating behaviors.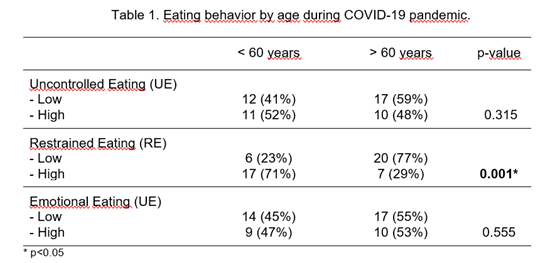 To cite this abstract in AMA style:
C. López Botello, S. Castillo Torres, I. Estrada Bellmann, B. Chávez Luevanos. Does aging influence eating behavior during COVID-19 pandemic in patients with Parkinson's Disease in northeastern Mexico? [abstract].
Mov Disord.
2022; 37 (suppl 2). https://www.mdsabstracts.org/abstract/does-aging-influence-eating-behavior-during-covid-19-pandemic-in-patients-with-parkinsons-disease-in-northeastern-mexico/. Accessed September 21, 2023.
« Back to 2022 International Congress
MDS Abstracts - https://www.mdsabstracts.org/abstract/does-aging-influence-eating-behavior-during-covid-19-pandemic-in-patients-with-parkinsons-disease-in-northeastern-mexico/