Objective: To determine if dyskinesia and bradykinesia severity has a diurnal pattern in Parkinson's disease (PD) using wearable sensor data.
Background: Diurnal fluctuations in PD occur and several studies have identified daily fluctuating patterns of motor symptoms without accompanying significant alterations in levodopa pharmacokinetics.
Method: A cross-sectional analysis of 53 PD patients on stable dopaminergic medication for whom wearable sensor Parkinson's KinetigraphTM bradykinesia (BKS) and dyskinesia scores (DKS) were available. The dataset was taken from the Parkinson's Kinetigraph Registry at King's College Hospital London (UKCRN 215965). DKS and BKS were broken down into five daytime (06:00-21:00) three-hourly epochs. All patients had medication intake during each of the epochs, with no dose variation. The mean scores for the time spent in severe bradykinesia and severe dyskinesia were compared across the five epochs using the Friedman test.
Results: Significant diurnal variations were present in both BKS and DKS (p<0.001) for all 53 patients, in patients on levodopa monotherapy (n=20, p≤0.026), and in patients on advanced therapies (n=8, p≤0.019) (Table 1, Figures 1 and 2). Specifically, we observed that percentage of time spent with severe dyskinesia was highest between 09:00-12:00, and lowest between 18:00-21:00, whereas the time spent with severe bradykinesia was highest between 06:00-09:00, and lowest between 09:00-12:00. Significant differences were still observed after omission of the early morning epoch to control for possible early morning off (p≤0.005). In those on a combined levodopa and dopamine agonist regime there were significant diurnal variations for DKS only (n=25, p=0.008).
Conclusion: Bradykinesia and dyskinesia severity show a diurnal pattern in PD patients on stable dopaminergic medication, suggesting a circadian effect.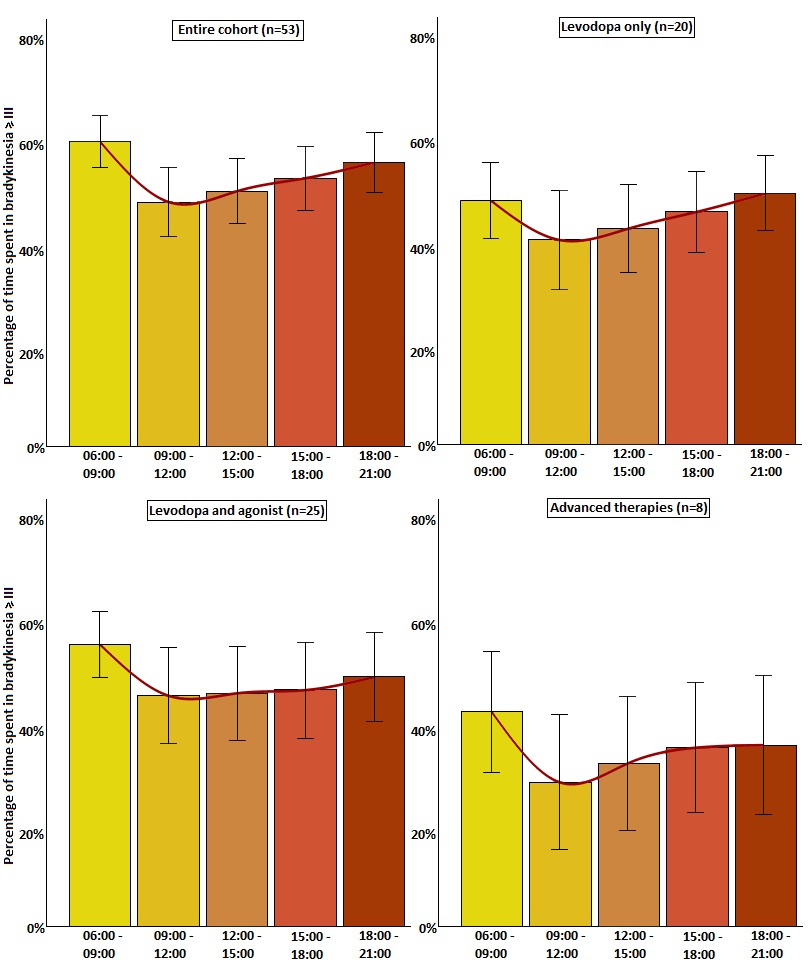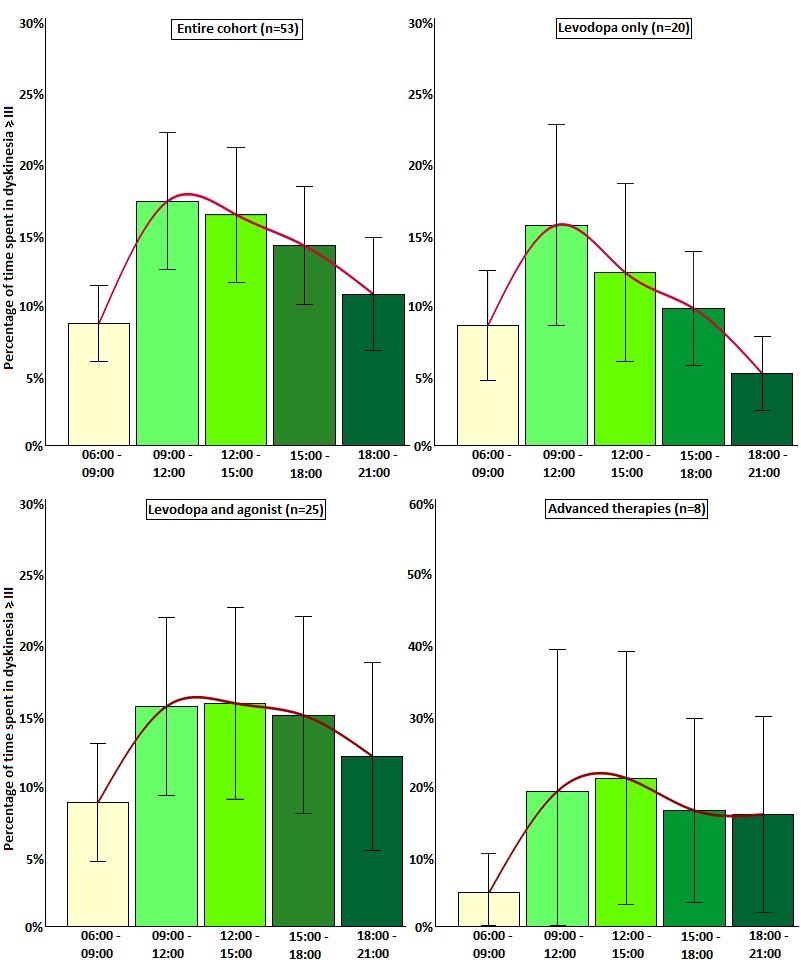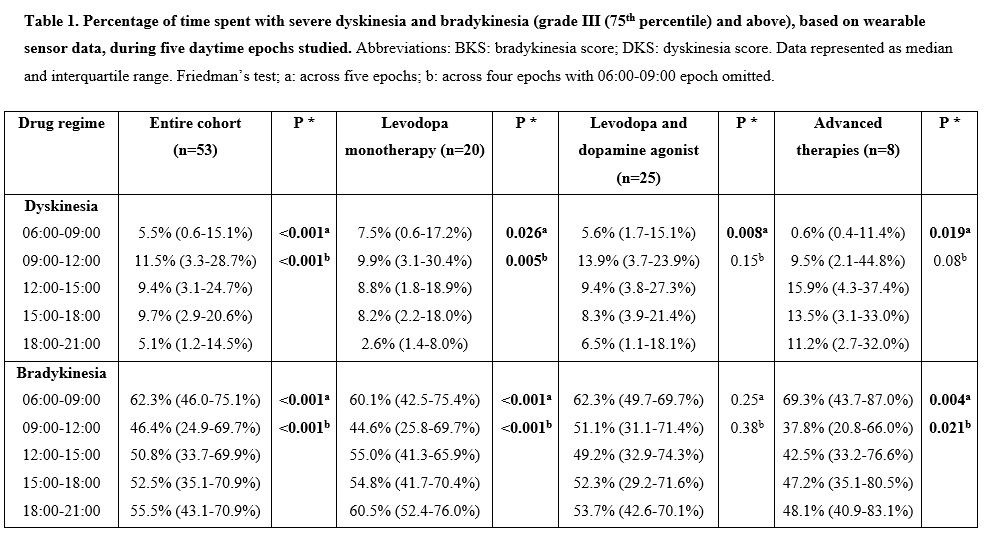 To cite this abstract in AMA style:
D. van Wamelen, T. Bendriss-Otiko, A. Podlewska, V. Leta, C. Lazcano Ocampo, D. Trivedi, K. Ray Chaudhuri. Dyskinesia and bradykinesia severity patterns in Parkinson's disease using a wearable sensor [abstract].
Mov Disord.
2020; 35 (suppl 1). https://www.mdsabstracts.org/abstract/dyskinesia-and-bradykinesia-severity-patterns-in-parkinsons-disease-using-a-wearable-sensor/. Accessed December 7, 2023.
« Back to MDS Virtual Congress 2020
MDS Abstracts - https://www.mdsabstracts.org/abstract/dyskinesia-and-bradykinesia-severity-patterns-in-parkinsons-disease-using-a-wearable-sensor/