Session Information
Session Time: 1:45pm-3:15pm
Location: Hall 3FG
Objective: To report two new patients with ADCK3 mutation presenting with writing deterioration as first sign of DYTCA syndrome. To provide an overview of clinical presentation and evolution patterns in reported cases, in order to better define the clinical spectrum of ADCK3 mutations.
Background: ADCK3 mutations are the most common cause of primary CoQ10 deficiency. A slowly progressive ataxia with cerebellar atrophy is the typical manifestation, associated with a wide spectrum of clinical features [figure 1]. In some patients, cerebellar symptoms can be less prominent compared to other motor issues such as dystonia or tremor. Slowly progressive cerebellar ataxia with any form of dystonia is rare. Different metabolic conditions should be considered, but the main cause are the SCAs. A combination of dystonia and mild cerebellar ataxia has also been referred to as DYTCA syndrome [Fletcher,1988]. Despite a number of DYTCA cases without a known genetic etiology, recently this syndrome has been associated with mitochondrial disorders [Doss,2014].
Methods: We reviewed clinical information, laboratory findings, genetic data, neuroimaging, and video recordings, of two unreported ADCK3 patients with childhood onset and mild phenotype. We reviewed all 42 published cases obtained by Pubmed Search [table 3]. The different patterns of clinical presentation and evolution were analyzed.
Results: So far 42 patients with 28 ADCK3 mutations have been reported [table 1]. Typical onset is in the first decade of life; clinical spectrum ranges from a typical slowly progressive ataxia to infrequent severe forms with regressive course. The natural history is characterized by a progression to a multisystem brain disease. Our 2 cases and additional 6 previously reported patients shared a pattern of clinical presentation and evolution characterized by a variable association of slight ataxic features, writing difficulties, focal dystonia, and speech disorder, with less progressive or stable course [table 2].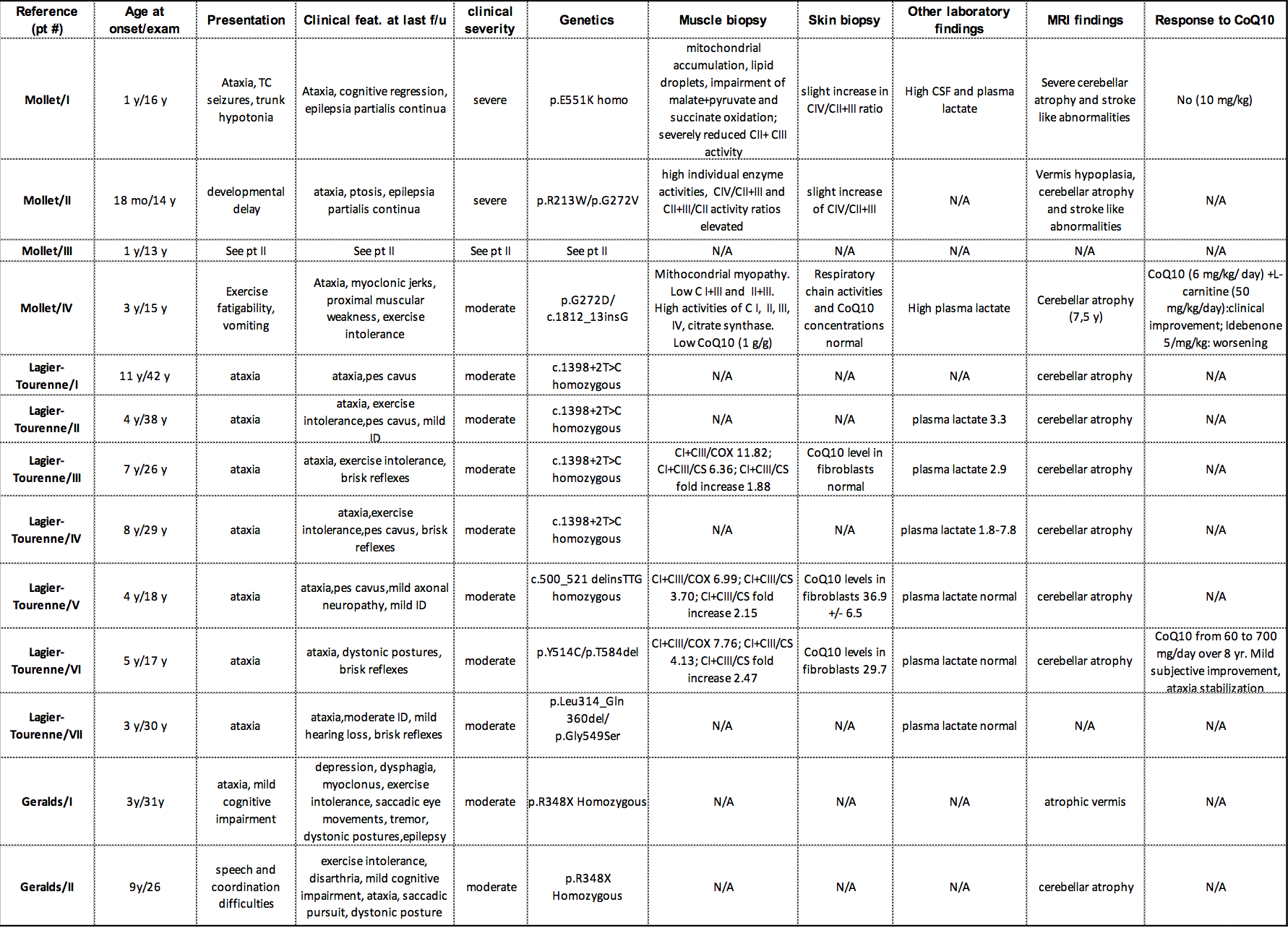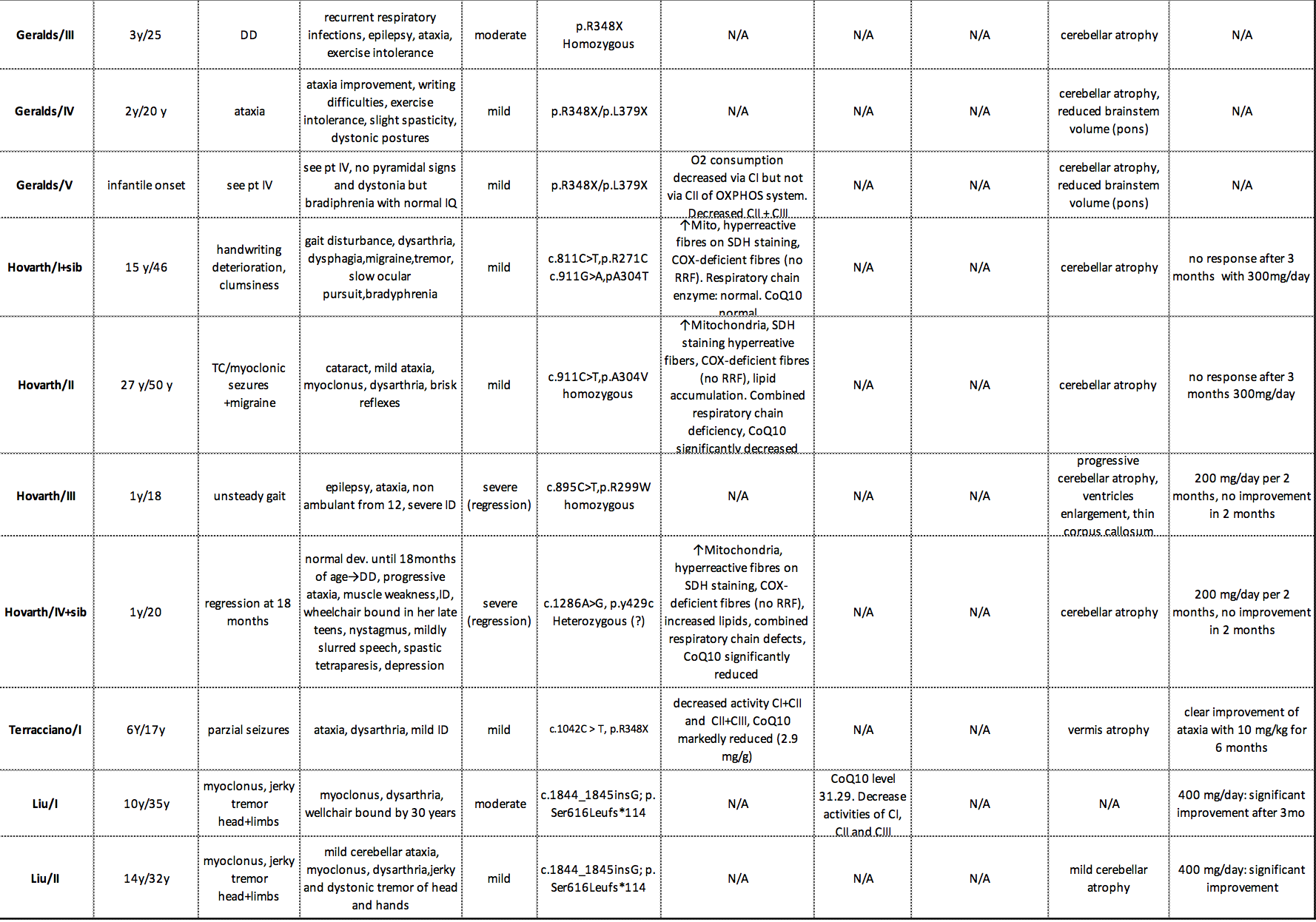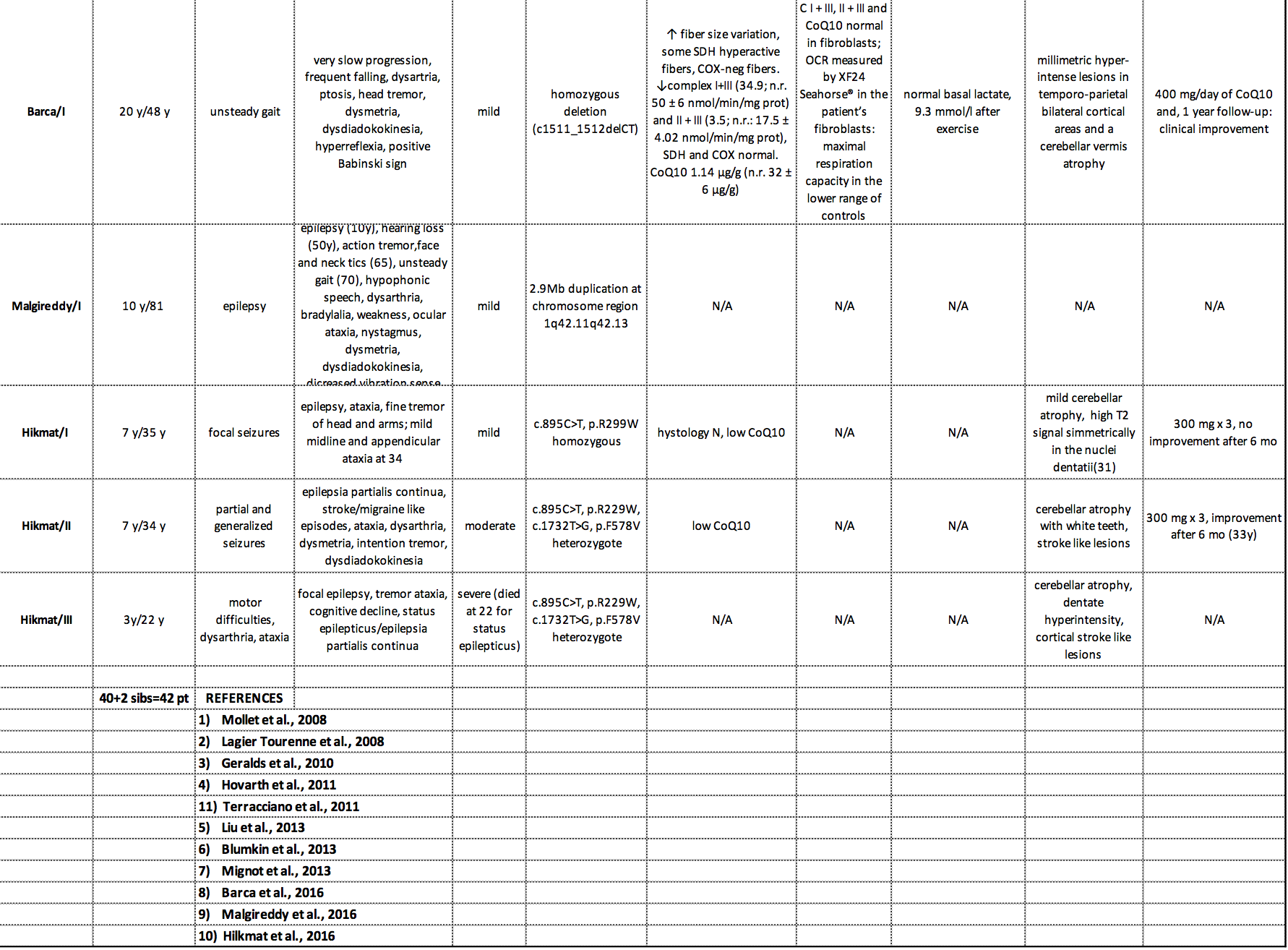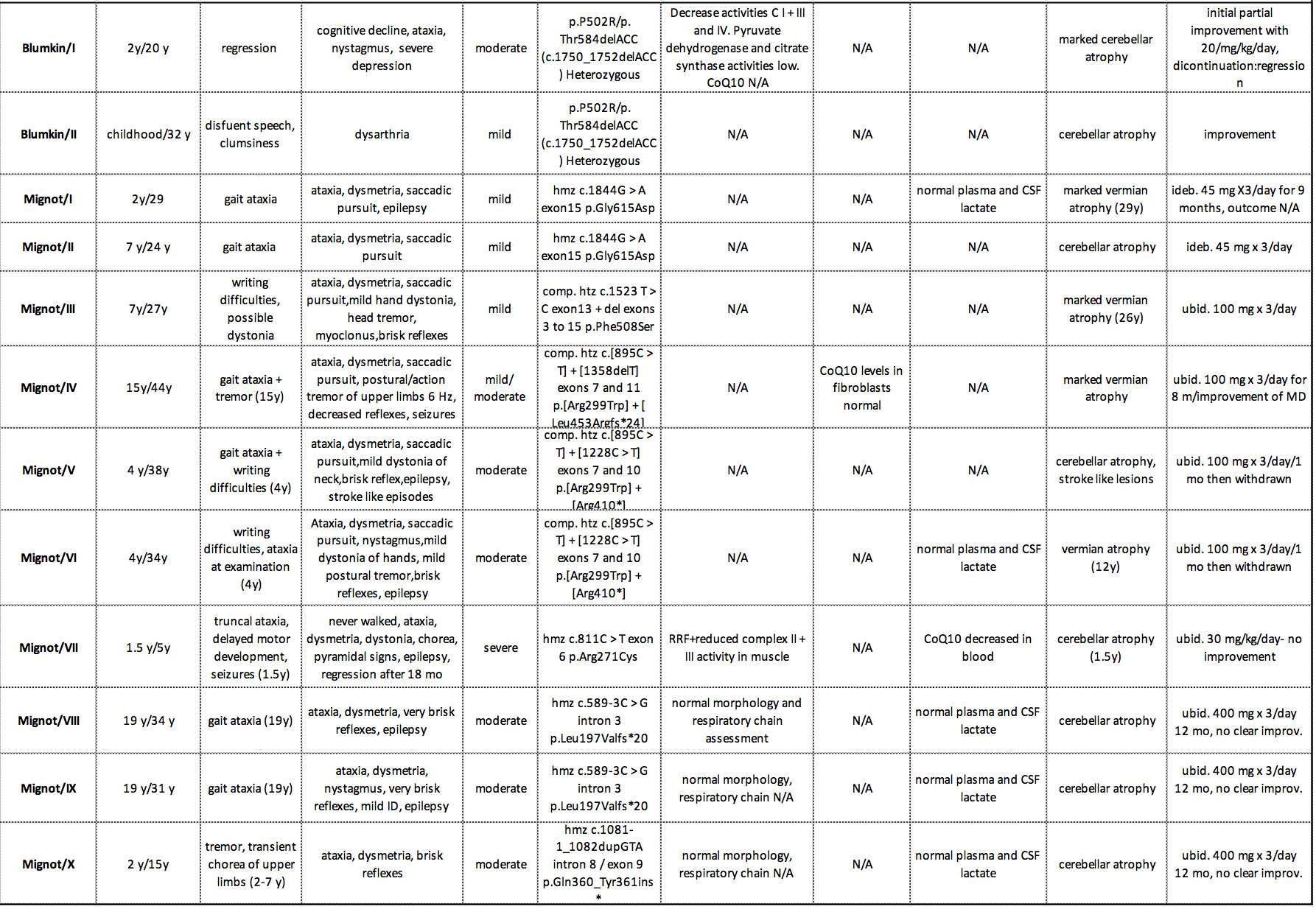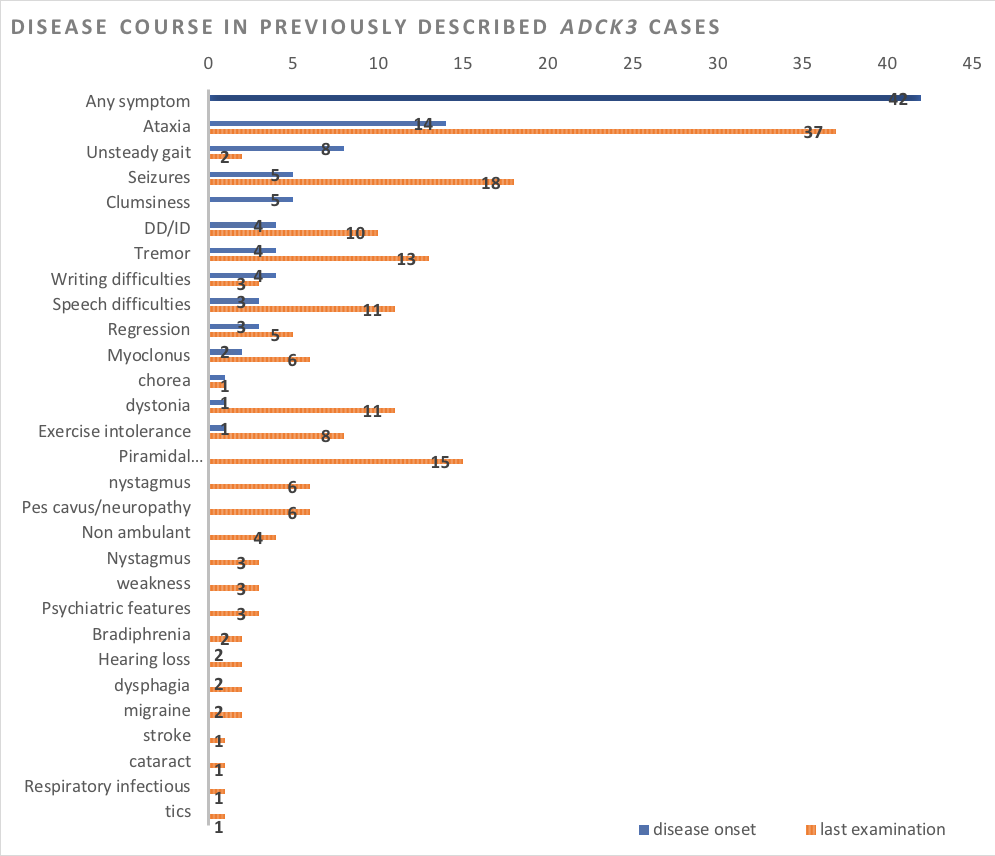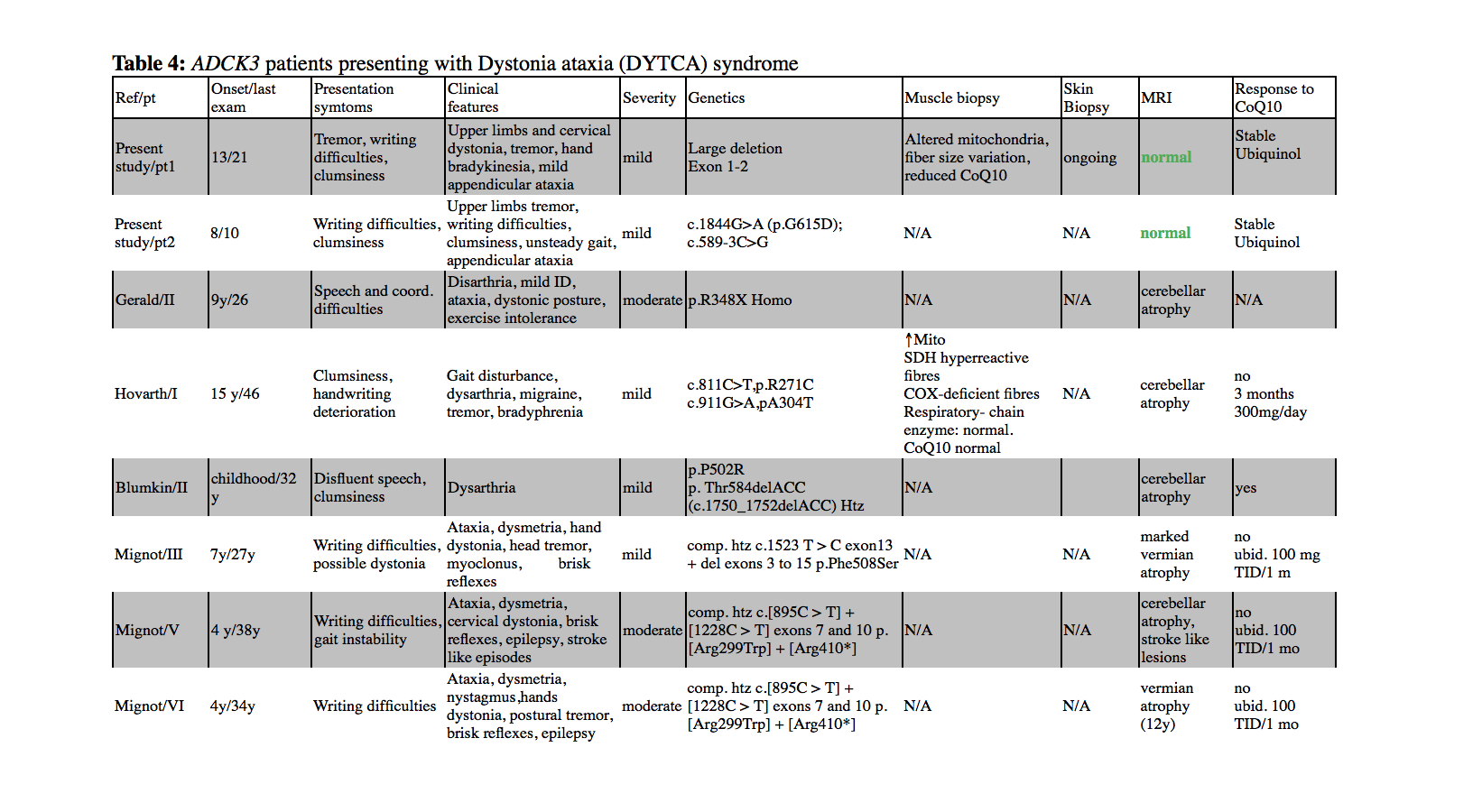 Conclusions: 2 newly identified and 6 previously reported ADCK3 patients further broaden the phenotypic spectrum of primary CoQ10 deficiency, showing a clinical phenotype consistent with a previously described clinical entity called DYTCA syndrome. This atypical presentation with prominent writing deterioration is an example of the extreme phenotypic variability of CoQ10 deficiency.
References: Fletcher, N. A., Stell, R., Harding, A. E., & Marsden, C. D. (1988). Degenerative cerebellar ataxia and focal dystonia. Movement disorders, 3(4), 336-342. Doss, S., Lohmann, K., Seibler, P., Arns, B., Klopstock, T., Zühlke, C., & Nürnberg, P. (2014). Recessive dystonia-ataxia syndrome in a Turkish family caused by a COX20 (FAM36A) mutation. Journal of neurology, 261(1), 207-212.
To cite this abstract in AMA style:
S. Galosi, T. Schirinzi, E. Bertini, R. Haas, F.M. Santorelli, V. Leuzzi, J.R. Friedman. Dystonia ataxia (DYTCA) syndrome with prominent handwriting deterioration associated with ADCK3 mutation: two new cases and an overview of the literature [abstract].
Mov Disord.
2018; 33 (suppl 2). https://www.mdsabstracts.org/abstract/dystonia-ataxia-dytca-syndrome-with-prominent-handwriting-deterioration-associated-with-adck3-mutation-two-new-cases-and-an-overview-of-the-literature/. Accessed December 1, 2023.
« Back to 2018 International Congress
MDS Abstracts - https://www.mdsabstracts.org/abstract/dystonia-ataxia-dytca-syndrome-with-prominent-handwriting-deterioration-associated-with-adck3-mutation-two-new-cases-and-an-overview-of-the-literature/