Session Information
Session Time: 1:45pm-3:15pm
Location: Hall 3FG
Objective: There are many traditional exercises in China such as Taijiquan, Wuqianxi and Ba Duanjin. Studies have shown that Taijiquan can help to improve the symptoms of Parkinson's disease. Here we explore the effect of Baduanjin on motor symptoms, non-motor symptoms, gait and balance function of patients with mild to moderate Parkinson's disease.
Background: Parkinson's disease is a progressive degenerative disease of the nervous system. Drug-based medical treatment can to a certain extent control the disease, relieve symptoms and delay the course of the disease, but long-term use of drugs can cause side effects and complications that eventually lead to many patients failing Insist on treatment. It is important to find an easy to learn, low cost and effective intervention to improve the motor and non-motor symptoms in Parkinson's patients. Baduanjin as one of the traditional Chinese aerobics, originated in the Song Dynasty, has been eight hundred years of history, and it can play a role in enhancing physical fitness and prolonging life expectancy.
Methods: Fifteen patients with mild-to-moderate Parkinson's disease were enrolled in this study. Ba Duanjin was carried out on the basis of maintaining their original drug treatment unchanged for a period of 3 weeks, 6 times a week, 30min daily. Patients were tested by UPDRS scale, NMSS scale, and gait analysis with IDEEA gait, balance function with Balensosenso balancer before and after exercise.
Results: Compared with pre-exercise, the total score of UPDRS, UPDRS-I, UPDRS-II and UPDRS-III were significantly improved (P<0.01, Fig1.A), NMSS scale changes were also significant (P <0.01), but there was no significant difference of UPDRS-IV (P> 0.05). In the IDEEA gait test data, SLS/DLS, Ground Impact were significantly different compared with pre-exercise (P<0.05, Fig1.B.C), and other indicators have no statistical difference (probably because of the small sample size, as the current experiment is still underway). In Balensosenso balance testing data, static balance test score and grade, ring dynamic balance test score and grade were significantly different compared with pre-exercise (P <0.01, Fig1.D.E.F.G).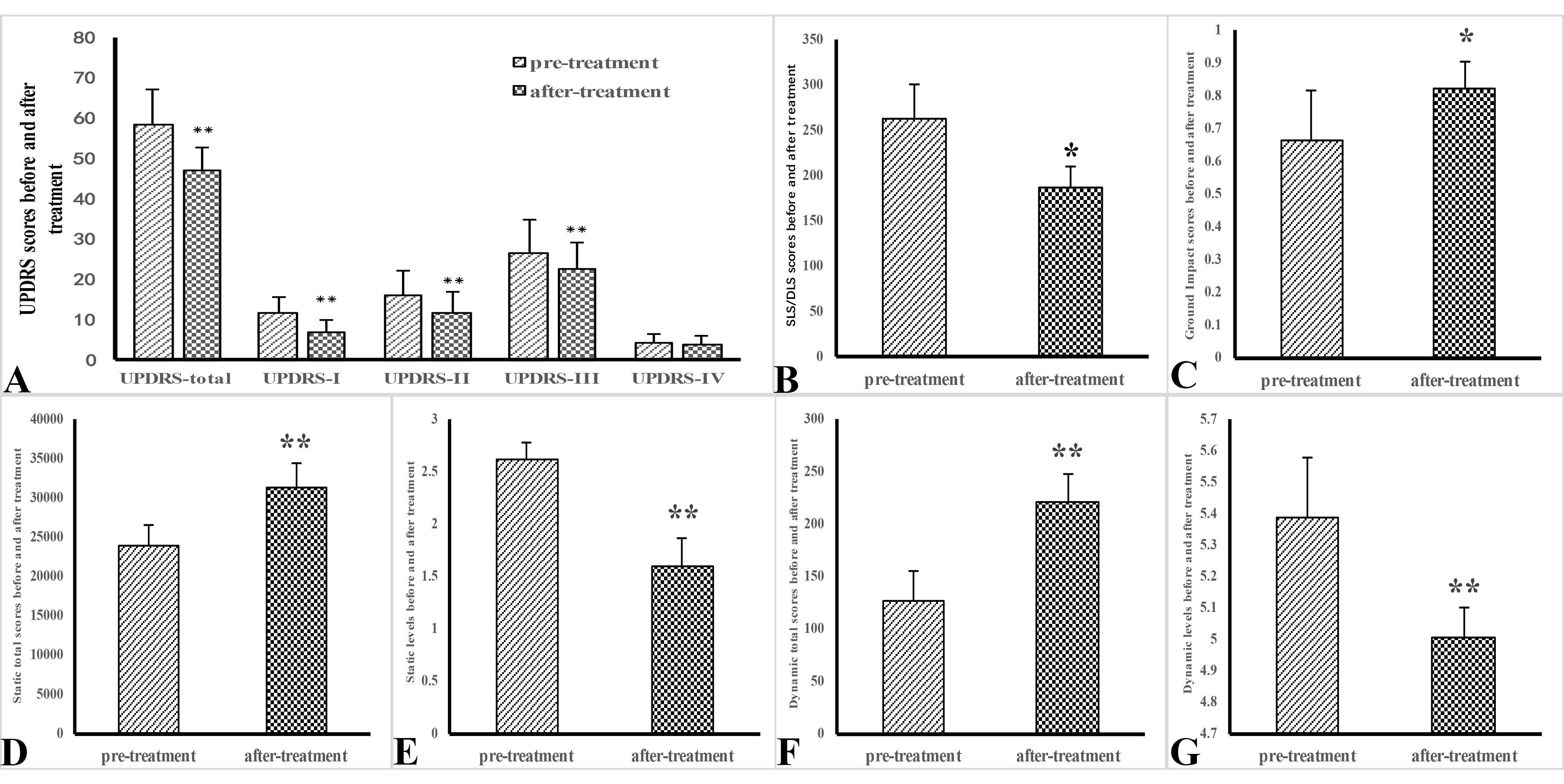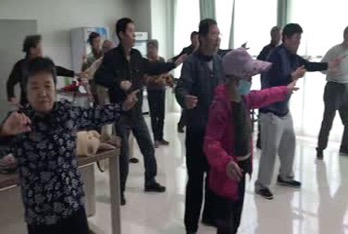 Conclusions: In patients with mild-to-moderate Parkinson's disease, on the basis of conventional drug therapy, combined with Baduanjin exercise can improve non-motor symptoms, motor symptoms, gait and balance ability and improve the quality of life of patients. (China Clinical Trial Registration Center registration number: ChiCTR-IOR-17014149)
References: [1] M.K. Mak, I.S. Wong-Yu, X. Shen, C.L. Chung, Long-term effects of exercise and physical therapy in people with Parkinson disease, Nat. Rev. Neurol. 13 (2017) 689–703. [2] T. Chen, G.H. Yue, Y. Tian, C. Jiang, Baduanjin mind-body intervention improves the executive control function, Front. Psychol. 7 (2017). doi:10.3389/fpsyg.2016.02015.
To cite this abstract in AMA style:
Z. Cai, S. Dong. Effect of Ba Duan Jin Exercise on Non-Motor Symptoms, Motor Symptoms, Gait and Balance in Patients with Mild to Moderate Parkinson's Disease [abstract].
Mov Disord.
2018; 33 (suppl 2). https://www.mdsabstracts.org/abstract/effect-of-ba-duan-jin-exercise-on-non-motor-symptoms-motor-symptoms-gait-and-balance-in-patients-with-mild-to-moderate-parkinsons-disease/. Accessed December 1, 2023.
« Back to 2018 International Congress
MDS Abstracts - https://www.mdsabstracts.org/abstract/effect-of-ba-duan-jin-exercise-on-non-motor-symptoms-motor-symptoms-gait-and-balance-in-patients-with-mild-to-moderate-parkinsons-disease/