Objective: To study disparities in gender and ethnicity among deep brain stimulation (DBS) patients to reduce differences in access to care by eventually implementing strategies to address patient-identified barriers and deliver information in an understandable, culturally sensitive manner.
Background: DBS is an important treatment for Parkinson disease (PD), tremor, and dystonia in appropriately selected patients. Clinical evidence demonstrates that DBS is efficacious, safe, and improves function and quality of life when medical treatment alone cannot achieve symptom control. Nonetheless, DBS may be underused in certain patient populations.
Barriers to receiving DBS that could account for underuse amongst different gender and ethnicities are poorly investigated in a pluralist country like Canada. Comparing the gender and ethnicity of patients who underwent DBS in a diverse Canadian centre to population demographics can help determine whether there is the expected uptake of DBS in various groups.
Method: The study design was two pronged. In the first study, DBS patients at the University of Alberta selected the most applicable option out of the following choices: European, Asian, East Indian, and Indigenous. Gender and self-reported ethnicity were retrospectively analyzed. In a future second prospective study, in both implanted patients and suitable candidates, barriers to DBS access will be identified using surveys and strategies implemented in an effort to increase patient comfort.
Results: Among the 94 DBS patients actively followed between 2016 to 2019, there were 66 men and 28 women (M:F=2.36). Patients who received DBS surgery were European (85, 90.4%), Asian (4, 4.3%), East Indian (4, 4.3%), and Indigenous (1, 1.1%). Not a single African-Canadian has been treated in our program to date. The gender and ethnicity of our cohort underrepresent population demographics (Figure 1).
Conclusion: This project increases awareness by uncovering the gender and ethnicity disparities when providing DBS treatment for movement disorders. For equal and universal patient care, in the future, we plan to identify the barriers to access to referral and explore patient understanding of the system and resources, informed (and non-informed) personal preferences, geographic variations, and provider biases.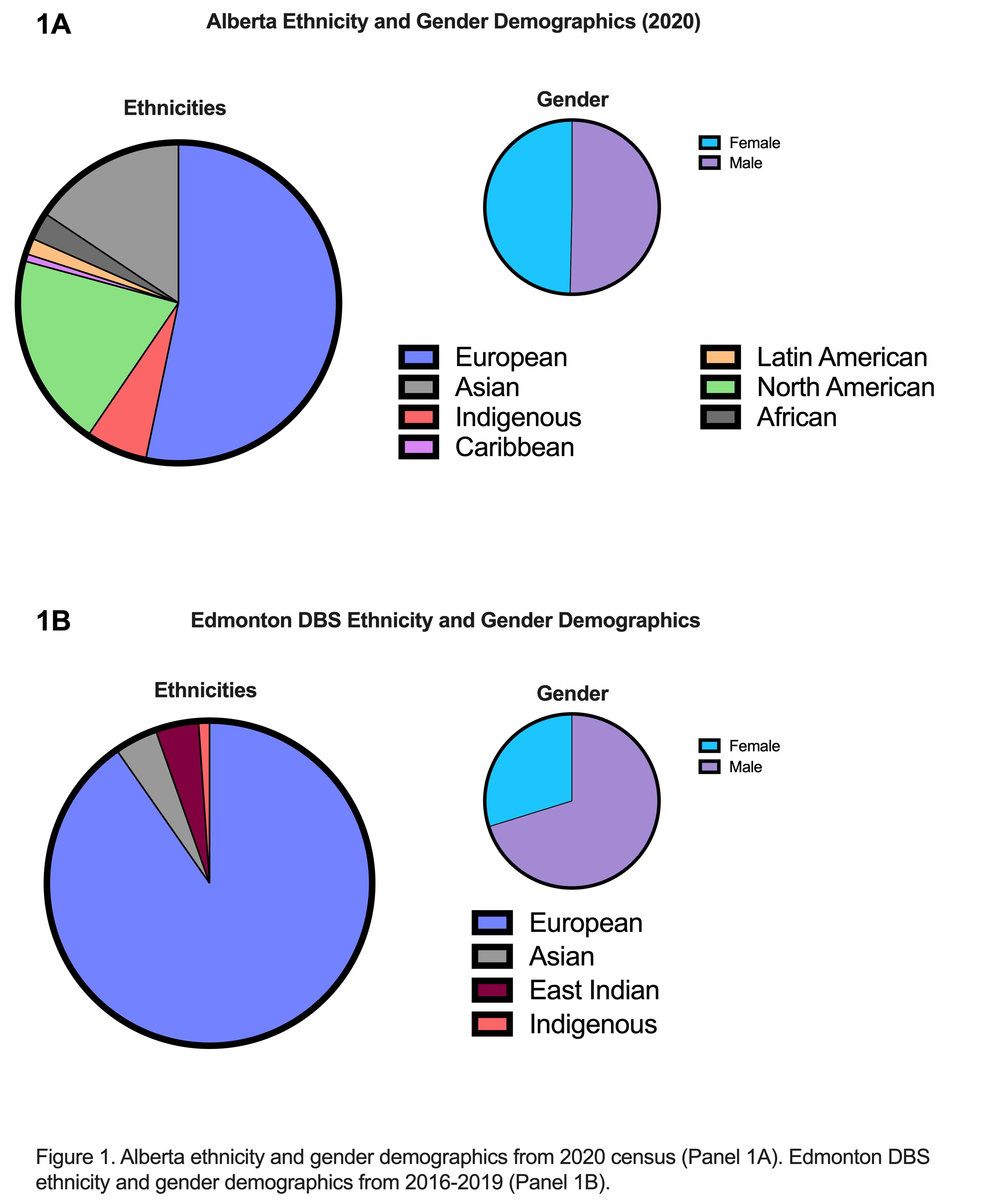 To cite this abstract in AMA style:
S. Poonja, K. Yen, J. Miyasaki, A. Shetty, T. Sankar, F. Ba. Ethnic and Gender Disparities in Access to Deep Brain Stimulation Surgery for Movement Disorders in a Canadian Center [abstract].
Mov Disord.
2021; 36 (suppl 1). https://www.mdsabstracts.org/abstract/ethnic-and-gender-disparities-in-access-to-deep-brain-stimulation-surgery-for-movement-disorders-in-a-canadian-center/. Accessed December 1, 2023.
« Back to MDS Virtual Congress 2021
MDS Abstracts - https://www.mdsabstracts.org/abstract/ethnic-and-gender-disparities-in-access-to-deep-brain-stimulation-surgery-for-movement-disorders-in-a-canadian-center/