Session Information
Session Time: 1:45pm-3:15pm
Location: Agora 3 West, Level 3
Objective: To objectively evaluate the real-world impact of carbidopa/levodopa enteral suspension (CLES) on motor symptoms in patients with advanced Parkinson's disease (PD) in USA.
Background: Wearable sensors enable continuous, passive monitoring of patients' symptoms without additional administrative burden. Recent technological advances have enabled objective measurement of PD symptoms using wearable sensors, providing a new avenue to measure treatment effect in real-world settings.
Method: PROviDE is a US-based, real-world, prospective longitudinal observational study aimed to examine the effectiveness of CLES in patients with advanced PD. In a sub-study, effectiveness was also measured using wearable sensors in addition to a battery of patient reported outcomes and an electronic PD dairy.(1) Kinesia 360™, a validated two sensor system in which sensors are worn on the wrist and the ankle of the more affected side was used in the study to measure dyskinesia, tremor, arm swing, mobility, and slowness.(2) Patients wore the sensors as per a pre-specified schedule (back-to-back days every week for 1 month and every other week for months 2-4) for a period of 4 months which includes ~1 month of pre-treatment period.(1) Treatment efficacy will be evaluated based on change from first visit (i.e. before treatment) to last visit (i.e. after treatment). Correlations between outcomes from the sensors and patient-self report will be measured.
Results: The baseline demographic and clinical characteristics of the study sample (n = 39) are presented in [Table 1]. Baseline PD symptoms based on patient self-reports are summarized in [Table 2]. For the patients wearing the sensors for more than 6 hours/day in the week 1 (n=34), mean wear time was 12.2 ± 3.1 hours/day. The baseline motion characteristics of the study sample collected via the sensor system are displayed in [Figure 1]. Based on the electronic PD diary entries, percent of waking time spent in different PD symptom states is presented in [Figure 2]. The study is ongoing and final efficacy results will be presented at the time of the presentation.
Conclusion: This study provides the first-of-its-kind data to evaluate real-world effectiveness for advanced PD patients. The data and analytical approaches inform the pathway for incorporation of wearable sensors in future studies evaluating PD therapeutics.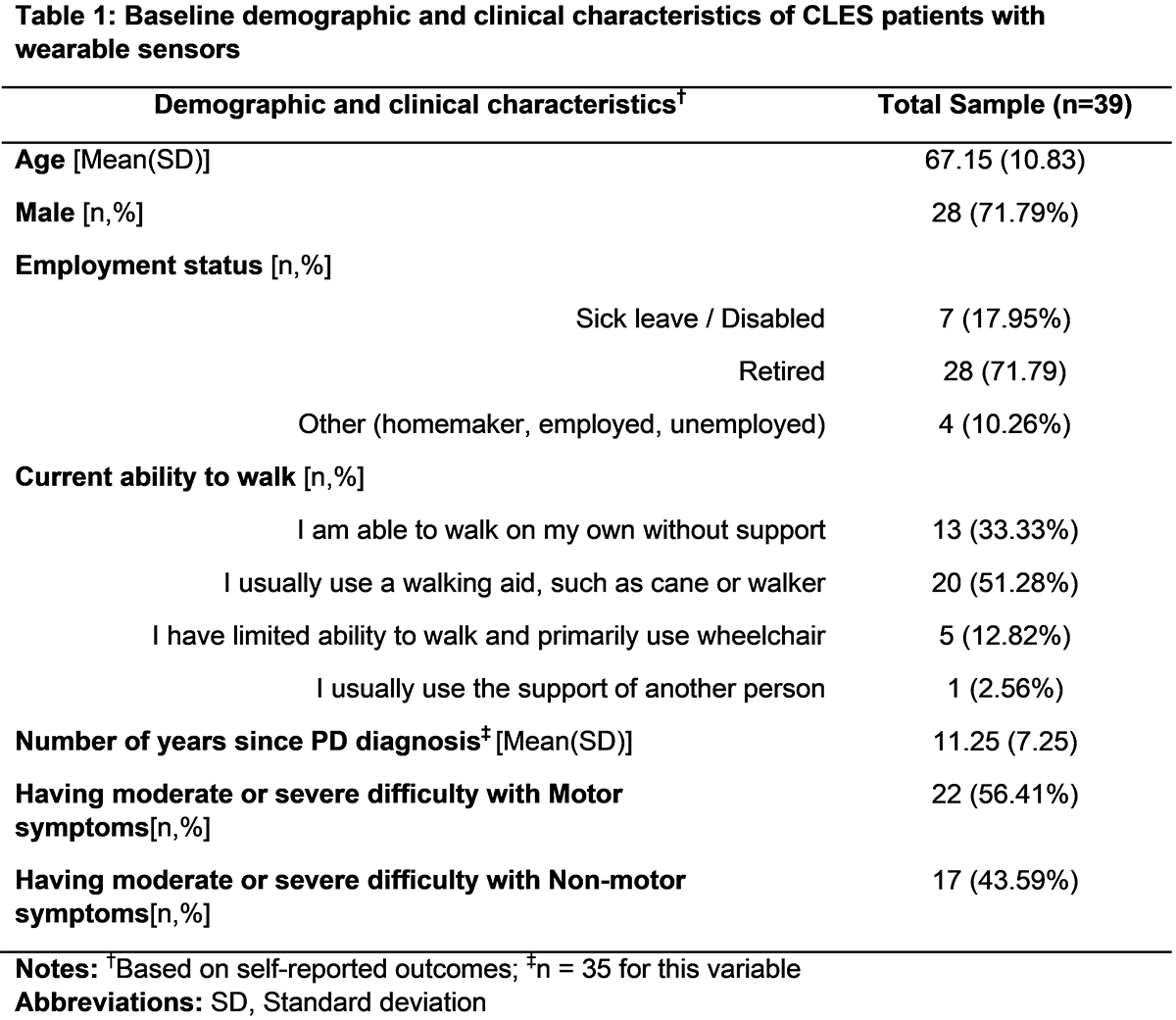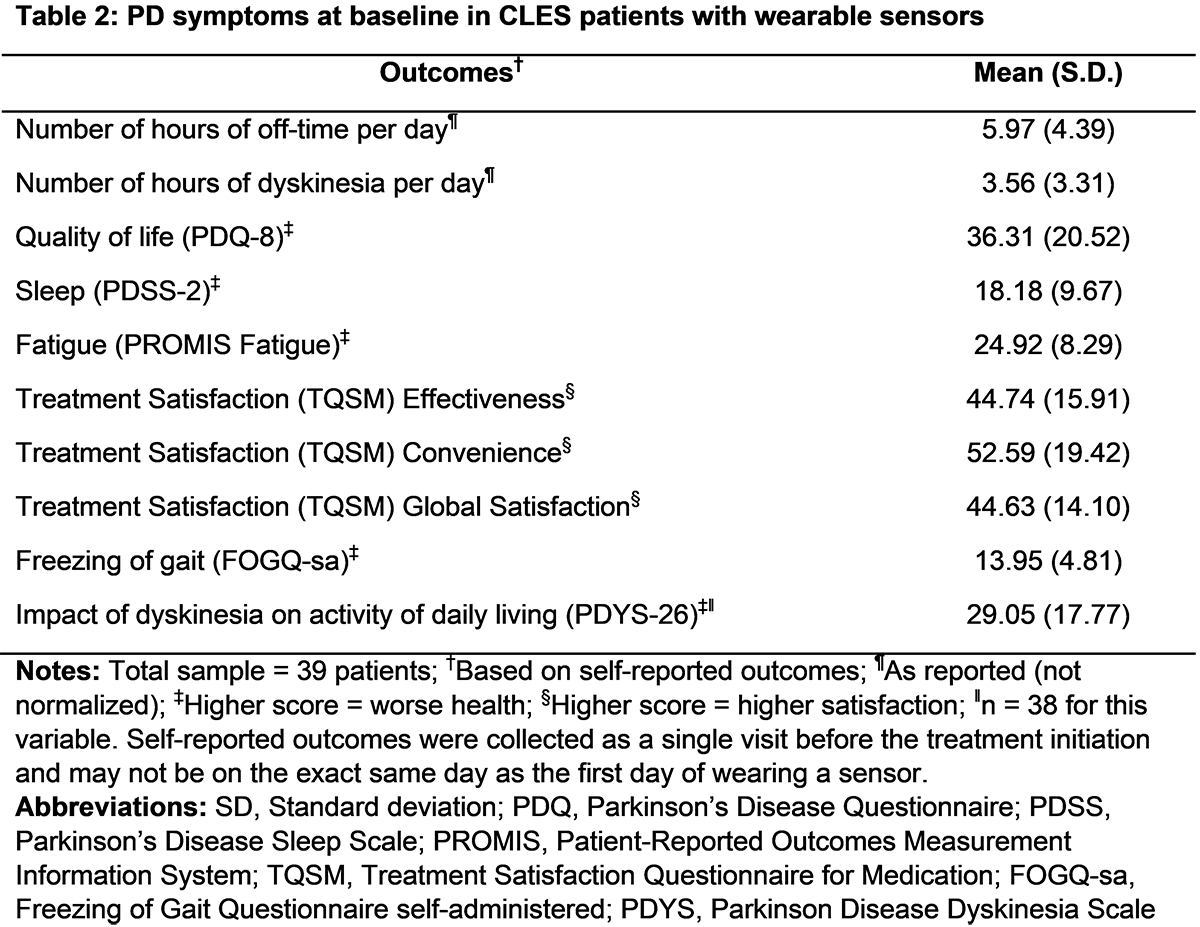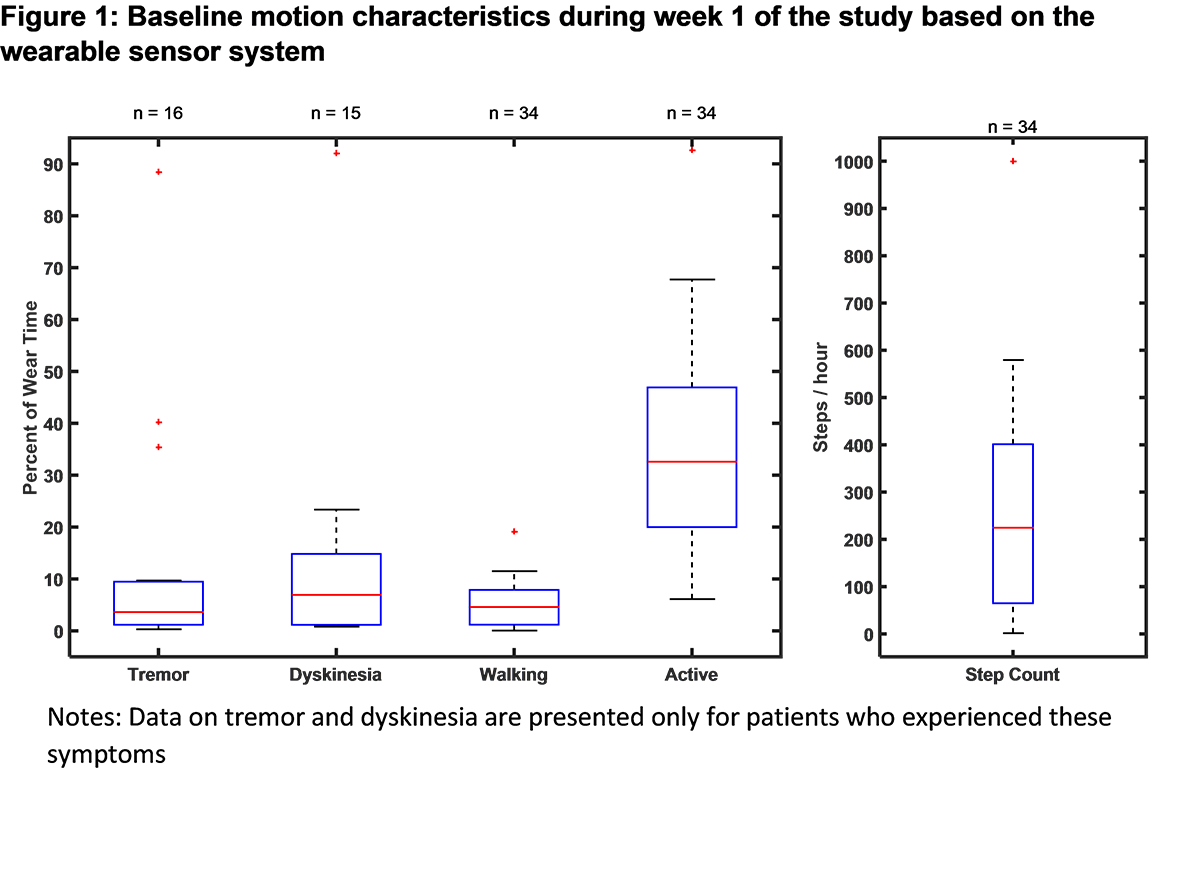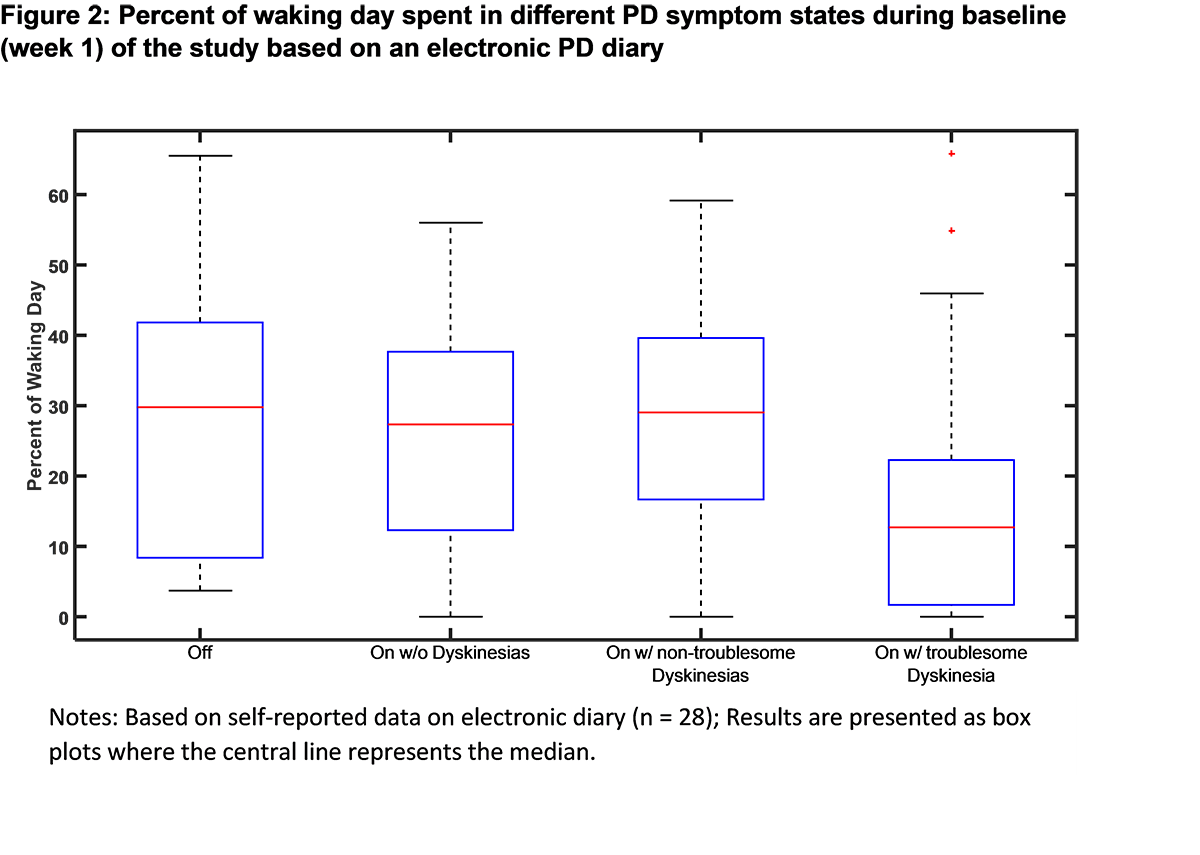 References: 1. Pahwa R, Dorsey ER, Pan I, van Norman S, Marshall TS, Heldman DA, Jalundhwala YJ. Using Objective Measurement Via Wearable Sensors To Evaluate Real-world Effectiveness Of Carbidopa/Levodopa Enteral Suspension For Managing Motor Fluctuations: PROviDE Study Design And Baseline Characteristics. Neurology Apr 2018, 90 (15 Supplement) P3.037. 2. Pulliam CL, Heldman DA, Brokaw EB, Mera TO, Mari ZK, Burack MA. Continuous Assessment of Levodopa Response in Parkinson's Disease Using Wearable Motion Sensors. IEEE Transactions on Biomedical Engineering. 2018 Jan;65(1):159-64.
To cite this abstract in AMA style:
R. Pahwa, R. Dorsey, S. Isaacson, P. Kandukuri, Y. Jalundhwala, P. Kukreja, N. Gupta, I. Pan, Y. Bao, D. Heldman. Evaluating the real-world impact of levodopa/carbidopa intestinal gel (LCIG) on motor symptoms using wearable sensors: Evidence from PROviDE study [abstract].
Mov Disord.
2019; 34 (suppl 2). https://www.mdsabstracts.org/abstract/evaluating-the-real-world-impact-of-levodopa-carbidopa-intestinal-gel-lcig-on-motor-symptoms-using-wearable-sensors-evidence-from-provide-study/. Accessed December 7, 2023.
« Back to 2019 International Congress
MDS Abstracts - https://www.mdsabstracts.org/abstract/evaluating-the-real-world-impact-of-levodopa-carbidopa-intestinal-gel-lcig-on-motor-symptoms-using-wearable-sensors-evidence-from-provide-study/