Session Information
Session Time: 1:45pm-3:15pm
Location: Hall 3FG
Objective: To describe an atypical presentation of a rare NBIA disorder
Background: Beta-propeller protein-associated neurodegeneration (BPAN) manifests in infancy as an initially static encephalopathy with severe developmental delay and frequently accompanied by seizure disorders, followed by the emergence of dementia and movement disorders in adolescence or early adulthood. It is the only X-linked dominant NBIA syndrome, the causative mutation having been recently identified in the WDR45 gene (Haack et al, 2012). The majority of cases reported have been females with heterozygous germline mutations (9 males amongst the 64 published cases to date – Stige et al, 2018). Amongst the male cases, most presented with more severe features but a few had clinical phenotypes undistinguishable from the female carriers; this is presumed to be due in part to somatic mosaicism although only one male case had been confirmed mosaic thus far.
Methods: We present the case of a 44-year old man, who was the product of a normal pregnancy, although reportedly suffered perinatal respiratory problems. He went on to exhibit moderate developmental delay, although no gross impairment of motor function was noted. Family history was non-contributory. His learning disability was attributed to presumed perinatal hypoxia, and his clinical course remained static until the age of 43, when he developed slowness of movement and impaired dexterity, as well as gait freezing. Examination revealed a severe asymmetric akinetic-rigid syndrome in all 4 limbs, with additional prominent axial and gait involvement: stooped posture, reduced stride length, frequent episodes of gait freezing, loss of postural reflexes, hypomimia. Verbal output was reduced but there was no dysarthria.
Results: Extensive laboratory tests were within normal limits. Brain MRI demonstrated low T2 and gradient echo signal changes in the substantia nigra and pallidum bilaterally (Fig), which is the imaging hallmark of BPAN. Molecular genetic analysis showed a novel c.601_602del (p.L201fs) likely pathogenic frameshift mutation in exon 9 of the WDR45 gene. A 2:1 ratio of mutated to normal sequence indicated likely somatic mosaicism.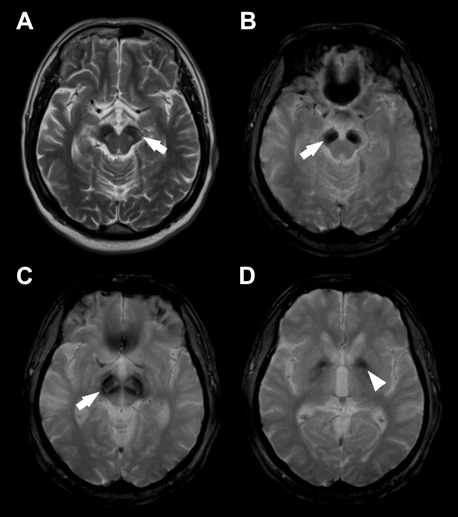 Conclusions: Our patient is the oldest reported onset for movement disorders amongst male cases of BPAN, in addition to being only the second confirmed case of somatic mosaicism in a male. We believe our observation widens the spectrum of clinical presentation of this rare disease, to now encompass mild phenotypes arising in middle-aged males.
References: 1. Haack TB, Hogarth P, Kruer MC, et al. Exome sequencing reveals de novo WDR45 mutations causing a phenotypically distinct, X-linked dominant form of NBIA. Am J Hum Genet. 2012;91:1144–9. 2. Stige KE, Gjerde IO, Houge G, et al. Beta‐propeller protein‐associated neurodegeneration: a case report and review of the literature. Clin Case Rep. 2018 Feb; 6(2): 353–362.
To cite this abstract in AMA style:
M. Boca, A. Herwadkar, C. Breen, M. Silverdale, C. Kobylecki. Expanding the clinical phenotype of BPAN: A case report [abstract].
Mov Disord.
2018; 33 (suppl 2). https://www.mdsabstracts.org/abstract/expanding-the-clinical-phenotype-of-bpan-a-case-report/. Accessed December 5, 2023.
« Back to 2018 International Congress
MDS Abstracts - https://www.mdsabstracts.org/abstract/expanding-the-clinical-phenotype-of-bpan-a-case-report/