Objective: The aim of this study was to evaluate patients' long-term satisfaction with their choice of battery and factors that influence their decision.
Background: Deep brain stimulation (DBS) is an established treatment for movement disorders. We have previously shown that in our practice, the majority of adult patients prefer fixed-life implantable pulse generators (IPG), although rechargeable batteries are increasingly used.
Method: Thirty patients with DBS were given a questionnaire to assess long-term satisfaction and experience with the type of battery they had chosen.
Results: Twenty-six patients completed the survey. The mean age was 67.7 ± 7.3 years and mean follow-up was 18.0 ±7.2 months. The indications for DBS were Parkinson's disease (76.9%), tremor (11.5%) and dystonia (11.5%). Eleven patients (42.5%) had chosen the rechargeable battery. All patients were still happy with their choices and would not change the type of battery if they had the chance to do so. However, in patients who chose the fixed life battery, concern about the size of battery rose from 6.7% pre-operatively to 60% on long term post-operative follow up. In patients who chose the rechargeable battery, concern about the need to recharge the battery did not change, remaining low postoperatively. Interestingly, even though the main reason cited for choosing the fixed-life battery was the convenience and concern about forgetting to recharge the battery, patients who had chosen a rechargeable IPG did not experience this problem.
Conclusion: Patients and caregivers should be involved in the choice of battery, as each type of IPG has its own advantages and disadvantages. Long-term evaluation of patient's experience and satisfaction with battery of choice revealed that size of the IPG, need for further replacement surgeries and need for recharging remain matters of major concern. Although preoperatively often underestimated, the size of the battery seems to be an important factor in long-term satisfaction.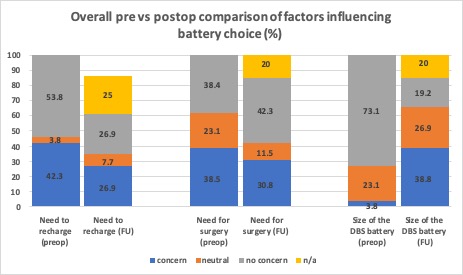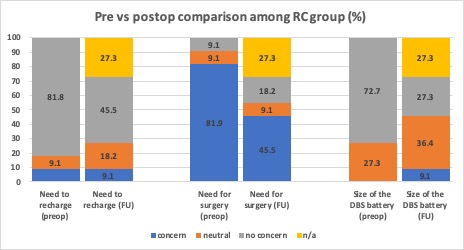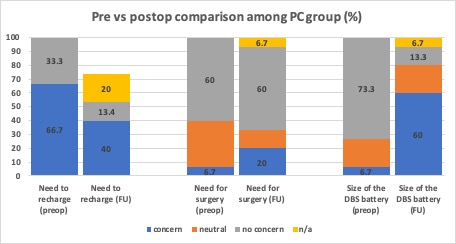 To cite this abstract in AMA style:
L. Furlanetti, A. Raslan, T. Khaleeq, H. Hasegawa, R. Tambirajoo, M. Samuel, K. Ashkan. Fixed-life or rechargeable battery for deep brain stimulation: A prospective long-term study of patient's preferences [abstract].
Mov Disord.
2020; 35 (suppl 1). https://www.mdsabstracts.org/abstract/fixed-life-or-rechargeable-battery-for-deep-brain-stimulation-a-prospective-long-term-study-of-patients-preferences/. Accessed December 5, 2023.
« Back to MDS Virtual Congress 2020
MDS Abstracts - https://www.mdsabstracts.org/abstract/fixed-life-or-rechargeable-battery-for-deep-brain-stimulation-a-prospective-long-term-study-of-patients-preferences/