Objective: We aimed to determine the frequency of Glucocerebrosidase (GBA) deficiency (subclinical Gaucher's Disease type 1, GD1) in patients with atypical parkinsonism (AP) with features of tauopathy (progressive supranuclear palsy-PSP and corticobasal syndrome, CBS).
Background: Glucocerebrosidase (GBA) mutations cause autosomal recessive Gaucher's disease (GD) due to enzyme deficiency. GBA heterozygous mutations are common in Parkinson's disease (PD), in Spain accounting for 9.8% of PD patients. GD1 (adult type) has only systemic features, but PD and exceptionally atypical parkinsonism (AP) resembling corticobasal syndrome (CBS) have been reported, with mild or absent systemic features of GD.
Method: Cross-sectional multicentre study of PSP and CBS patients, including demographic and clinical variables, beta-glucosidase and chitotriosidase serum activity in dried blood spots, and complete GBA gene sequencing whenever activity was low or dubious.
Results: 60 patients (55% male, mean age 74 years, 60-80) diagnosed with PSP (46), CBS (10) or mixed PSP/CBS (4) were included. Family history was positive for parkinsonism (PD/AP) in 13 (22%). Beta-glucosidase and chitotriosidase serum activity were normal in 53 but dubious in 7. Thirteen cases, including these 7, underwent complete GBA gene sequencing, which showed heterozygous mutations in 3 cases (23%) (c.1226A>G N370S; c.1093G>A and c.-15A>G); 2 had CBS and 1 mixed PSP/CBD phenotype (Figures 1 and 2).
Conclusion: Our study does not support an association among tauopathies and low GBA enzyme activity. However, GBA mutations were found in a higher than expected frequency, which could result from selection bias but warrants further research for clarification.
NOTE: A previous poster presentation with the design and the results of the first 6 patients included was presented at 2015 International Congress of the Movement Disorders Society in San Diego.
POSTER NO. 1151 Glucocerebrosidase mutations and atypical Parkinsonism: A multi‐centre exploratory study. R. Álvarez Velasco, P. Giraldo, P. Irún, E. Viedma Guiard, J. López Sendón, I. Avilés Olmos, G. García Ribas, P.J. García‐Ruiz, L. Vela Desojo, J.C. Martínez Castrillo, A. Alonso Cánovas (Madrid, Spain). Abstracts of the Nineteenth International Congress of Parkinson's Disease and Movement Disorders. Mov Disord. 2015 Jun;30 Suppl 1:S1-S642. doi: 10.1002/mds.26295.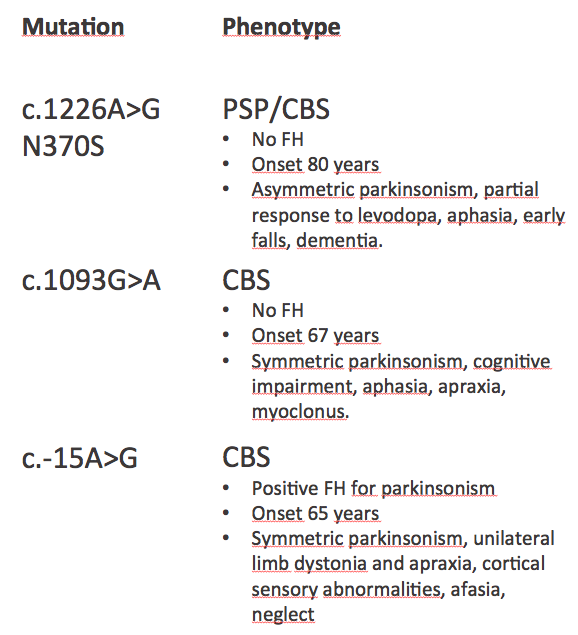 References: Alonso-Canovas A, Katschnig P, Tucci A, Carecchio M, Wood NW, Edwards M, Martínez Castrillo JC, Burke D, Heales S, Bhatia KP. Atypical parkinsonism with apraxia and supranuclear gaze abnormalities in type 1 Gaucher disease. Expanding the spectrum: case report and literature review. Mov Disord. 2010 Jul 30;25(10):1506-9. doi: 10.1002/mds.23109. Pérez-Calvo J1, Bernal M, Giraldo P, Torralba MA, Civeira F, Giralt M, Pocovi M. Co-morbidity in Gaucher's disease results of a nationwide enquiry in Spain. Eur J Med Res. 2000 Jun 20;5(6):231-5 Lesage S, Anheim M, Condroyer C, Pollak P, Durif F, Dupuits C, Viallet F, Lohmann E, Corvol JC, Honoré A, Rivaud S, Vidailhet M, Dürr A, Brice A. Large-scale screening of the Gaucher's disease-related glucocerebrosidase gene in Europeans with Parkinson's disease. Hum Mol Genet. 2011 Jan 1;20(1):202-10.
To cite this abstract in AMA style:
R. Alvarez Velasco, P. Giraldo, P. Irun, L. Vela Desojo, L. Lopez Manzanares, J.M Arbelo González, M. Eimil Ortiz, A. Rojo Sebastian, M. Mata Álvarez-Santullano, I. Martínez Torres, J. Garcia-Caldentey, M. Gómez Gutierrez, C. Estévez-Fraga, J.L López Sendón, G. García Ribas, J.C Martínez Castrillo, A. Alonso-Canovas. Glucocerebrosidase activity and atypical parkinsonism: a multi-centre exploratory study [abstract].
Mov Disord.
2020; 35 (suppl 1). https://www.mdsabstracts.org/abstract/glucocerebrosidase-activity-and-atypical-parkinsonism-a-multi-centre-exploratory-study/. Accessed December 6, 2023.
« Back to MDS Virtual Congress 2020
MDS Abstracts - https://www.mdsabstracts.org/abstract/glucocerebrosidase-activity-and-atypical-parkinsonism-a-multi-centre-exploratory-study/