Objective: Analyze the characteristics and clinical course of patients with Parkinson's disease hospitalized between 2011-2017.
Background: Parkinson's disease (PD) is the most common neurodegenerative disease after Alzheimer's disease and is the most common hypokinetic disorder 1,2. The cardinal motor symptoms of the disease are bradykinesia, stiffness and tremor, gait disturbances, and posture2. Non-motor symptoms are present at all stages of the disease, affect all patients, often precede motor symptoms, and they are more disabling for many patients. These symptoms include neuropsychiatric, gastrointestinal, autonomic disorders, and sleep disorders3. The most accepted prevalence for PD is 1-2 per 1,000 in the general population and affects 1% of the population over 60 years of age, affecting men slightly more than women2. The annual incidence varies between < 10 to > 20 per 100,000. 2 The prevalence of Parkinson's disease is projected to almost double by 2030 4, which is associated with an increase in life expectancy 4, 5. Some comorbidities are common in PD patients, which have an impact on the use of health services and their life expectancy 6.
PD patients have 1.44 times more hospital admissions compared to their peers in age and sex7. Admissions have been associated with a prolonged hospital stay and increased morbidity and mortality 7. It has been reported that emergencies are the 99% of causes for hospitalization in PD patients8.
Method: Observational, retrospective study was carried out. The records of patients with the main diagnosis of Parkinson's disease admitted to a public hospital of the Health Sector between 2011 and 2017 were included.
Results: 1247 patients were hospitalized, 55.26% (n=704) were men, the average of hospitalization age was 63.3±0.43, and the average age of death was 74.61±2.10. Increased risk of nosocomial infection was observed among those in the gastroenterology, infectology, pneumology, and psychiatry departments a higher risk of death, was associated with pneumology.
Conclusion: Hospitalizations in patients diagnosed with Parkinson's disease are usually more common due to gastrointestinal, infectious, and pneumological conditions. The correct initial diagnosis is essential for an appropriate prognosis at discharge.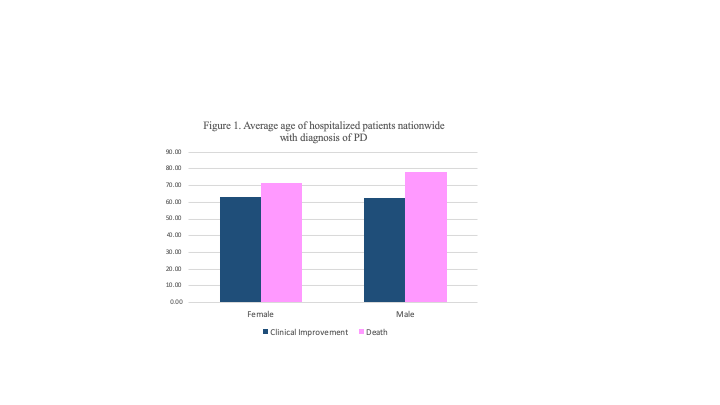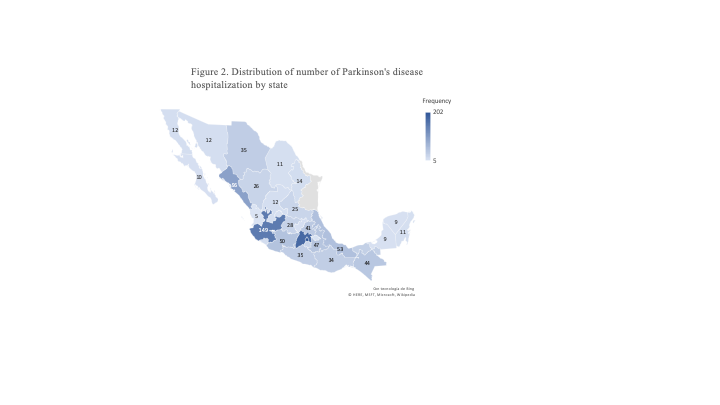 References: 1- Kalia LV &Lang AE. Parkinson's disease. Lancet. 2015 Apr; 386(9996):896-912. doi: https://doi.org/10.1016/S0140-6736(14)61393-3 2- Tysnes OB, Storstein A. Epidemiology of Parkinson's disease. J Neural Transm (Vienna). 2017 Ago;124(8):901-905. https://doi.org/1007/s00702-017-1686-y 3-Fox SH, Katzenschlager R, Lim S, Barton B, de Bie RMA, Seppi K Et al. International Parkinson and movement disorder society evidence‐based medicine review: Update on treatments for the motor symptoms of Parkinson's disease. Mov Disord. 2018 Aug;33(8):1248-1266. https://doi.org/10.1002/mds.27372 Epub 2018 Mar 23 4- Marras C, Beck JC, Bower JH, Roberts E, Ritz B, Ross GW, Abbott RD, Savica R, Van Den Eeden SK, Willis AW, Tanner CM; Parkinson's Foundation P4 Group. Prevalence of Parkinson's disease across North America. NPJ Parkinsons Dis. 2018 Jul 10;4:21. https://doi.org/10.1038/s41531-018-0058-0 5- Lubomski M, Rushworth RL, Tisch S. Hospitalisation and comorbidities in Parkinson's disease: a large Australian retrospective study. J Neurol Neurosurg Psychiatry. 2015 Mar;86(3):324-30. https://doi.org/10.1136/jnnp-2014-307822 6- Braga M, Pederzoli M, Antonini A, Beretta F, Crespi V. Reasons for hospitalization in Parkinson's disease: a case-control study. Parkinsonism Relat Disord. 2014 May;20(5):488-492. https://doi.org/10.1016/j.parkreldis.2014.01.022 7- Shahgholi L, De Jesus S, Wu SS, Pei Q, Hassan A, Armstrong MJ, Martinez-Ramirez D, Schmidt P, Okun MS. Hospitalization and rehospitalization in Parkinson disease patients: Data from the National Parkinson Foundation Centers of Excellence. PLoS One. 2017 Jul 6;12(7):e0180425. https://doi.org/10.1371/journal.pone.0180425 8- Fujioka S, Fukae J, Ogura H, Mishima T, Yanamoto S, Higuchi MA, Umemoto G, Tsuboi Y. Hospital-based study on emergency admission of patients with Parkinson's disease. eNeurologicalSci. 2016 Apr 25;4:19-21. https://doi.org/10.1016/j.ensci.2016.04.007 9- Martins J, Rua A, Vila Chã N. Hospital Mortality in Parkinson's Disease: Retrospective Analysis in a Portuguese Tertiary Centre. Acta Med Port. 2016 May;29(5):315-8. PMID:27649015. 10- Birinder P, Gunchan P, Gagandeep S, Sandeep K. Pattern of hospital admission and outcome in Parkinson's disease: A study from Punjab, India. Neurol Asia. 2017 Mar;22(1):33–39. https://doi.org/10.4103/aian.AIAN_44_18 11- Mahajan A, Balakrishnan P, Patel A, Konstantinidis I, Nistal D, Annapureddy N, Poojary P, Nadkarni GN, Sidiropoulos C. Epidemiology of inpatient stay in Parkinson's disease in the United States: Insights from the Nationwide Inpatient Sample. J Clin Neurosci. 2016 Sep;31:162-5. https://doi.org/10.1016/j.jocn.2016.03.005 12- Low V, Ben-Shlomo Y, Coward E, Fletcher S, Walker R, Clarke CE. Measuring the burden and mortality of hospitalisation in Parkinson's disease: A cross-sectional analysis of the English Hospital Episodes Statistics database 2009-2013. Parkinsonism Relat Disord. 2015 May;21(5):449-54. https://doi.org/10.1016/j.parkreldis.2015.01.017 13- Rodríguez-Violante M, Velásquez-Pérez L, Cervantes-Arriaga, A. Incidence rates of Parkinson's disease in Mexico: Analysis of 2014-2017 statistics. Rev Mex Neuroci. 2019 May;20(3): 136-140. 14- Consejo Nacional de Población. Proyecciones de la Población 2010-2050. Disponible en: http://www.conapo.gob.mx/es/CONAPO/Tabulados_basicos 15- Instituto Nacional de Estadística y Geografía. Población. Disponible en: https://www.inegi.org.mx/temas/estructura/ 16- Gutiérrez JP, Rivera-Dommarco J, Shamah-Levy T, Villalpando-Hernández S, Franco A, Cuevas-Nasu L, Romero-Martínez M, Hernández-Ávila M. Encuesta Nacional de Salud y Nutrición 2012. Resultados nacionales. 2a. ed. Cuernavaca, México: Instituto Nacional de Salud Pública (MX), 2013. 17- Gerlach OH, Broen MP, van Domburg PH, Vermeij AJ, Weber WE. Deterioration of Parkinson's disease during hospitalization: survey of 684 patients. BMC Neurol. 2012 Mar 8;12:13. https://doi.org/10.1186/1471-2377-12-13
To cite this abstract in AMA style:
R. Janssen-Aguilar, V. Villasuso-Alcocer, C. Rivas-Berny, N. Méndez-Domínguez, R. Leal-Ortega. Hospitalization causes and condition at discharge of Parkinson's disease patients in Mexican public institutions between 2011 and 2017 [abstract].
Mov Disord.
2020; 35 (suppl 1). https://www.mdsabstracts.org/abstract/hospitalization-causes-and-condition-at-discharge-of-parkinsons-disease-patients-in-mexican-public-institutions-between-2011-and-2017/. Accessed December 5, 2023.
« Back to MDS Virtual Congress 2020
MDS Abstracts - https://www.mdsabstracts.org/abstract/hospitalization-causes-and-condition-at-discharge-of-parkinsons-disease-patients-in-mexican-public-institutions-between-2011-and-2017/