Session Information
Session Time: 1:45pm-3:15pm
Location: Agora 3 West, Level 3
Objective: To report a patient with a rare clinical phenotype of Progressive Supranuclear Palsy (PSP) and describe 6 months follow-up results after surgical intervention.
Background: PSP has a number of clinical phenotypes. Normal pressure hydrocephalus (NPH) like presentation is a rare and under-recognized clinical phenotype of PSP. The long term benefits of ventricular-peritoneal (VP) shunting remain unclear in this group of patients.
Method: A 70 -year-old Asian man presented with 3 years history of chronic onset gait disturbances, cognitive decline, urinary incontinence and falls. After the onset of these symptoms, he gradually developed bradikinesia, tremor in upper limbs, dysarthria, dysphagia and levodopa induced visual hallucinations. Past medical history and family history were unremarkable. He was initially diagnosed with parkinsonism and was treated with levodopa up to 1000 mg/day for 3 years with no improvement in motor functioning. On examination he had severe gait disturbances, symmetric parkinsonism, reduced upgaze and slow saccades, dysarthria. His Movement Disorders Society Unified Parkinson's Disease Rating Scale (MDS UPDRS) motor part was 99. Levodopa test showed only 11% of improvement in motor score. Mini Mental State Examination score was 22/30 and Montreal Cognitive Assessment score was 19/30. On brain magnetic resonance (MR) imaging the following volumetric measurements were revealed: midbrain to pons ratio – 0.19 (Normal value (NV) > 0.24); MR Parkinsonism index = 19,37 (NV below 13,55); intrapeduncular angle – 60° (NV above 60,5°); callosal angle – 81° (less than 90° in NPH) (Figures 1 and 2); compressed and flattened upper brain convolutions against the scull. Two trials of 30-50 ml cerebrospinal fluid (CSF) removal improved his gait, speech and mobility for two weeks. MDSUPDRS motor score after trial of CSF removal was 40 and there were no falls. VP shunting was done with consecutive follow-up.
Results: Three months after surgery and physiotherapy he had no falls, no tremor and significantly improved gait. Six months after surgery his MDS UPDRS motor score was 42 and his mobility has not deteriorated; although, occasional falls and visual hallucinations were present.
Conclusion: More cases have to be collected with longer follow-up to ascertain the long-term benefits if VP in NPH like presentation of PSP.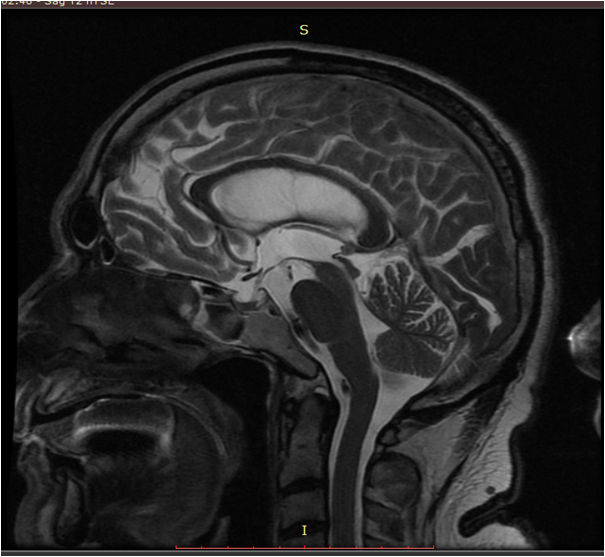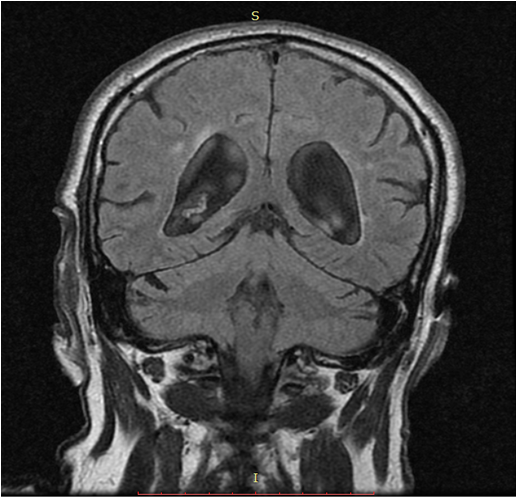 References: Starr et al. Journal of Clinical Movement Disorders 2014, 1:2
To cite this abstract in AMA style:
A. Taskinbayeva, CH. Shashkin, R. Kaiyrzhanov. Hydrocephalic presentation of PSP and follow-up after ventricular-peritoneal shunting: Case report [abstract].
Mov Disord.
2019; 34 (suppl 2). https://www.mdsabstracts.org/abstract/hydrocephalic-presentation-of-psp-and-follow-up-after-ventricular-peritoneal-shunting-case-report/. Accessed December 7, 2023.
« Back to 2019 International Congress
MDS Abstracts - https://www.mdsabstracts.org/abstract/hydrocephalic-presentation-of-psp-and-follow-up-after-ventricular-peritoneal-shunting-case-report/