Objective: Hypokinetic movement disorder and parkinsonian like picture has been well described in literature but hyperkinetic movements are extremely rare and less highlighted in global literatures. To investigate the epidemiology, clinical characteristics, the diagnostic and therapeutic challenges in patients with different types of movement disorders in the context of SARS-CoV-2. to know the time schedule of the onset of the movement disorder following the infection. To explore the possible pathogenesis.
Background: Infections are a significant cause of movement disorders, as up to 20% cases and Covid-19 might be an important cause
Method: Patients with movement disorder attended the clinic from Jan 2020 to Jan 2022, with recent onset of hyperkinetic movements were screened.Subjects had medical history either prior to the study or medical history reviewed by a physician at screening suggestive of covid.RT-PCR or covid antibody in blood or csf of patients with recent onset hyperkinetic movement disorder within 4-12 weeks of symptoms.Ventilatory cases were excluded. Other viral markers were used to rule out other viruses. MRI brain and EEG as a routine in all the cases. Immune markers in very selected cases.The attempted treatment options followed as symptomatic treatment with immunotherapy.
Results: In last 2 years 50 cases of new onset Hyperkinetic movement disorder are recorded, out of which only 9 cases were directly or indirectly linked to Covid
Nystagmus, orofacial dyskinesia and focal or generalised myoconus are the main finding, delirium, gait ataxia and ocular movement disorders along with epileptic seizures are seen. Positive EEG findings are in the form of diffused bihemispheric slowing with delta brush or periodic complexes along with polyspikes and MRI findings are non-specific changes to bitemporal hyperintensities in flair and T2 or both cortical and sub-cortical lesion involving unilateral or bilateral basal ganglia. Treatment response all the patients showed significant recovery with injection Methyl prednisolon therapy for 5 -7 days along with antiepileptics and anticholinergic medications.
Conclusion: Hyperkinetic Movement disorders are uncommon
Myoclonus is the most reported movement disorder associated with COVID, its clinical complications or pharmacological management. The pathophysiology is not well-understood but can include neuro inflammation, autoimmune mechanisms and small vessels involvements.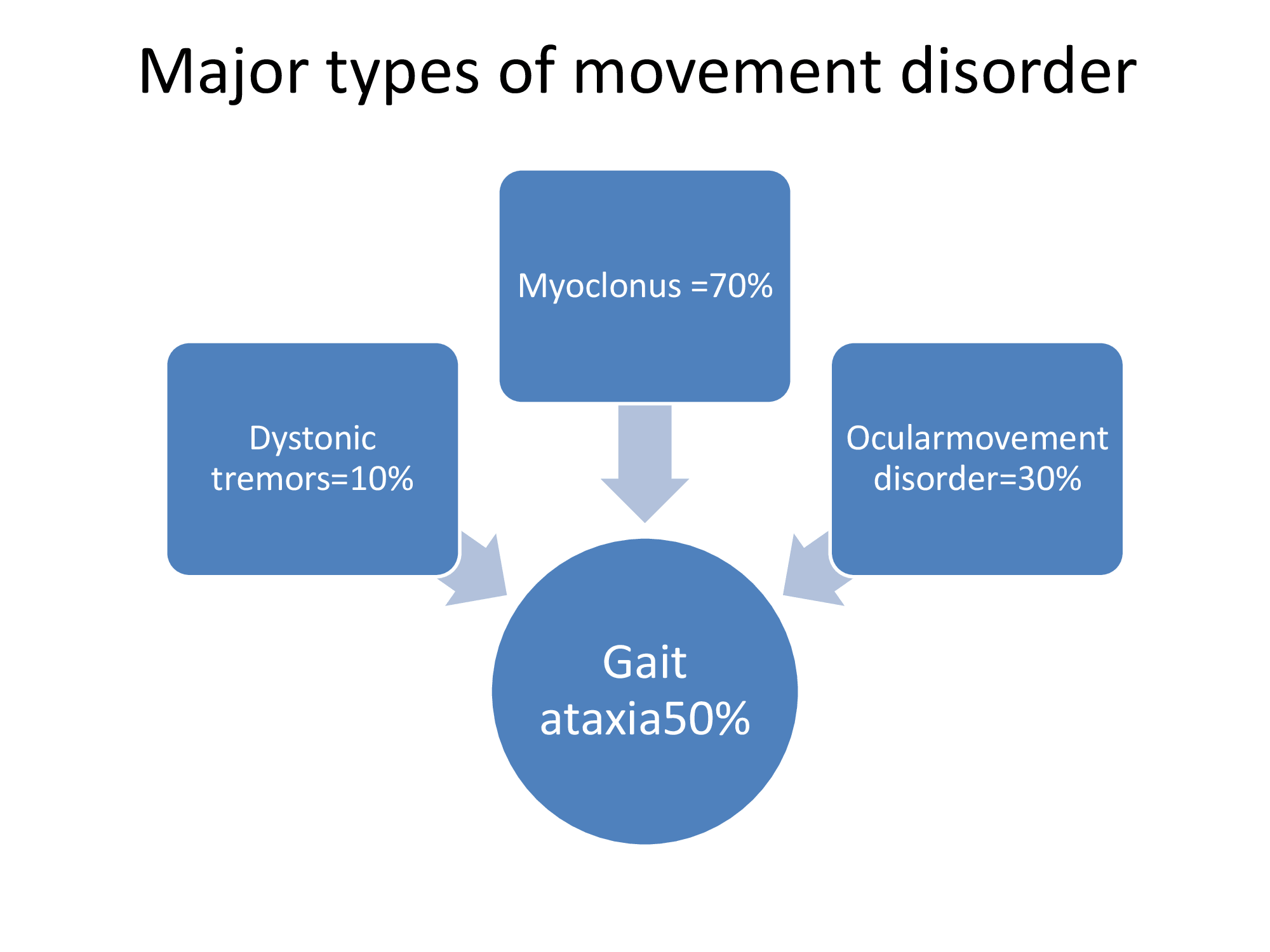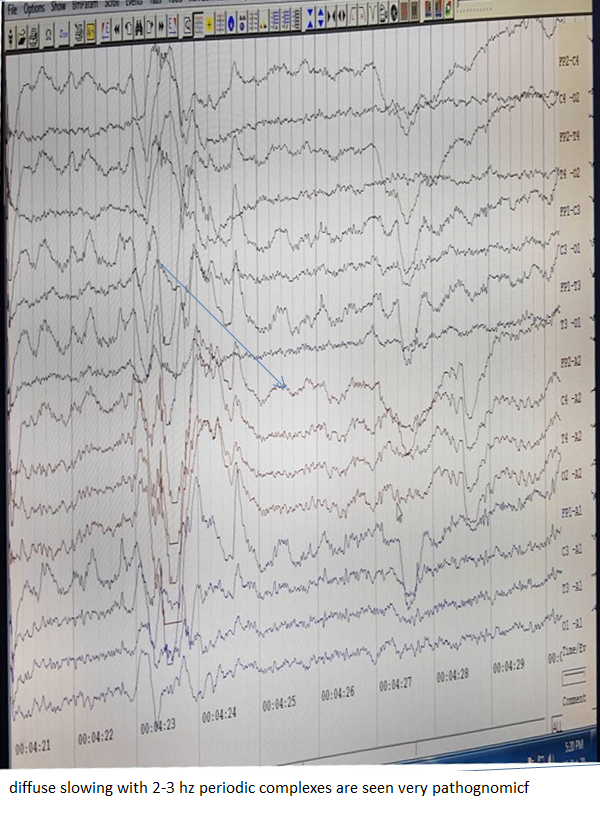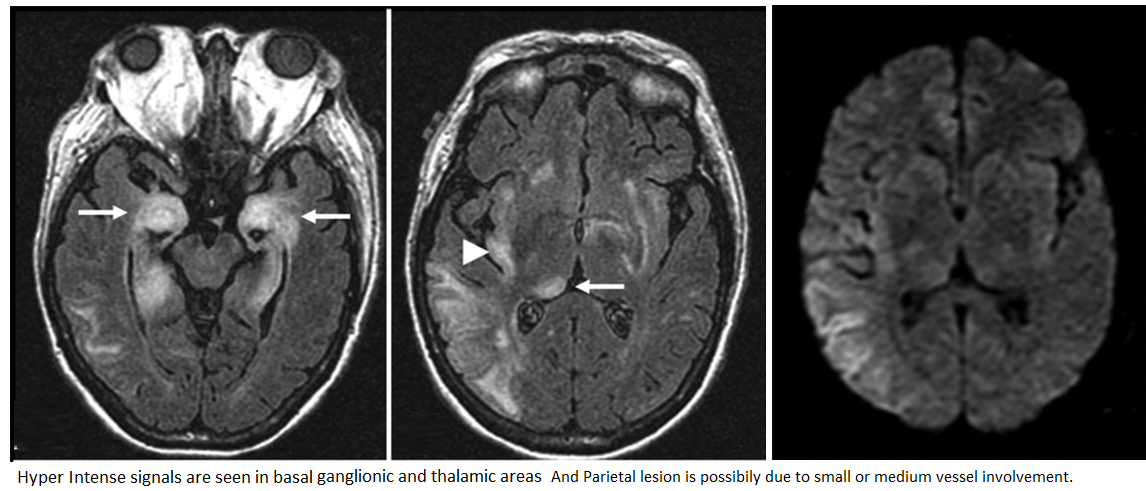 References: 1.Tremor Other Hyperkinet Mov (N Y). 2021; 11: 26.
Published online 2021 Jul 8. doi: 10.5334/tohm.595
PMCID: PMC8269765
PMID: 34277139
New-Onset Movement Disorders Associated with COVID-19
Pedro Renato P. Brandão, MD,1 Talyta C. Grippe, MD, MSc,2,3 Danilo A. Pereira, MSc, PhD,4 Renato P. Munhoz, MD, MSc, PhD,5 and Francisco Cardoso, MD, MSc, PhD, FAAN
2..Myoclonus and cerebellar ataxia associated with COVID-19: a case report and systematic review.
Chan JL, Murphy KA, Sarna JR.
J Neurol. 202Mao L, Jin H, Wang M, et al. Neurologic Manifestations of Hospitalized Patients With Coronavirus Disease 2019 in Wuhan, China. JAMA Neurology. 2020; 77(6). DOI: 10.1001/jamaneurol.2020.1127 [PMC free article] [PubMed] [CrossRef] [Google Scholar]
3. Fadakar N, Ghaemmaghami S, Masoompour SM, et al. A First Case of Acute Cerebellitis Associated with Coronavirus Disease (COVID-19): a Case Report and Literature Review. The Cerebellum. 2020; 19(6). DOI: 10.1007/s12311-020-01177-9 [PMC free article] [PubMed] [CrossRef] [Google Scholar]
4. Xiong W, Mu J, Guo J, et al. New onset neurologic events in people with COVID-19 in 3 regions in China. Neurology. 2020; 95(11). DOI: 10.1212/WNL.00000000000100341 Oct;268(10):3517-3548. doi: 10.1007/s00415-021-10458-0. Epub 2021 Feb 22.
To cite this abstract in AMA style:
GP. Burman. Hyperkinetic movement disorder following Covid: A Temporal corelation or Coincidental ? [abstract].
Mov Disord.
2022; 37 (suppl 2). https://www.mdsabstracts.org/abstract/hyperkinetic-movement-disorder-following-covid-a-temporal-corelation-or-coincidental/. Accessed September 23, 2023.
« Back to 2022 International Congress
MDS Abstracts - https://www.mdsabstracts.org/abstract/hyperkinetic-movement-disorder-following-covid-a-temporal-corelation-or-coincidental/