Session Information
Session Time: 1:45pm-3:15pm
Location: Hall 3FG
Objective: To assess public knowledge of Parkinson's disease (PD) in an urban population in Kyrgyz Republic.
Background: Poor awareness and knowledge regarding PD among the general public and healthcare workers can result in delayed diagnosis and treatment of patients.
Methods: A previously published Knowledge of Parkinson's Disease Questionnaire (KPDQ) was used. Part 1 of the KPDQ is based on recognition of symptoms that are common in PD (14 symptoms tested), and Part 2 tests 10 statements regarding PD (true-false format) [1]. A process of translation and back-translation from English to Kyrgyz and Russian was conducted by a group of neurologists and linguists, fluent in both languages, with further review of the translated versions by other physicians, patients and members of the general public (6-7 persons per group). The KPDQ was handed out to 349 subjects (aged 18 years or more) attending five primary care clinics in Bishkek, the capital and largest city of Kyrgyz Republic.
Results: The response rate was 96.3%. Mean age of the respondents was 41.3±17.6, 63.4% obtained tertiary education and 12.3% had a healthcare-related profession (Table 1). Motor symptoms (MS) were more widely recognized than non-motor symptoms (NMS) as features of PD (71.1% endorsing the presence of tremor, 51.2% slowness of movement, and 42.6% muscle stiffness, respectively). The best recognized NMS was memory problem (45.8%), while the least recognized NMS include visual hallucinations (8.3%), reduced sense of smell (12.5%), excessive daytime sleepiness (14.6%) and constipation (14.9%). Common misconceptions include tremor being prevalent in all patients with PD (78% incorrect); PD and Alzheimer's disease being considered the same disease (38.5% incorrect); and that PD can be cured (52.5% incorrect). 70.4% of respondents believed that PD patients often feel socially isolated. There were no significant associations between level of education, being in a healthcare-related profession, ethnicity and gender, and the average number of correctly answered statements in Part 2.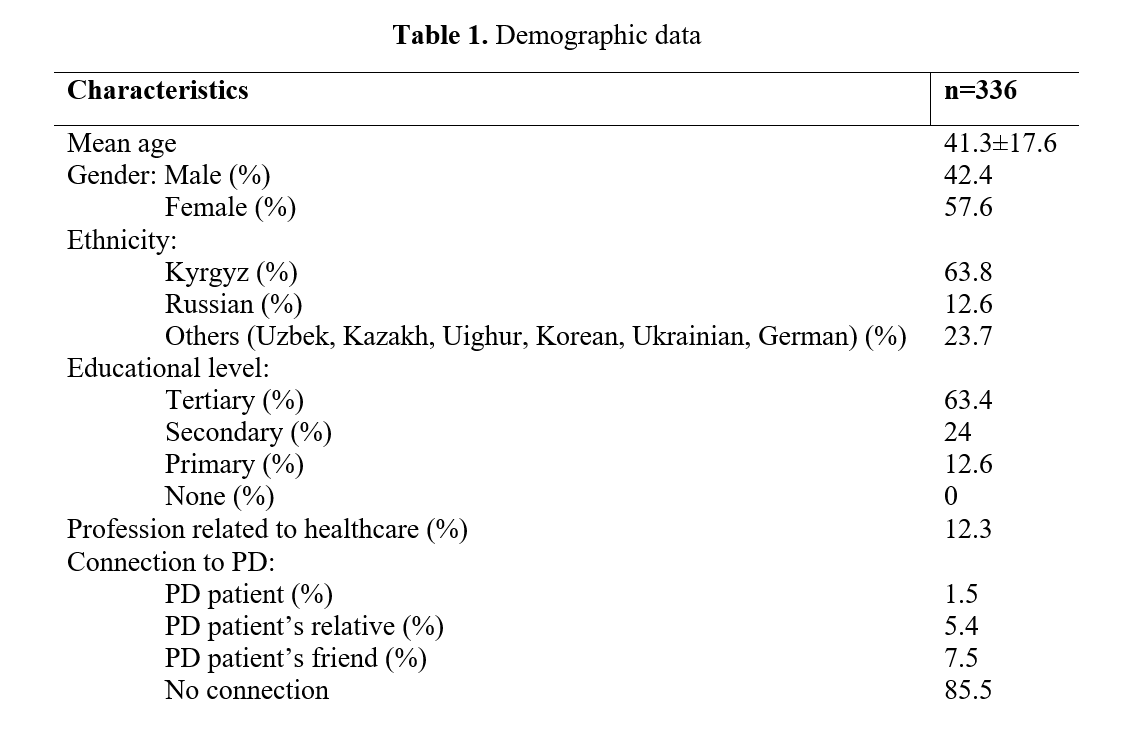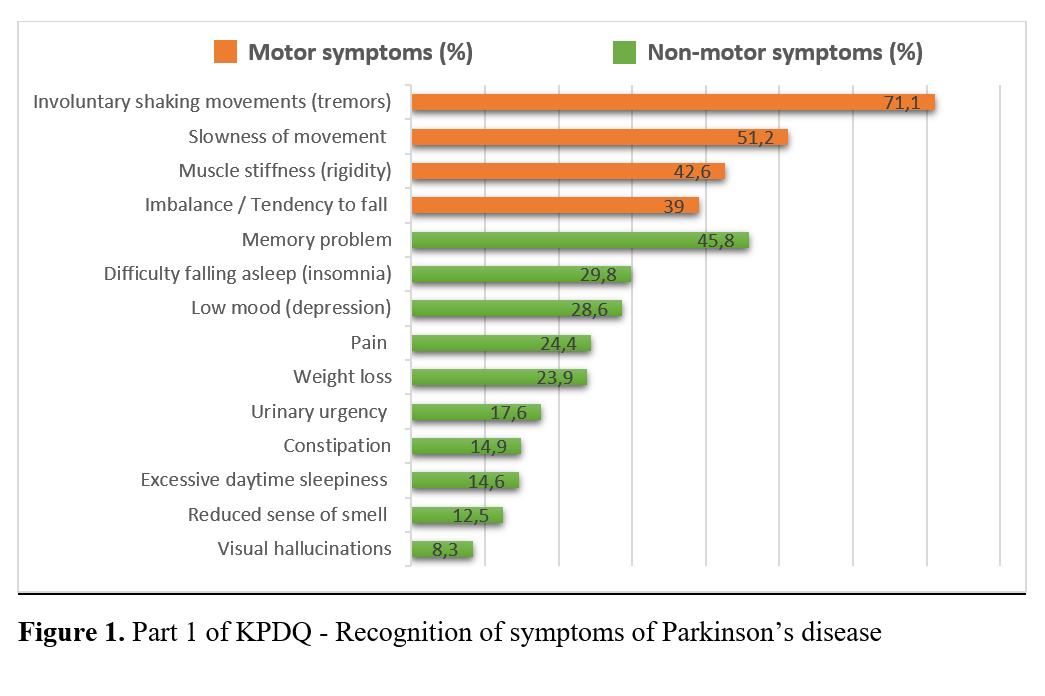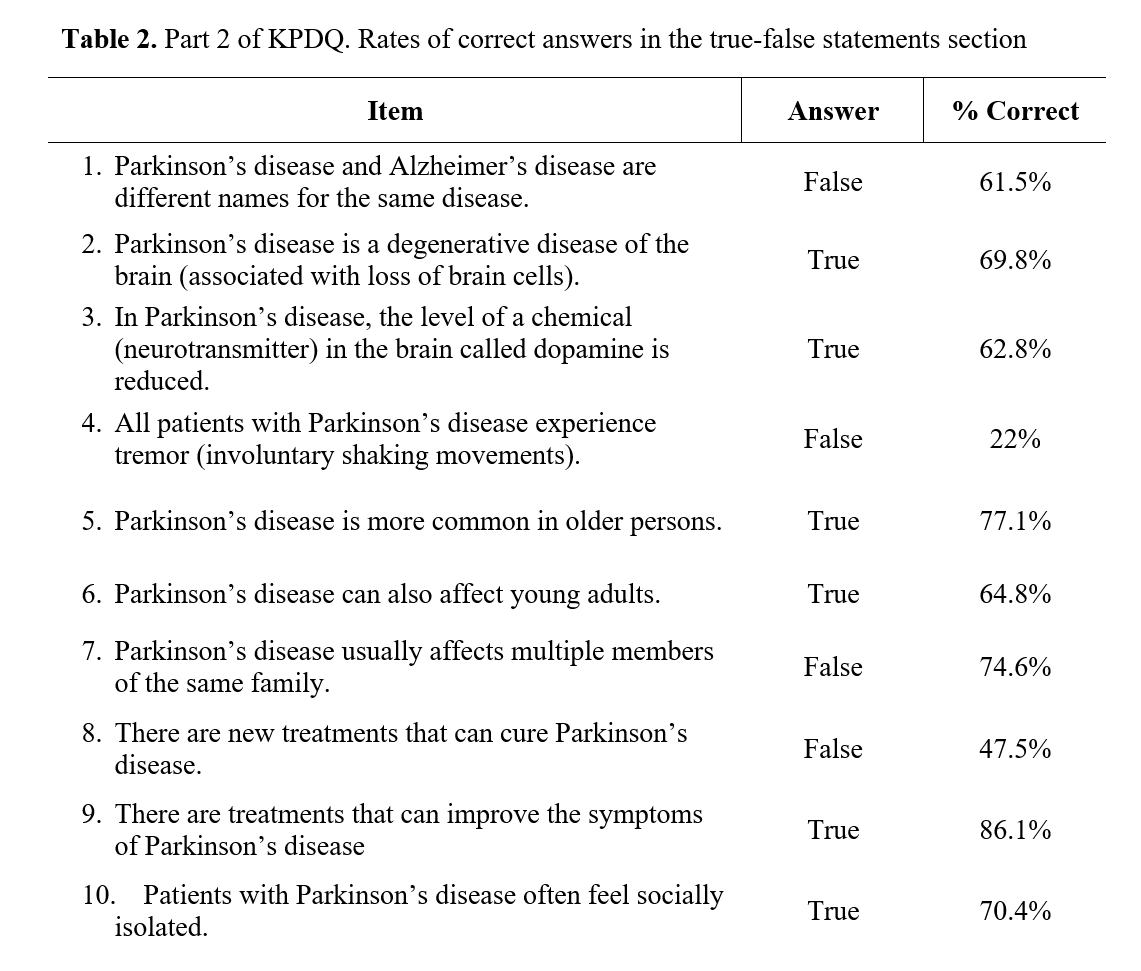 Conclusions: Our findings are comparable to a previous study done in South East Asia [1], with similar misconceptions identified, despite a general understanding regarding PD. There need to be further efforts aimed at raising awareness regarding PD to facilitate earlier diagnosis and treatment.
References: [1] Tan AH, Tan CT, Marras C, Loh KW, Wye Ho NW, Lim QH, Tan PW, Lim CC, Cheong YW, Kong ST, Schee JP, Tan KH, Soo SK, Vanderschaaf C, Lai Heong Lew S, Mahamad UA, Goh KJ, Yong HS, Lim SY. J Parkinson's Dis. 2015;5(4):865-79.
To cite this abstract in AMA style:
C. Shambetova, A. Arykova, I. Nisheglotova, B. Abdildaev, SY. Lim, AH. Tan. Knowledge of Parkinson's Disease in Urban Population of Kyrgyz Republic [abstract].
Mov Disord.
2018; 33 (suppl 2). https://www.mdsabstracts.org/abstract/knowledge-of-parkinsons-disease-in-urban-population-of-kyrgyz-republic/. Accessed December 1, 2023.
« Back to 2018 International Congress
MDS Abstracts - https://www.mdsabstracts.org/abstract/knowledge-of-parkinsons-disease-in-urban-population-of-kyrgyz-republic/