Session Information
Session Time: 1:45pm-3:15pm
Location: Agora 3 West, Level 3
Objective: SynAgile has developed the DopaFuse Delivery System to noninvasively and continuously administer levodopa/carbidopa (LD/CD) into the mouths of patients with Parkinson's Disease (PD). The system is intended to reduce fluctuation in plasma levodopa levels and the associated motor symptoms. The purpose of this study is to evaluate the laboratory performance of the DopaFuse Delivery System.
Background: The DopaFuse System consists of an oral retainer, its case, and a single-use, prefilled, disposable drug container that continuously releases a novel LD/CD oral paste in the back of the mouth. Figures 1-3 show the components of the system including the retainer, container and case.[Figure 1][Figure 2][Figure 3] The drug is a reformulation of LD/CD into a highly concentrated, stable, oral paste. The container has no moving parts, batteries, or electronics. The container consists of two chambers separated by a deformable metal diaphragm, as shown in Figure 4. A propellant (the same as is used in metered dose inhalers) exerts a constant pressure on the flexible diaphragm, which in turn exerts a constant pressure on the drug paste. The drug paste is forced out of the drug chamber through two flow-controlling nozzles and into the delivery tube. The delivery tube wraps around the rearmost tooth and delivers the paste near the back of the tongue. The tasteless LD/CD oral paste disperses in saliva and is swallowed, then absorbed in the gastrointestinal tract.[Figure 4] The container is designed to deliver drug in a continuous, linear fashion within ±20% of the nominal delivery rate for 4 hours. The container is held in place by an oral retainer. The retainer is custom-made for each patient using standard, commercially-available, thermoform retainer materials and molding processes used in dental labs.
Method: The DopaFuse System is undergoing engineering and design verification testing in preparation for a Phase 2 clinical trial. Key tested parameters include dosing accuracy, storage stability under room temperature and refrigerated storage conditions, and biocompatibility
Results: Interim results demonstrate acceptable dosing accuracy, stability under refrigerated storage, and biocompatibility.
Conclusion: Initial engineering and design verification tests show that the DopaFuse Delivery System performs as expected under laboratory conditions.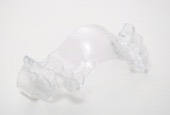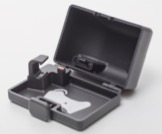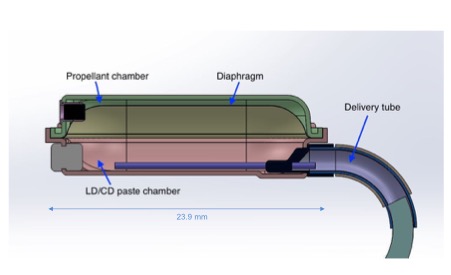 To cite this abstract in AMA style:
R. Draper, J. Harmon, A. Heller, B. Heller, E. Heller, C. King, T. Lau, P. Plante, J. Spiridigliozzi. Laboratory Performance of the DopaFuse® Delivery System [abstract].
Mov Disord.
2019; 34 (suppl 2). https://www.mdsabstracts.org/abstract/laboratory-performance-of-the-dopafuse-delivery-system/. Accessed December 7, 2023.
« Back to 2019 International Congress
MDS Abstracts - https://www.mdsabstracts.org/abstract/laboratory-performance-of-the-dopafuse-delivery-system/