Objective: To demonstrate value and clinical significance of repeated and longitudinal 123I-FP-CIT SPECT dopamine transporter imaging (DaTscan) with quantitative data analysis for clinical use.
Background: In current practice, majority of clinical use of DaTscan is not quantitative, meaning, the test is not intended to define the how reduced the dopamine system is – rather it demonstrates whether it is impaired or not. This means that the DaTscan is not currently approved for quantified analysis and/or longitudinal correlate of disease progression or phenoconversion. In accordance with the label, quantitative data analysis of DaTscan images and review of changes longitudinally are rarely done in clinical practice.
Method: Clinical, imaging, and photographic data of our established clinic patient will be presented. We include detailed exam findings along with high quality imaging and quantitative analysis of multiple scans taken greater than 2 years apart.
Results: Our patient is a 76 year old male with long-standing history of essential tremor (ET) and more recent onset of Parkinson's disease (PD), with DaTscan confirmed diagnosis in 2017. DaTscan in 2017 showed minimally abnormal dopamine uptake R>L. Over 2 years, this patient has had a mild course with progression of motoric symptoms with no dopaminergic medications; while on medications for ET. DaTscan was repeated in 2019, which demonstrated a clearly increased reduction in dopamine loss compared to his initial, only borderline abnormal scan.
Conclusion: Especially in cases of borderline abnormal scans in cases of pre-existing ET, a repeat scan can prove particularly valuable in confirming the presence of a progressive neurodegenerative process, such as PD. While a borderline low uptake can in fact be a low-normal without pathology, the apparent rate of decline in uptake over time removes such ambiguity.
We hereby present a real-life demonstration of the clinical value of longitudinal DaTscan with quantitative analysis. Because of the limitations with current DaTscan label restricting practices and abilities to qualitative and not quantitative evaluation, prospective research should address the validity and clinical utility of quantitative and longitudinal scanning in clinically ambiguous cases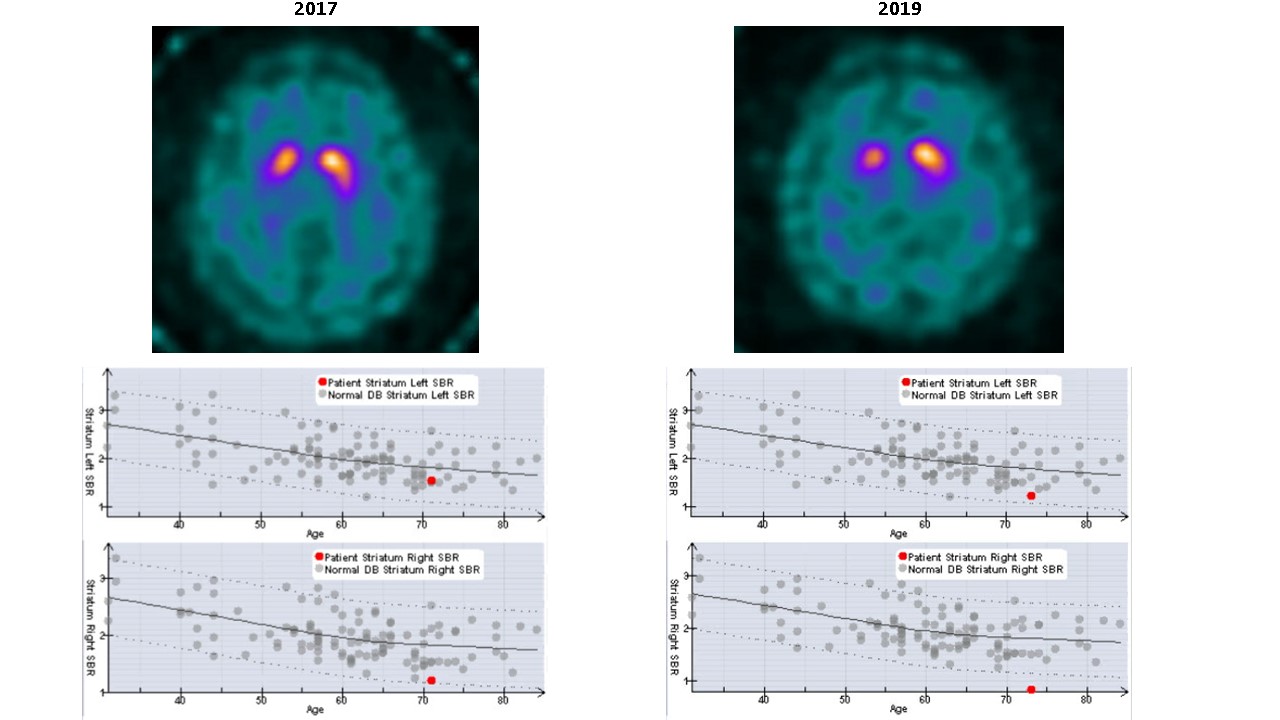 To cite this abstract in AMA style:
K. Papesh, Z. Mari. Look Again: The Diagnostic Value of Repeat Dopamine Transporter Imaging [abstract].
Mov Disord.
2020; 35 (suppl 1). https://www.mdsabstracts.org/abstract/look-again-the-diagnostic-value-of-repeat-dopamine-transporter-imaging/. Accessed December 7, 2023.
« Back to MDS Virtual Congress 2020
MDS Abstracts - https://www.mdsabstracts.org/abstract/look-again-the-diagnostic-value-of-repeat-dopamine-transporter-imaging/