Objective: To assess the radiological and clinical features and characterize the various movement disorders in patients with osmotic demyelination syndrome.
Background: Osmotic demyelination syndrome (ODS) is characterised by non-inflammatory demyelination within the central nervous system with symmetrical lesions involving the pons and extrapontine areas. Severe hyponatremia and rapid correction of hyponatremia are the most common described etiologies but other comorbidities like liver transplantation, malnutrition, alcoholism and hypokalemia predispose to the development of ODS1. Clinical manifestations of ODS include bradykinesia, rigidity, tremor, encephalopathy, dystonia, myoclonus and spastic quadriparesis which usually precede the triggering event by 1 to 14 days.
Method: A prospective observational study was conducted during October 2021 to January 2023 at our tertiary care hospital. All patients with ODS were recruited in the study and followed during the hospital stay. They were analysed with respect to the patient clinical features, radiological findings and in hospital outcome.
Results: The study included 9 patients with ODS of which 7 were males (77.78%). Mean age was 46.67 years and median age 57 years. Most of the patients (88.89%) had hyponatremia while 1 patient (11.11%) had hypernatremia.
Patients developed clinical manifestations of ODS after a mean duration of 5.85 days after sodium correction. Parkinsonism was seen in 8 patients (88.89%). Most common findings were rigidity and bradykinesia, seen in all patients with parkinsonism (88.89%). Postural tremor was seen in 3 patients (33.3%). Mask facies was found in 5 patients (55.56%). Dystonia (predominantly craniofacial) in 3 patients (33.33%), perioral dyskinesias in 3 patients (33.33%) and choreoathetoid movements in 1 patient (11.11%). Other manifestations included dysphagia (44.44%), mutism (22.22%), spasticity (11.11%) and encephalopathy (11.11%).
MRI findings were seen in 77.78% (n=7) patients at presentation. Isolated pontine (fig.1) and extrapontine involvement were seen in 14.28% and 42.85% patients respectively and involvement of both pontine and extrapontine regions was seen in 42.85% patients. Caudate and putamen (fig.2) were the most common extrapontine sites involved (n=3).
Conclusion: Parkinsonism is a very common manifestation of ODS in our study. Both hypokinetic as well as hyperkinetic movement disorders can be seen in ODS.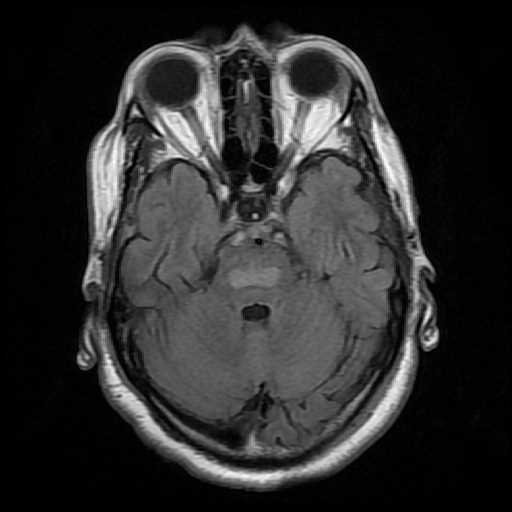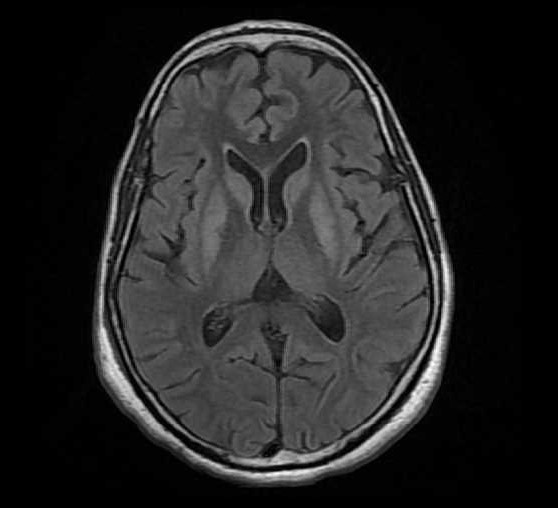 References: 1. Lambeck J, Hieber M, Dreßing A, Niesen WD. Central Pontine Myelinosis and Osmotic Demyelination Syndrome. Dtsch Arztebl Int. 2019 Sep 2;116(35-36):600-606.
To cite this abstract in AMA style:
A. Panjwani, A. Kumar, A. Ranjan. Movement disorders in osmotic demyelination syndrome: A case series from a tertiary care centre [abstract].
Mov Disord.
2023; 38 (suppl 1). https://www.mdsabstracts.org/abstract/movement-disorders-in-osmotic-demyelination-syndrome-a-case-series-from-a-tertiary-care-centre/. Accessed September 25, 2023.
« Back to 2023 International Congress
MDS Abstracts - https://www.mdsabstracts.org/abstract/movement-disorders-in-osmotic-demyelination-syndrome-a-case-series-from-a-tertiary-care-centre/