Objective: We report a case of subacute sclerosing panencephalitis (SSPE) presenting after a long latency without the usual clinical clues that aid in diagnosis.
Background: SSPE is a rare complication due to persistent infection by the measles virus which remains dormant for some time before triggering an inflammatory response. The typical latency period can be up to 22 years in adults, and hence can go unrecognized when presenting in adulthood. Worldwide, the oldest patient to be reported with SSPE was a 62 years old patient from West Indies. In India only 2 patients have been reported to be older than 30 years of age. A reported observation amongst SSPE patients older than 35 years is a high incidence of cognitive changes and visual symptoms and possible absence of classical myoclonus and periodic EEG discharges. We report a case of a 36-year-old female with SSPE.
Method: A 36-year-old female presented with progressive slowness of gait and cognitive decline for 3 months. On examination, she had poor comprehension, prolonged saccadic latency, vertical gaze restriction, hypophonia, asymmetrical spasticity, bradykinesia, and bilateral brisk tendon reflexes. Notably, there was no myoclonus. Given the subacute onset involvement of cognitive, pyramidal, and extrapyramidal systems, differentials considered were: neoplastic, autoimmune, vasculitis, demyelination, infective, leukodystrophies and prion disease.
Results: Her routine investigations were normal. MRI Brain showed an asymmetrical leukoencephalopathy [Image 1]. CSF did not show any pleocytosis or protein elevation. Video EEG showed generalized periodic complexes consistent with Radermacker complex of SSPE [Image 2]. No myoclonic jerks were noted in the video recording. Anti-measles antibody in the CSF was positive. These findings along with the clinical presentation met three out of five of Dyken's criteria for diagnosing as SSPE. Absence of myoclonus and the higher age of presentation brought SSPE lower down in our list of possible differentials. However, the characteristic EEG was a helpful clue.
Conclusion: SSPE should be a diagnostic possibility considered where measles is an endemic disease. In adults, it can be more aggressive with atypical clinical features and without the characteristic clinical clues like myoclonus. A high index of suspicion and appropriate workup is essential for early diagnosis and prognostication.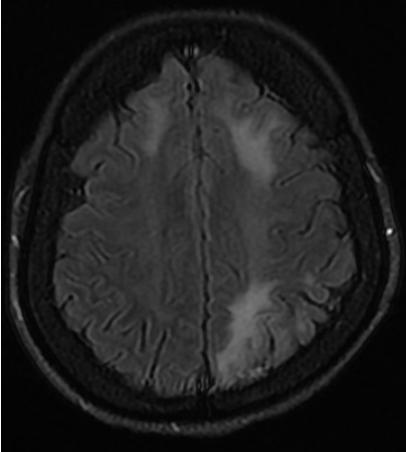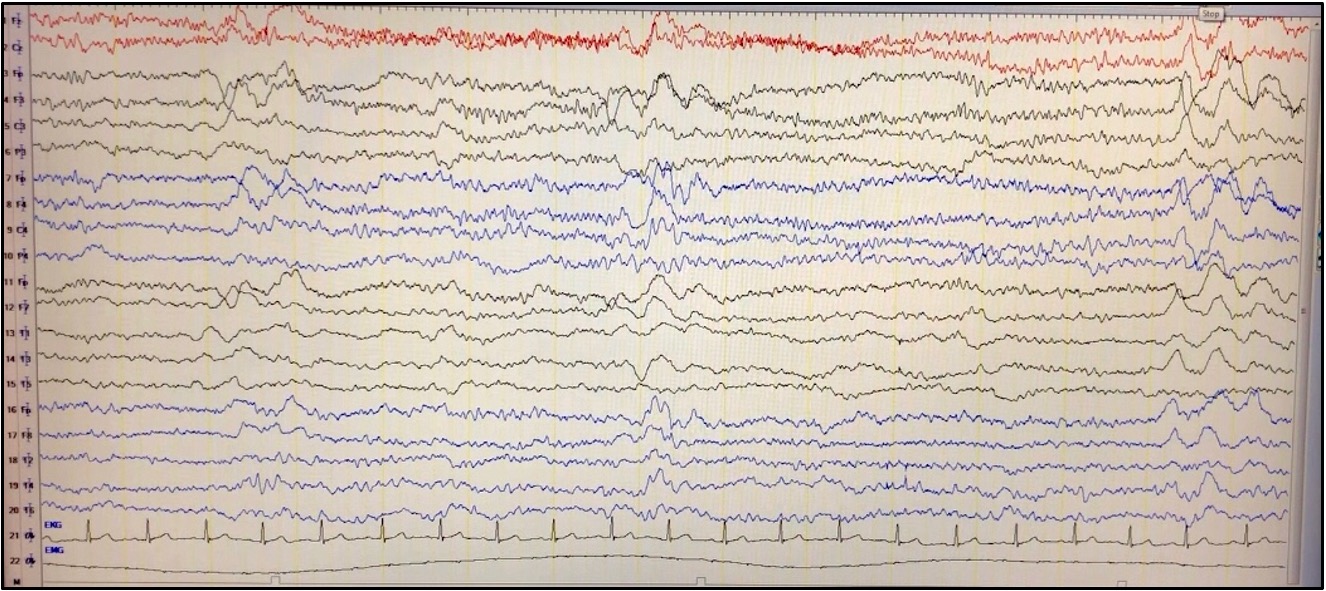 References: 1. Garg RK et al. Subacute Sclerosing Panencephalitis in Older Adulthood. Tremor Other Hyperkinet Mov (N Y). 2019;9:10.7916/tohm.v0.719
2. Prashanth LK et al. Adult onset subacute sclerosing panencephalitis: clinical profile of 39 patients from a tertiary care centre. J Neurol Neurosurg Psychiatry. 2006;77(5):630-633.
To cite this abstract in AMA style:
S. Garg, K. Shetty. Non-myoclonic Subacute Sclerosing Pan Encephalitis in Adulthood [abstract].
Mov Disord.
2022; 37 (suppl 2). https://www.mdsabstracts.org/abstract/non-myoclonic-subacute-sclerosing-pan-encephalitis-in-adulthood/. Accessed September 23, 2023.
« Back to 2022 International Congress
MDS Abstracts - https://www.mdsabstracts.org/abstract/non-myoclonic-subacute-sclerosing-pan-encephalitis-in-adulthood/