Objective: To assess the onset of complications in patients with Parkinson's disease (PD) in early stage, in a Brazilian Amazon city.
Background: PD is a progressive neurodegenerative illness. The development of motor and non-motor complications is expected during the evolution of the disease [1]. The rate of complications is related with other factors, as age at onset, levodopa dose and therapy duration. In low- and medium-income areas, the medication supply for PD is limited, and may contribute to the onset of complications [2].
Method: We performed an observational and prospective study with PD patients in early stage (Hoehn & Yahr ≤ 2) without complications (psychosis, dementia, dyskinesia, motor fluctuations, falls, postural instability) with a follow-up of 2 years. Patients were assessed in the baseline and at 6-month intervals, and they were questioned about the onset of complications. MDS-UPDRS Part III and the Levodopa Equivalent Daily Dosage (LEDD) were also assessed.
Results: We followed 23 patients with PD [Table 1] during a median time of 15 months, with a median of 3 evaluations per patient (total of 78 evaluations). During this time, there was no evolution to dementia, and 30.4% of the patients developed psychosis. On motor complications, there was onset of motor fluctuations in 21.7%, dyskinesias in 13%, falls in 30.4% of patients, and no patient developed postural instability (Hoehn & Yahr ≥ 3). Motor fluctuations have developed after a median of 49 months using levodopa, and dyskinesias have developed after a median of 55 months using levodopa. MDS-UPDRS Part III showed a median variation of -5 points during the follow-up, and LEDD had a median variation of +100 mg/day during the follow-up [Figure 1].
Conclusion: Despite the short period of follow-up, the reports of falls, and onset of dyskinesias and motor fluctuations were frequent. The decrease in the severity of motor symptoms and the increase in LEDD suggests the effectiveness of the prescribed treatment.
This abstract reports data partially presented at XXII Brazilian Congress of Geriatrics and Gerontology, Annual Brazilian Society of Geriatrics and Gerontology Meeting, Brazil, 04th-06nd March 2021.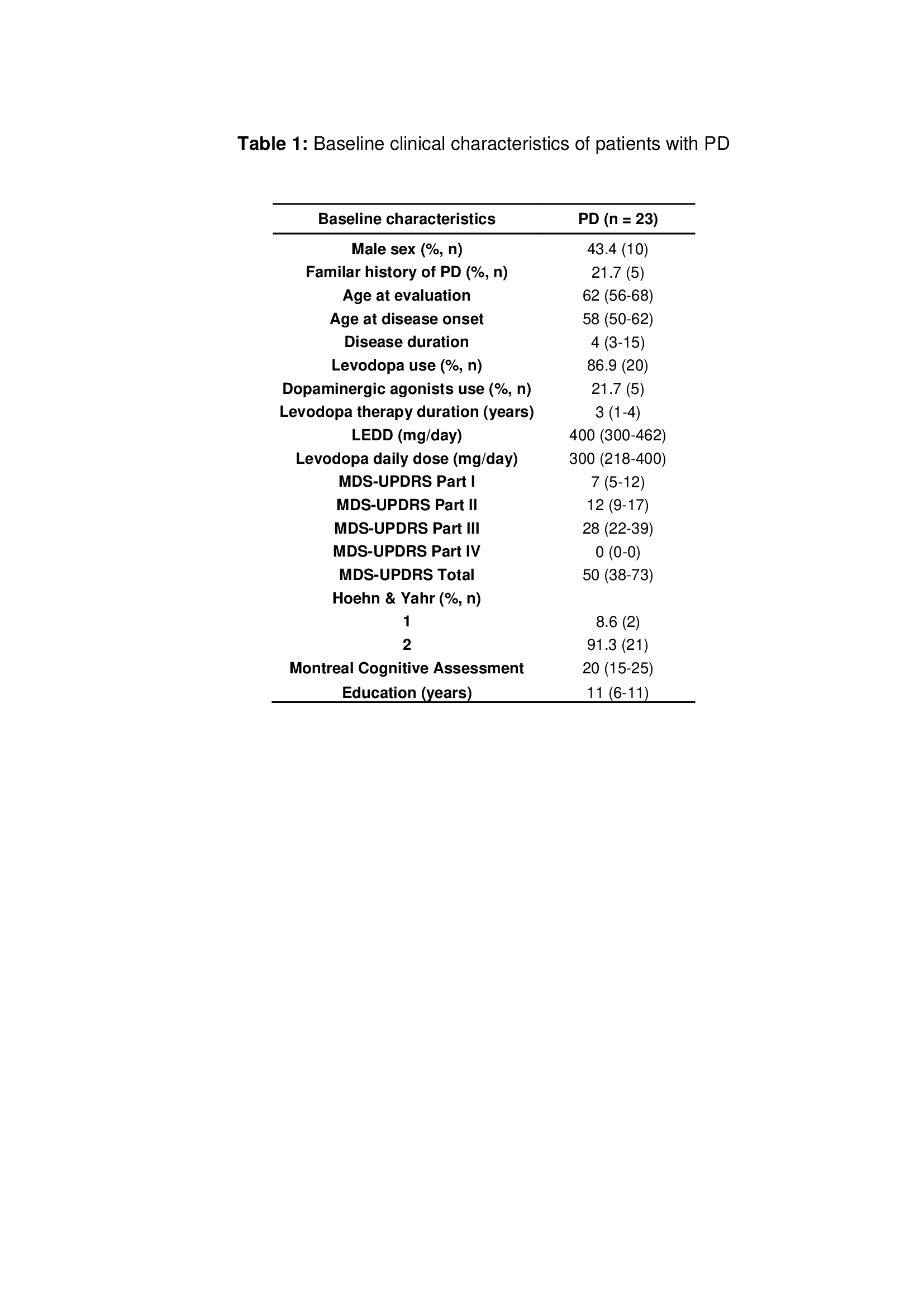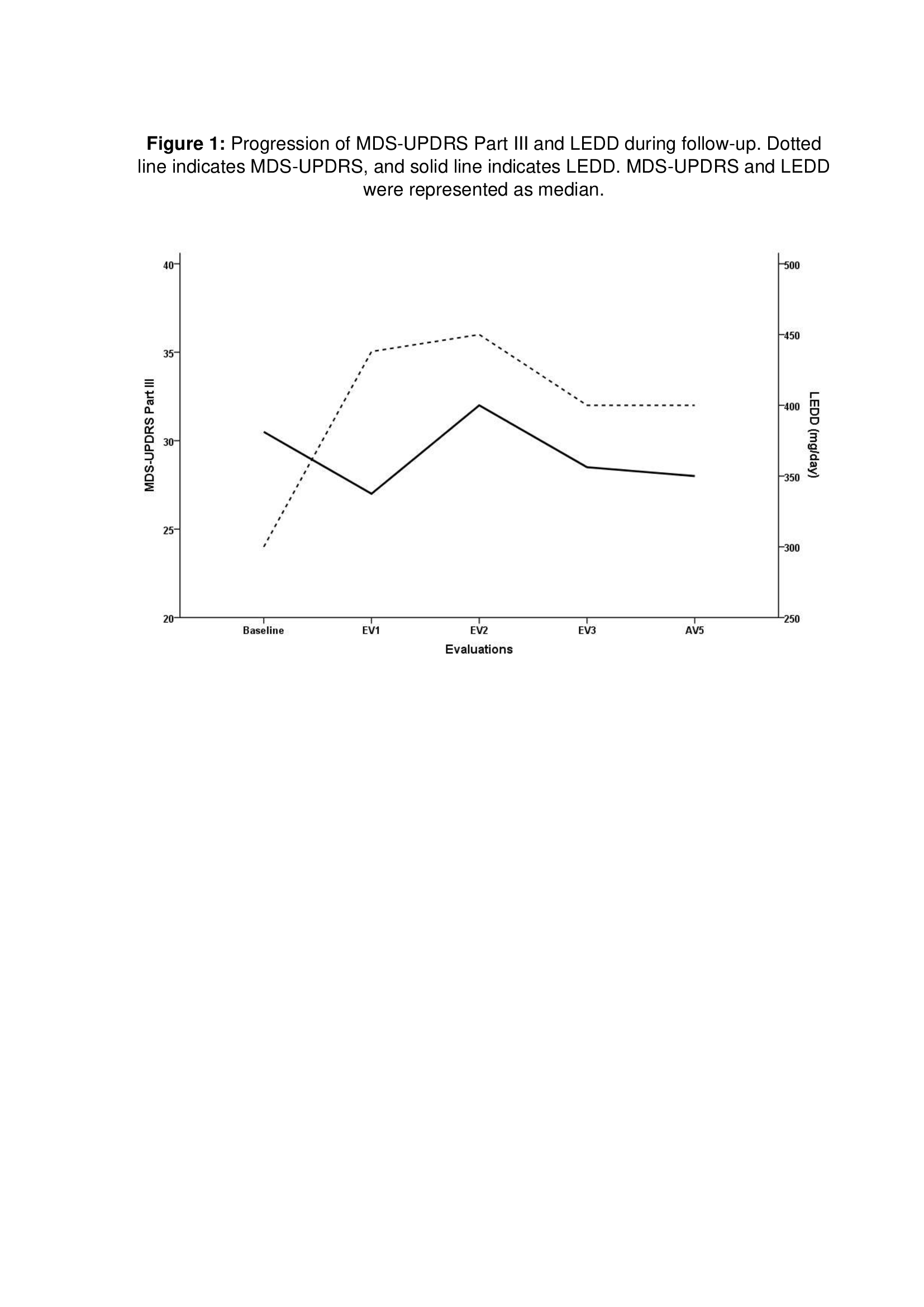 References: [1] ZESIEWICZ, Theresa A. Parkinson Disease. CONTINUUM: Lifelong Learning in Neurology, v. 25, n. 4, p. 896-918, 2019. [2] CHAHINE LM, SIDEROWF A, BARNES J, et al. Predicting Progression in Parkinson's Disease Using Baseline and 1-Year Change Measures. J Parkinsons Dis, v. 9, n. 4, p. 665-679, 2019.
To cite this abstract in AMA style:
D. Moura, A. Escudeiro, A. Silva, B. Koshimoto, R. Feio, B. Lobato. Onset of complications in patients with Parkinson disease in Brazilian Amazon: cohort study. [abstract].
Mov Disord.
2021; 36 (suppl 1). https://www.mdsabstracts.org/abstract/onset-of-complications-in-patients-with-parkinson-disease-in-brazilian-amazon-cohort-study/. Accessed December 6, 2023.
« Back to MDS Virtual Congress 2021
MDS Abstracts - https://www.mdsabstracts.org/abstract/onset-of-complications-in-patients-with-parkinson-disease-in-brazilian-amazon-cohort-study/