Objective: To assess the influence of a 6-month treatment with opicapone (OPC) on the costs for the care of Parkinson's disease (PD) patients.
Background: OPC proved effective in treating end-of-dose motor fluctuations in PD patients in two large multinational trials [1,2]. The OPTIPARK study evaluated OPC 50 mg in a heterogeneous population of patients treated in real-world conditions [3].
Method: OPTIPARK was a prospective, open-label, single-arm, multicentre trial conducted in Germany (3-month study) and the UK (6-month study). Patients with motor fluctuations received OPC 50 mg in addition to current antiparkinsonian treatment. Primary efficacy endpoint was Clinician's Global Impression of Change (CGIC) after 3 months. Secondary efficacy endpoints included a health economic costs evaluation assessed by Client-Service-Receipt-Inventory (CSRI) questionnaire version adapted to assess the influence of the 6-month OPC treatment on the care costs of UK patients.
Results: At baseline (N=128), total service costs during the previous 6 months were 284952.79 UK-£, mainly driven by primary and community care doctor (36.3%) and hospital doctor (18.8%) costs. At 6 months (N=95), total service costs were 121280.83 UK-£, mainly driven by hospital doctor (23.4%) and primary and community care doctor (23.2%) costs (Table 1). Average total costs at baseline were 13060 UK-£, including 2226 UK-£ for formal service and 11955 UK-£ for unpaid care costs. Average total costs decreased at 6 month by 3719 UK-£, including a reduction of 987 UK-£ for formal service and 2920 UK-£ for unpaid care costs (Table 2).
Conclusion: In PD patients with motor fluctuations treated in clinical practice in the UK, OPC 50 mg had an apparent cost-saving impact.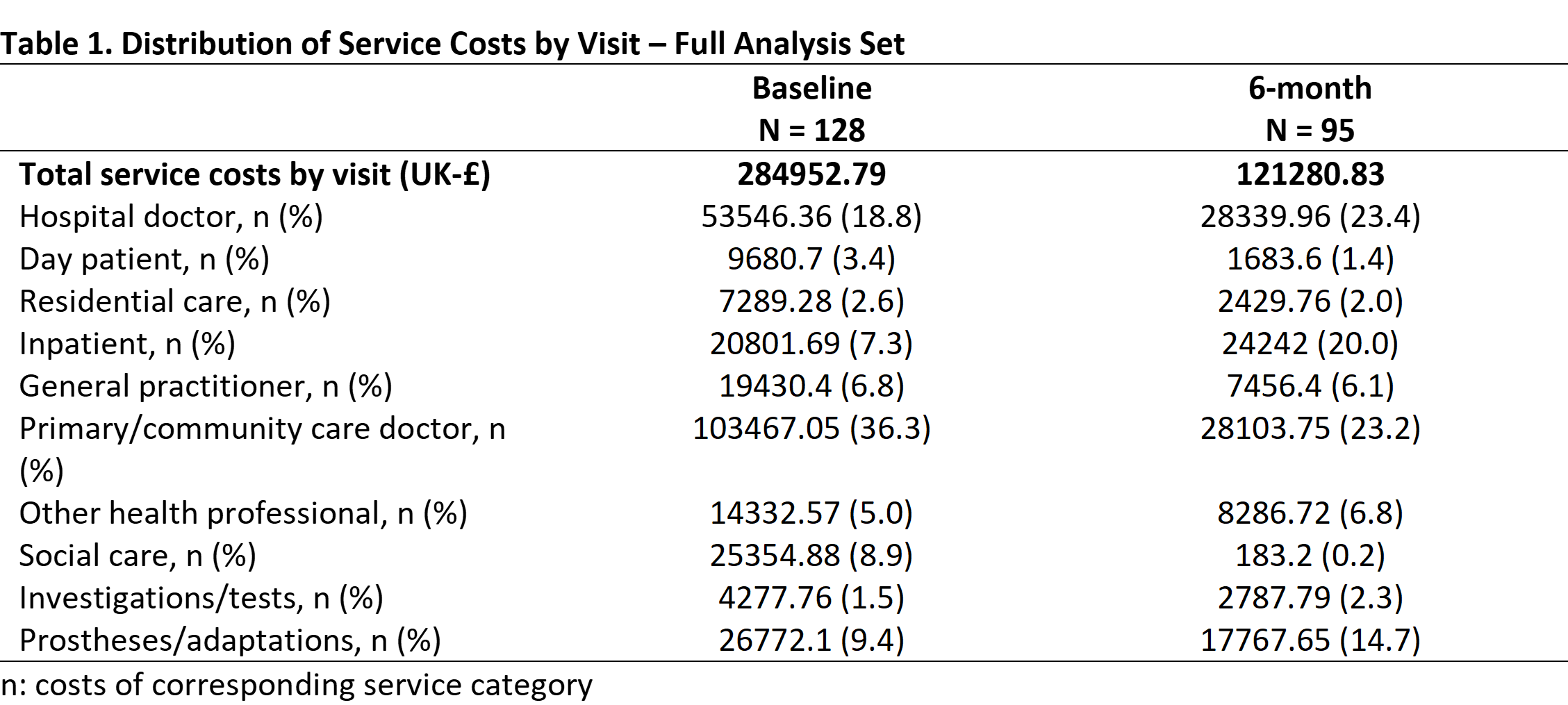 References: 1. Ferreira et al., Lancet Neurol. 2016;15(2):154-165. 2. Lees et al., JAMA Neurol. 2017;74(2):197-206. 3. Reichmann et al, Transl Neurodegener. 2020;9(1):9
To cite this abstract in AMA style:
A. Lees, H. Reichmann, D. Magalhães, J. Rocha, P. Soares-da-Silva. Opicapone Analysis of Health Economic Costs in Clinical Practice in Parkinson's Disease UK Patients with Motor Fluctuations: Findings from the OPTIPARK Study [abstract].
Mov Disord.
2021; 36 (suppl 1). https://www.mdsabstracts.org/abstract/opicapone-analysis-of-health-economic-costs-in-clinical-practice-in-parkinsons-disease-uk-patients-with-motor-fluctuations-findings-from-the-optipark-study/. Accessed December 6, 2023.
« Back to MDS Virtual Congress 2021
MDS Abstracts - https://www.mdsabstracts.org/abstract/opicapone-analysis-of-health-economic-costs-in-clinical-practice-in-parkinsons-disease-uk-patients-with-motor-fluctuations-findings-from-the-optipark-study/