Objective: This study aims to evaluate changes in Parkinson's disease (PD) progression scales in patients with PD and motor fluctuations (MF) treated with once-daily opicapone (OPC) included in the OPTIPARK real-world study.
Background: In clinical trials, opicapone (OPC) was effective for end-of-dose motor fluctuations (MF) in Parkinson's disease (PD) patients; however, real-world studies are necessary to complement evidence from these trials. The OPTIPARK study aimed to evaluate OPC 50 mg as adjunct to levodopa in PD patients in everyday clinical practice.
Method: OPTIPARK was a prospective, open-label, single-arm study conducted in the UK and Germany under clinical practice conditions. Patients with PD and MF received OPC 50 mg as add-on therapy to their current antiparkinsonian treatment. Primary efficacy endpoint was Clinician's Global Impression of Change after 3 months. Secondary endpoints included Unified Parkinson's Disease Rating Scale (UPDRS), Non-motor Symptoms Scale (NMSS), Parkinson's Disease Questionnaire (PDQ-8) and Symptom Wearing-off Questionnaire (WOQ-9). This study evaluated changes in UPDRS, NMSS and PDQ-8 after 3 months of OPC treatment in patients who reported improvements in WOQ-9 versus those who did not.
Results: Overall, 393 (82.4%) completed the 3-month endpoint (Completers Set) [table1]. Compared to patients without WOQ-9 improvements, those with WOQ symptoms at baseline that had improved at 3 months had greater improvement in: UPDRS motor scores during the ON period (particularly in patients with anxiety/panic attacks, reduced dexterity and pain/aching resolved), NMSS score, except for mood changes (particularly in patients with reduced dexterity, cloudy mind/slowness of thought or anxiety/panic attacks), PDQ-8, except for tremor or any stiffness (particularly in patients with any slowness of movement, pain/aching or muscle cramping) [figure1].
Conclusion: OPC treatment improved 'wearing-off' symptoms including those with a high impact on patients' life, such as pain and reduced dexterity. Even for patients still experiencing 'wearing-off' symptoms at 3 months, improvements in motor/non-motor symptoms and quality of life were reported.
Supported by Bial.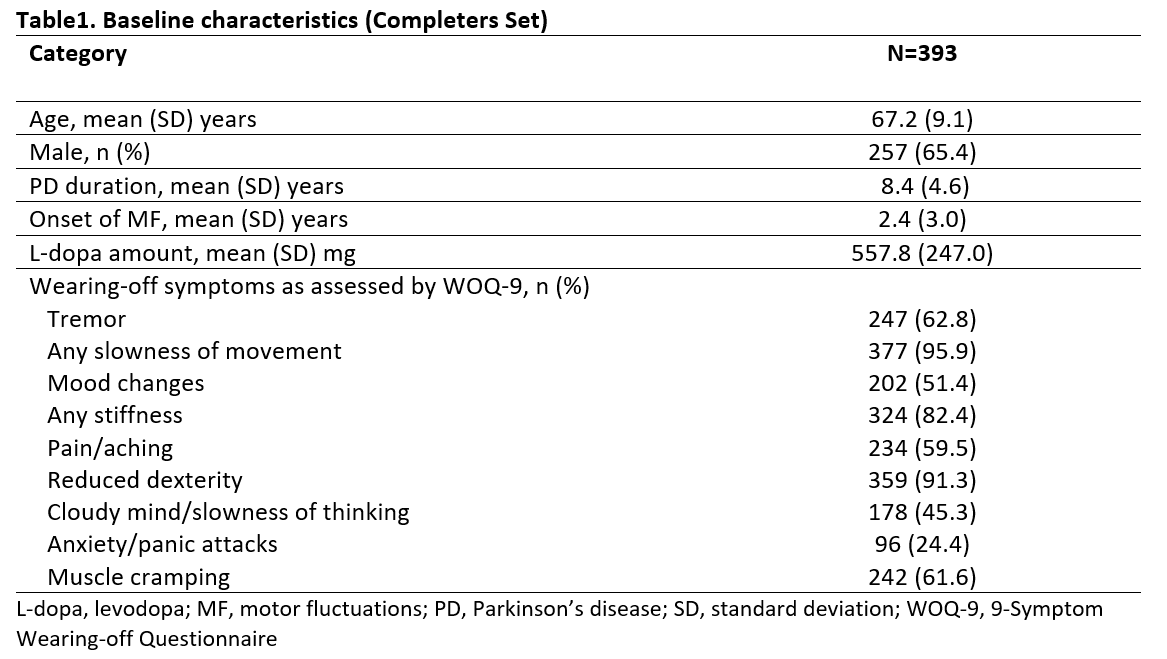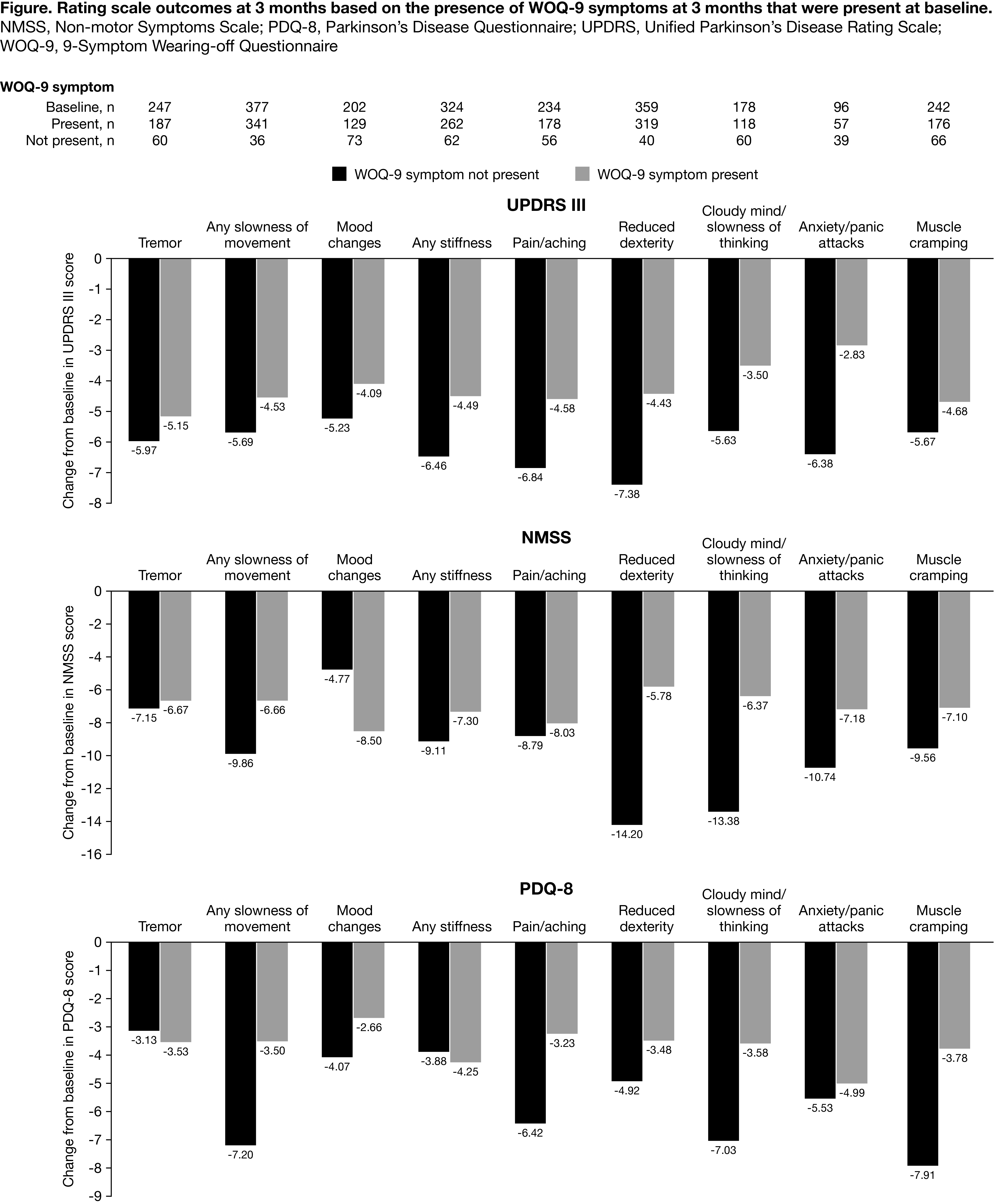 To cite this abstract in AMA style:
D. Martins, A. Lees, H. Reichmann, J-F. Rocha. Opicapone's Effects on Progression Scales in Relation to the 9-Symptom Wearing-off Questionnaire: the OPTIPARK Study [abstract].
Mov Disord.
2023; 38 (suppl 1). https://www.mdsabstracts.org/abstract/opicapones-effects-on-progression-scales-in-relation-to-the-9-symptom-wearing-off-questionnaire-the-optipark-study/. Accessed September 23, 2023.
« Back to 2023 International Congress
MDS Abstracts - https://www.mdsabstracts.org/abstract/opicapones-effects-on-progression-scales-in-relation-to-the-9-symptom-wearing-off-questionnaire-the-optipark-study/