Session Information
Session Time: 1:45pm-3:15pm
Location: Exhibit Hall C
Objective: The purpose of this study was to describe the constellation of parkinsonian symptoms, as experienced by the patient.
Background: For 200 years, the cardinal symptoms of Parkinson's disease (PD) have been described as slowness, rigidity, and tremor. Over the past decade, there has been an increasing appreciation for the non-motor aspects of PD, including pain, hyposmia, and constipation.
Methods: Individuals with a self-reported diagnosis of idiopathic Parkinson's disease were surveyed via an internet-based study. The primary outcome measure was the Patient-Reported Outcomes in PD rating scale, which assigns an unnumbered Likert scale to 33 common PD symptoms. Individuals were asked to rate the presence and severity of each symptom, on average, over the prior week.
Results: Of the 1156 individuals with parkinsonism participating in this study, 973 (84.16%) reported a diagnosis of idiopathic PD and thus available for analysis. Of the 33 symptoms assessed, the most commonly reported symptoms were: fatigue (n= 844, 86.74%), handwriting impairment (n=823, 84.58%), daytime sleepiness (n=814, 83.66%), slowness (n=813, 83.56%), muscle cramps (n=804, 82.63%), hyposmia (m=793, 81.50%), tremor (n=791, 81.29%), memory impairment (782, 80.37%), impaired balance (n=782, 80.37%), urinary dysfunction (n=749, 76.98%), sexual dysfunction (n=739, 75.95 %), and stooped posture (n=730, 75.03%). When asked about their perception of disease progression over the previous six months, 378 (38.84%) reported their disease had progressed, 498 (51.18%) reported their disease had remained stable, and 85 (8.74%) claimed their disease had improved.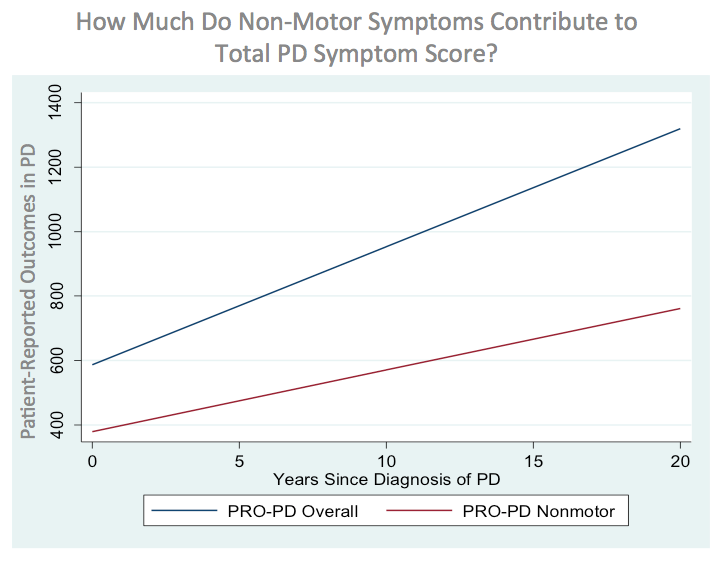 Conclusions: The predominantly non-motor symptom picture presented by patients is likely due to both successful management of motor symptoms and neglect of non-motor symptoms in research and practice. As the medical community evolves toward patient-centered care, these data suggest an emerging redefinition of the parkinsonism syndrome.
To cite this abstract in AMA style:
L. Mischley, G. Canada, R. Lau. Parkinson's Disease from the Patient Perspective [abstract].
Mov Disord.
2017; 32 (suppl 2). https://www.mdsabstracts.org/abstract/parkinsons-disease-from-the-patient-perspective/. Accessed November 29, 2023.
« Back to 2017 International Congress
MDS Abstracts - https://www.mdsabstracts.org/abstract/parkinsons-disease-from-the-patient-perspective/