Objective: Describe the prevalence of overweight and obesity in patients with PD who have poor quality sleep.
Background: Sleep disturbances are common and often severe in patients with PD (PD). Up to 98% of PD patients experience nocturnal symptoms. (1) Stephanie et al., (2021) reported that sleep disorders can have a prevalence of up to 78% in patients with Parkinson's disease. (2)
Weight changes in patients with Parkinson's disease have become common; these can vary between weight loss and weight gain. It has been shown that the existence of sleep disorders in this type of patients is related to an increase in caloric intake and therefore weight. (1)
Mexico ranks first in overweight worldwide and according to the National Survey of Health and Nutrition (ENSANUT 2018), in Mexico of all adults 39.1% are overweight and 36.1% are obese (75.2%). This makes it a more part of the evaluation in our patient sample.
Method: The study used a sample of 34 patients (14 women and 20 men) with a median age of 62.50 (30-81), all with a diagnosis of PD who attended the Neurology Service of the Hospital Universitario "Dr. Jose Eleuterio Gonzalez".
Results: The Pittsburgh Sleep Quality Scale (PSQI) was applied to all patients, obtaining a median PSQI of 7.50 (2-21). To assess overweight or obesity, the BMI with a median of 26.55 (19.03-39.06) was used.
Conclusion: The preliminary presentation of the results obtained from the sample of 34 patients makes it impossible for us to determine if there is a correlation between sleep quality and obesity in patients with PD, but it is definitely a model that in the future may allow us to study the variables in greater depth.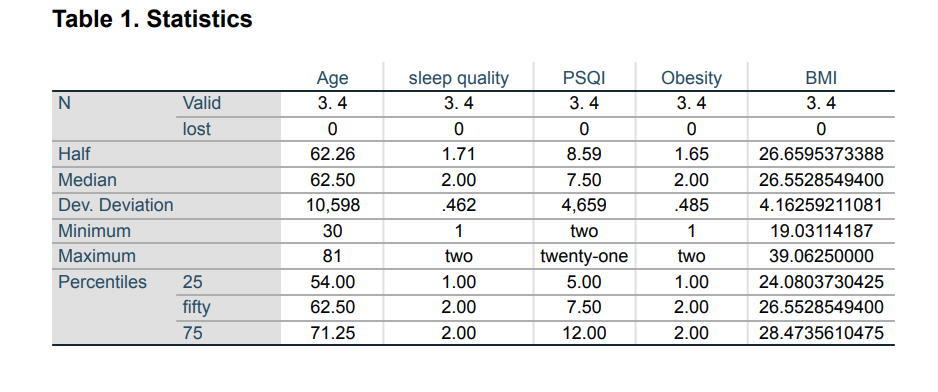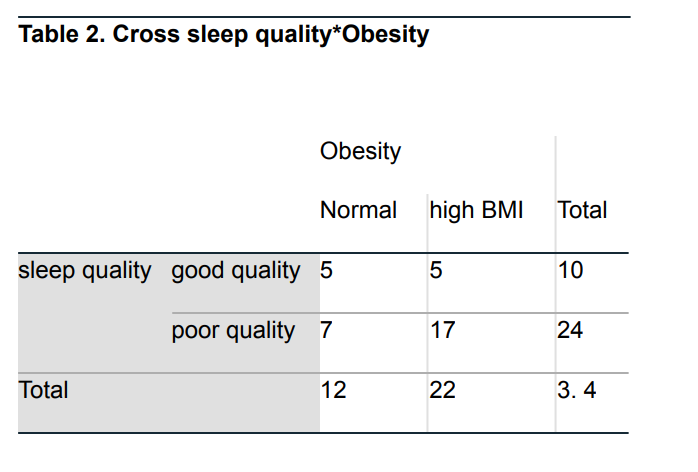 References: 1. Marinus J, Zhu K, Marras C, Aarsland D, van Hilten JJ. Risk factors for non-motor symptoms in Parkinson's disease. Lancet Neurol [Internet]. 2018;17(6):559–68. Available from: http://dx.doi.org/10.1016/S1474-4422(18)30127-3
2. Stefani A, Högl B. Sleep Disorders in Parkinson Disease. Sleep Med Clin [Internet]. 2021;16(2):323–34. Available from: https://doi.org/10.1016/j.jsmc.2021.03.001
3. Morales-Briceño, H. Rodríguez- Violante MCAA. ane123c.pdf. 2012. p. 7.
4. Chen J, Guan Z, Wang L, Song G, Ma B, Wang Y. Meta-Analysis : Overweight , Obesity , and Parkinson ' s Disease. 2014;2014.
To cite this abstract in AMA style:
A. Ferrari Aquino, J. Garza Marichalar, D. Ortiz Zacarías, I. Estrada Bellmann, B. Chávez Luévanos. POOR SLEEP QUALITY AND OBESITY IN PATIENTS WITH PARKINSON'S: PRELIMINARY RESULTS OF A COHORT STUDY [abstract].
Mov Disord.
2022; 37 (suppl 2). https://www.mdsabstracts.org/abstract/poor-sleep-quality-and-obesity-in-patients-with-parkinsons-preliminary-results-of-a-cohort-study/. Accessed September 25, 2023.
« Back to 2022 International Congress
MDS Abstracts - https://www.mdsabstracts.org/abstract/poor-sleep-quality-and-obesity-in-patients-with-parkinsons-preliminary-results-of-a-cohort-study/