Session Information
Session Time: 12:00pm-1:30pm
Location: Exhibit Hall located in Hall B, Level 2
Objective: To identify criteria defining the prodromal stage of spinocerebellar ataxia 2 (SCA2).
Background: The prodromal stage of spinocerebellar ataxias has not been systematically studied (1). Main findings come from a homogeneous Cuban SCA2 population (2).
Methods: Thirty-seven non-ataxic SCA2 mutation carriers and its controls underwent clinical and neuropsychological assessments, neurophysiological recordings of nerve conduction and transcranial magnetic stimulation (TMS) as well as MRI scans. Also, 21 mutation carriers and 19 non-carriers were included in a 27-year follow-up study of the main clinical features.
Results: Prodromal features of SCA2 were divided following clinical, neurophysiological and imaging criteria. Clinical features included somatic abnormalities (cramps, sensory symptoms, hyperreflexia and abnormal tandem gait), autonomic abnormalities (nocturia; constipation and throat clearing) as well as cognitive disturbances (executive and verbal memory deficits). Neurophysiological criteria comprised alterations at peripheral and central nervous system. The first consist on reduced amplitudes of sensory nerve potentials, whereas central features included prolongation of central motor conduction times. MRI criteria revealed an early ponto-cerebellar atrophy. Higher cognitive and TMS deficits were associated to short times before ataxia. Ataxia score correlated positively to vermis atrophy. The follow-up study revealed a notable worsening of muscle cramps, sensory abnormalities, deep tendon reflexes abnormalities and tandem gait across time.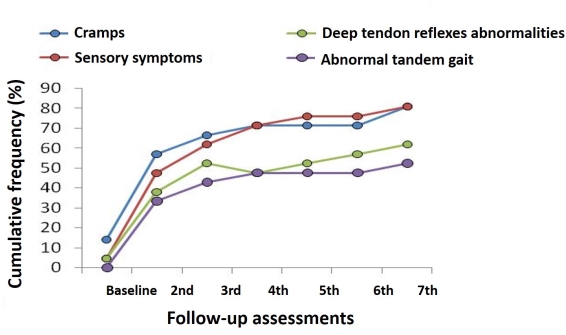 The age at onset of these features were inversely correlated to CAG repeats.
Conclusions: The recognition of early features of SCA2, and its natural history before the ataxia onset, offers novel insights into the prodromal phase and disease physiopathology, demonstrating the early involvement of cerebellar and non-cerebellar structures, including cortical regions.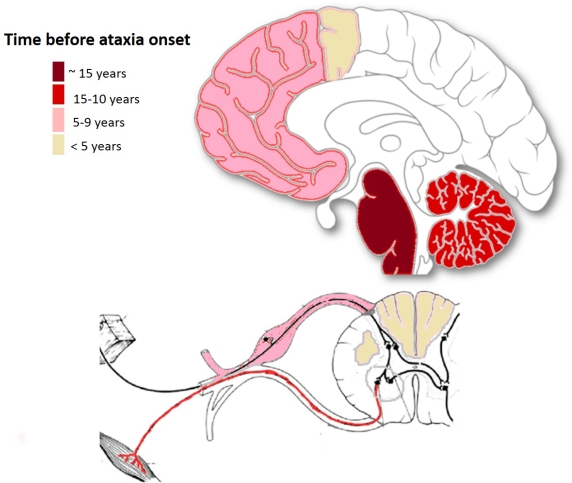 The identification of criteria defining prodromal SCA2 facilitates early diagnosis and counseling and offer key options to designing early theraputical trials. References: 1.Maas R, et al. The preclinical stage of spinocerebellar ataxias. Neurology 2015;85:96-103. 2.Velazquez-Pérez L, et al. Progression of early features of spinocerebellar ataxia type 2 in individuals at risk: a longitudinal study. Lancet Neurol 2014;13:482-9.
To cite this abstract in AMA style:
L. Velázquez-Pérez, R. Rodríguez-Labrada, N. Canales-Ochoa, J. Fernandez-Ruiz, J. Medrano-Montero, Y. Vazquez-Mojena, G. Auburger, U. Ziemann. Prodromal criteria of spinocerebellar type 2: Lessons for physiopathology, natural history and therapeutical trials [abstract].
Mov Disord.
2016; 31 (suppl 2). https://www.mdsabstracts.org/abstract/prodromal-criteria-of-spinocerebellar-type-2-lessons-for-physiopathology-natural-history-and-therapeutical-trials/. Accessed September 27, 2023.
« Back to 2016 International Congress
MDS Abstracts - https://www.mdsabstracts.org/abstract/prodromal-criteria-of-spinocerebellar-type-2-lessons-for-physiopathology-natural-history-and-therapeutical-trials/