Session Information
Session Time: 1:45pm-3:15pm
Location: Hall 3FG
Objective: To assess public knowledge on PD in the two largest Central Asian countries, Uzbekistan and Kazakhstan.
Background: Public awareness of Parkinson's disease (PD) is important for early symptom recognition and treatment. To date, there is no study evaluating this topic from Central Asia, a region that has a population of around 70 million.
Methods: A previously published Knowledge of Parkinson's Disease Questionnaire (KPDQ) was first translated by the authors into Uzbek (by I.Sh.Sh.), Russian (by I.Sh.Sh.) and Kazakh (by M.A.A.); and then back-translated from Uzbek (by T.E.O), Russian (by T.E.O) and Kazakh (by A.F.S.) to verify accuracy. The provisional questionnaires were further vetted by general practitioners and patients for clarity and readability. The finalized translated questionnaires were administered to 555 adults attending three primary care clinics in Tashkent and Namangan (Uzbekistan) and Astana (Kazakhstan). Respondents were instructed to tick a box if they recognized "problems experienced by people with PD" (14 symptoms that occur commonly in PD were presented); and to provide True or False answers to ten statements regarding PD.
Results: The response rate was 98.9%. The most widely recognized symptoms of PD were tremor (50.6%), insomnia (50.3%), and memory problems (47.7%). Notably, more than 70% of the respondents failed to identify slowness of movement and rigidity as symptoms of PD. [Table 1] Among the True-False statements, the most common mistakes were regarding presence of tremor in all PD patients (76.7% responding incorrectly); that PD can be cured (63.3% incorrect), and that disease cannot affect young adults (50.9% incorrect). Almost half of the respondents considered PD to be the same disease as Alzheimer's disease. [Table 2]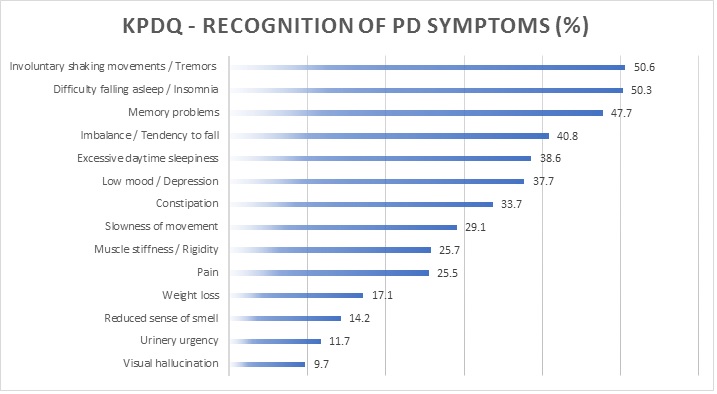 Conclusions: This study from Central Asia highlights important gaps in public knowledge regarding PD, and suggests that public educational efforts are much needed in this area.
References: 1. Tan AH, Tan CT, Marras C, Loh KW, Wye Ho NW, Lim QH, Tan PW, Lim CC, Cheong YW, Kong ST, Schee JP, Tan KH, Soo SK, Vanderschaaf C, Lai Heong Lew S, Mahamad UA, Goh KJ, Yong HS, Lim SY. Knowledge of Parkinson's disease in a multiethnic urban Asian setting. Journal of Parkinson's disease 2015;5:865-879.
To cite this abstract in AMA style:
O. Turgunkhujaev, F. Aliyeva, A. Khashimova, A. Mukanova, O. Okhunov, S.H. Ikramova, A.H. Tan, S.Y. Lim. Public Awareness on Parkinson's disease in Urban Central Asia [abstract].
Mov Disord.
2018; 33 (suppl 2). https://www.mdsabstracts.org/abstract/public-awareness-on-parkinsons-disease-in-urban-central-asia/. Accessed December 2, 2023.
« Back to 2018 International Congress
MDS Abstracts - https://www.mdsabstracts.org/abstract/public-awareness-on-parkinsons-disease-in-urban-central-asia/