Session Information
Session Time: 1:45pm-3:15pm
Location: Agora 3 West, Level 3
Objective: To describe clinical and imaging features of a SLE patient who presented with parkinsonism which is a rare manifestation of NPSLE and the result after treatment of NPSLE.
Background: Systemic lupus erythematosus (SLE) is one of the devastating multiorgan system disorders. One major problem in SLE is neuropsychiatric manifestation or so called NPSLE which consists of a lot of central nervous system (CNS) and peripheral nervous system (PNS) manifestations[1]. One manifestation of CNS lupus is parkinsonism, which is very rare in clinical practice[2].
Method: Case report. Magnetic Resonance Imaging (MRI) of patient's brain. Cerebrospinal fluids (CSF) exam. Laboratory work up.
Results: 26 year old woman was admitted due to fever and dysuria and was diagnosed with UTI and was treated with intravenous ceftriaxone. 6 days after admission, she began to be in mildly confused state and developed rest, postural and kinetic tremor of both arms, more prominent on the left side. Physical exam showed rigidity of both arms and bradykinesia demonstrated by finger tapping of both hands, more prominent on left side. Her gait was slow and short step, multistep turning with decreased arm swing of both arms. The pulling test was positive. The MRI was done and showed hyperintensity of bilateral basal ganglia on T2 sequence [Figure 1]. CSF exam was unreamarkable. The laboratory exam showed mild anemia, leukopenia and thrombocytopenia. The proteinuria was found on urine exam and there was low C3, C4, and CH50 complement. She was diagnosed with NPSLE with parkisnonism. She was then treated by intravenous methylprednisolone followed by intravenous cyclophosphamide and oral levodopa/carbidopa. She improved gradually and then was discharged.Two week follow up after discharge she improved significantly but still had subtle parkinsonian signs.
Conclusion: When encountering patient who presented with parkinsonism and had the underlying disease of SLE, early recognition of parkinsonism as a manifestation of NPSLE is important. Because early treatment with immunological therapy can improve or even reverse the parkinsonism.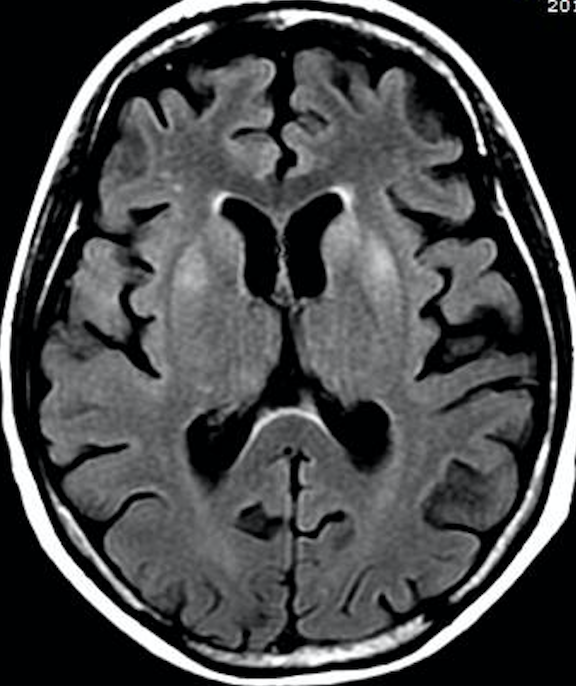 References: 1. Alessa H. et. al. Neuropsychiatric Lupus in clinical practice. Arquivos de Neuro-Psiquiatria 2016; 74(12): 1021-1030. 2. Tang Q. et. al. Archives of Rheumatology 2015; 30(4): 361-364.
To cite this abstract in AMA style:
C. Wantaneeyawong, K. Kumchana. Rare manifestation of CNS Lupus: Parkinsonism [abstract].
Mov Disord.
2019; 34 (suppl 2). https://www.mdsabstracts.org/abstract/rare-manifestation-of-cns-lupus-parkinsonism/. Accessed November 29, 2023.
« Back to 2019 International Congress
MDS Abstracts - https://www.mdsabstracts.org/abstract/rare-manifestation-of-cns-lupus-parkinsonism/