Session Information
Session Time: 12:00pm-1:30pm
Location: Exhibit Hall located in Hall B, Level 2
Objective: To study the brain networks underlying Response Inhibition in Parkinson's disease (PD).
Background: While some PD patients can have significant executive dysfunction, others remain cognitive normal. The neural mechanisms engaged by these cognitive normal patients are unclear.
Methods: Response inhibition is defined as stopping an action in response to an unexpected event and requires exquisite executive control. Using a response inhibition task, we studied16 cognitively normal PD(Level-II) and 16 age-matched controls(HC). PD were tested OFF and ON dopamine. fMRI data were acquired during a Stop Signal Task where participants were instructed to press with their index or middle finger in response to an arrow stimulus pointing to either the left or right, respectively. On 20% of trials, a stop signal (red dot) appeared above the arrow stimulus to indicate the need to inhibit the press response. Brain activation maps were generated for between-stimulus (successful stop minus go) by between-group differences. Significant clusters of activation were identified using a height threshold of p<0.01, with FWE correction for multiple spatial comparisons at p<0.01.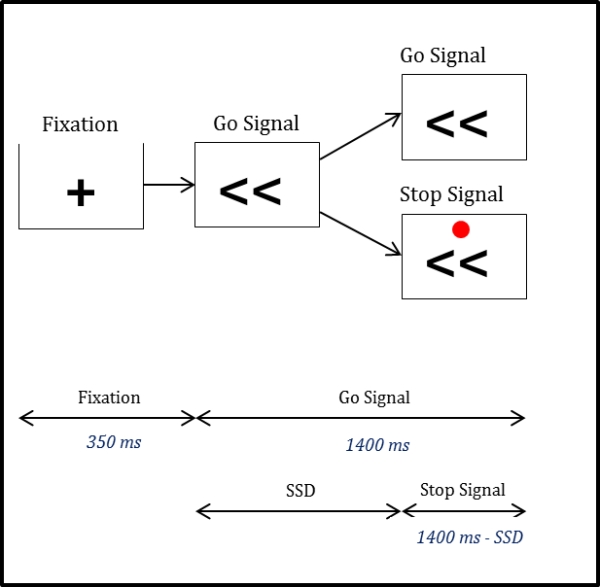 Results: All three groups had similar behavioral results. For the contrast of successful stop trials minus accurate go trials, we found PD_OFF had less activation in the right- inferior frontal gyrus (IFG) and bilateral supplemental motor area (SMA), compared to HC. We then found PD_ON had less activation in several subcortical regions, such as the caudate and putamen, the SMA and the left-Pre/Post-central Gyri, compared to HC. Finally, we found PD_ON had more activation in the left-cerebellum, compared to PD_OFF, but only at the extent threshold of p<0.05.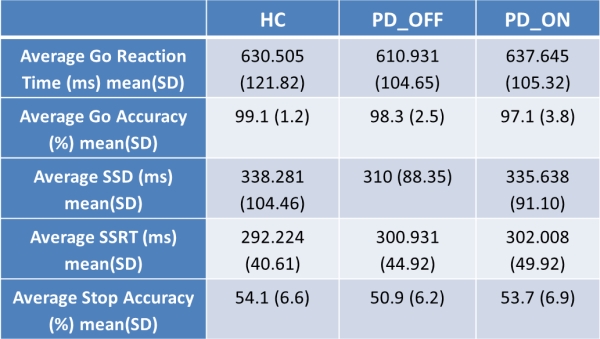 Conclusions: The brain network typically activated during successful response inhibition include the IFG, which is thought to modulate attentional capture of unexpected stimuli; the SMA, which plays an important role in motor inhibition; and the subthalamic nucleus. PD patients who are cognitively normal showed excellent performance during the stop signal task, yet we found less activation in two primary regions of this response inhibition network. Additionally, PD patients ON dopamine showed suppression of subcortical brain activation. This data provides further evidence that PD patients potentially engage alternate brain networks to maintain normal cognitive performance, and that these networks might be further modulated by dopamine.
To cite this abstract in AMA style:
J. Kim, K. Zhang, M.A.I.U.A. Cruadhlaoich, S. YorkWilliams, V. Menon, K.L. Poston. Response inhibition in Parkinson's disease [abstract].
Mov Disord.
2016; 31 (suppl 2). https://www.mdsabstracts.org/abstract/response-inhibition-in-parkinsons-disease/. Accessed September 25, 2023.
« Back to 2016 International Congress
MDS Abstracts - https://www.mdsabstracts.org/abstract/response-inhibition-in-parkinsons-disease/