Objective: Determine the usefulness of paroxetine in terms of motor and behavioral manifestations control in a patient with Tourrete Syndrome (TS) with intolerance to dopamine antagonists.
Background: We present the case of a 21-years-old male diagnosed with Tourette Syndrome (TS) characterized clinically by simple motor tics and attention deficit hyperactivity disorder (ADHD). Its pharmacological management with Risperidone was suspended due to the presence of considerable adverse effects, opting for paroxetine due to the associated behavioral disorder. Selective Serotonin Reuptake Inhibitors (SSRIs) are commonly used for the control of behavioral disorders [1,2]. There are studies that demonstrate the usefulness of SSRIs in essential tremor in Parkinson's patients [3]. We suppose that SSRIs could be an optimal pharmacological alternative in patients with TS where the motor manifestations are associated with a behavioral disorder.
Method: A clinimetric evaluation was performed at three different times (before treatment, at 12 and 24 months of follow-up). Three scales were used; Yale Global Tics Severity Scale (YGTSS) to assess motor manifestations, Tourette's Disorder Scale (TODS) to evaluate the behavioral disorders, and Short Form Health Survey (SF-36) to estimate the patient's subjective perception of general health [4]. A statistical analysis was performed using a Wilcoxon Test to compare the two pharmacological managements in search of significant differences. A term called Global Tourette Syndrome Assessment (GTSA) obtained by the mean value of the included scales was used to compare the clinical results.
Results: Regarding the results of the clinical evaluation, no significant differences were observed between the management with risperidone and paroxetine (p> 0.05) [Fig. 1D].
Conclusion: Management with paroxetine did not show significant differences compared with risperidone. Previous studies have shown the ineffectiveness of SSRIs in the management of motor manifestations in ST [5,6]. However, a relationship between 5HT2 receptors and dopaminergic pathways in basal ganglia has been established, explaining the possible relationship between SSRIs and movement control [3]. We propose the need to reevaluate these observations with a well-powered trial, in order to establish the efficacy of SSRIs in patients with TS where motor disturbances in addition to behavioral disturbances predominate.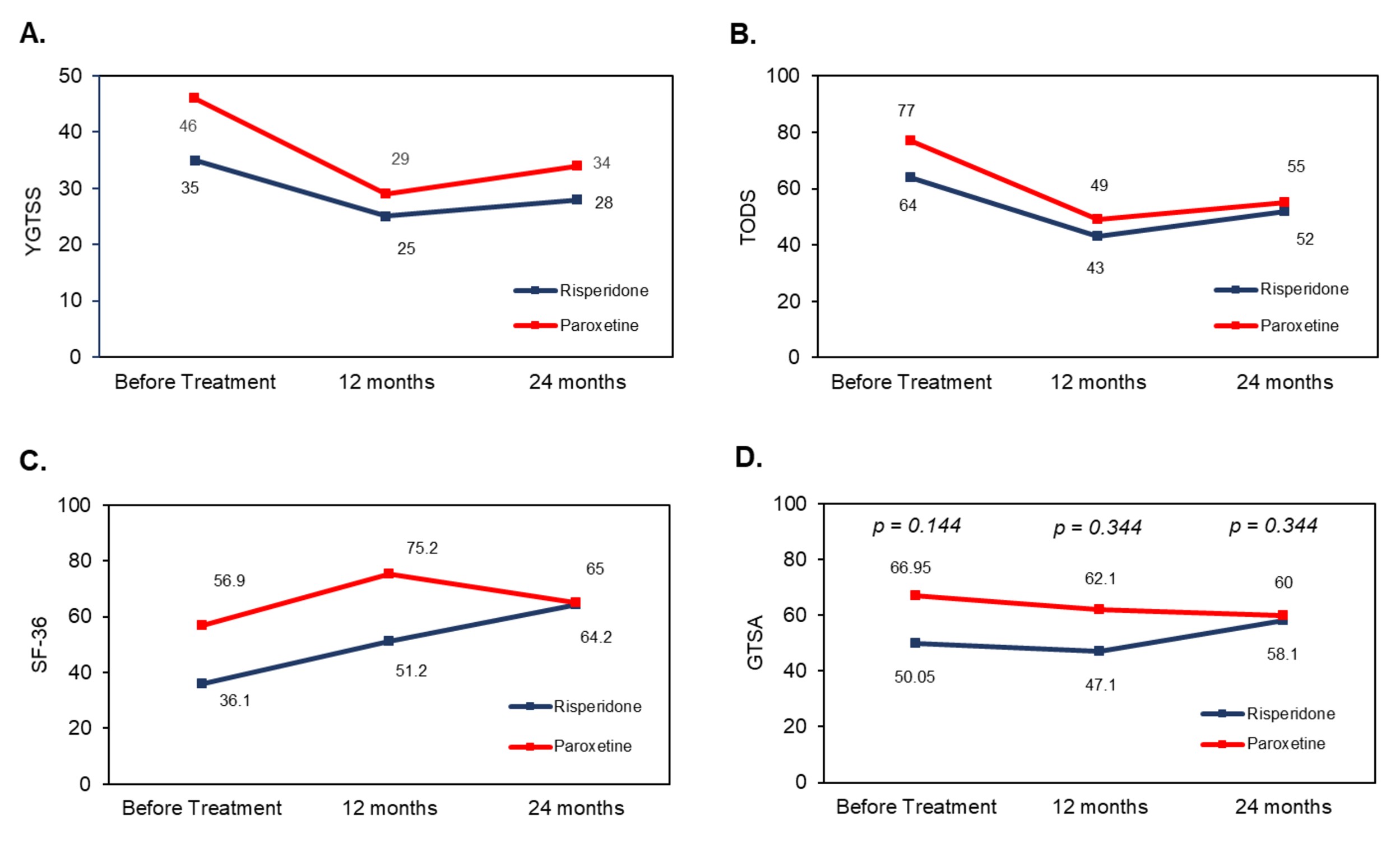 References: [1] Clare M. Eddy and Hugh E. Rickards. Treatment strategies for tics in Tourette syndrome. Ther Adv Neurol Disord. 2011;4:25-45. [2] Aribert Rothenberger, Veit Roessner. Psychopharmacotherapy of Obsessive-Compulsive Symptoms within the Framework of Tourette Syndrome. Curr Neuropharmacol. 2019;7:703-709. [3] Vincenzo Di Matteo , Massimo Pierucci, Ennio Esposito, et al. Serotonin modulation of the basal ganglia circuitry: therapeutic implication for Parkinson's disease and other motor disorders. Prog Brain Res. 2008;172:423-6. [4] Goetz CG, Kompoliti K. Rating scales and quantitative assessment of tics. Adv Neurol. 2001;85:31-42. [5] Scahill L, Riddle MA, King RA, Hardin MT, Rasmusson A, Makuch RW, Leckman JF. Fluoxetine has no marked effect on tic symptoms in patients with Tourette's syndrome: a double-blind placebo-controlled study. J Child Adolesc Psychopharmacol. 1997;7:75-85. [6] Zuojie Zhang, Chunsong Yang, Ling-Li Zhang. Pharmacotherapies to tics: a systematic review. Oncotarget. 2018;15: 28240–28266.
To cite this abstract in AMA style:
A. Armas-Salazar, J. Ortega-Márquez, D. Sandoval-Lopez, G. Pérez-Plascencia, C. Ortéga-Arenas, D. Chapa-Juárez. Role of Selective Serotonin Reuptake Inhibitors in the Management of Motor Tics in Tourette's Syndrome [abstract].
Mov Disord.
2021; 36 (suppl 1). https://www.mdsabstracts.org/abstract/role-of-selective-serotonin-reuptake-inhibitors-in-the-management-of-motor-tics-in-tourettes-syndrome/. Accessed December 7, 2023.
« Back to MDS Virtual Congress 2021
MDS Abstracts - https://www.mdsabstracts.org/abstract/role-of-selective-serotonin-reuptake-inhibitors-in-the-management-of-motor-tics-in-tourettes-syndrome/