Objective: Determine the severity of motor symptoms with Parkinson's disease using the MDS-UPDRS scale.
Background: Parkinson's disease (PD) is a progressive neurodegenerative disorder characterized by distinctive motor and non-motor manifestations. The severity of symptoms and progression in PD can be assessed using clinical assessment scales, the advantages of which are low cost, ease of management and correlation with clinically significant results. Knowing the expected progression of the rating scale is important for advising patients on the prognosis of the disease, as well as for planning and interpreting the clinical modification of the disease in the treatment of PD.
Method: A total of 111 outpatients with PD from 10 primary health care facilities in Almaty underwent a clinical and neuropsychological examination by a clinician using the MDS (UPDRS) scale. Survey results were analyzed using descriptive statistics.
Results: There were 41 men (35.96%) and 70 women (64.03%) aged 44 to 91 years (mean age 63.06 + 7.24 years). According to the anamnesis, the average age of onset of the disease (the moment when patients began to notice symptoms of PD) was 56.23 years.
According to the MDS (UPDRS) scale, 57.65% of patients had moderate motor impairment (n = 64), while 16.21% had severe motor impairment (n = 18) and 13.51% had mild motor impairment (n = 15), as well as 9.90% had very mild motor impairment (n = 11).
Conclusion: Different therapeutic interventions are useful for patients with different levels of motor impairment. This study showed that most patients were in the early stages of PD and most had moderate motor impairment. Intervention with appropriate therapy in the early stages can slow the progression of motor disorders. The MDS (UPDRS) test can be useful for assessing motor impairment and determining appropriate interventions for patients with PD in Almaty.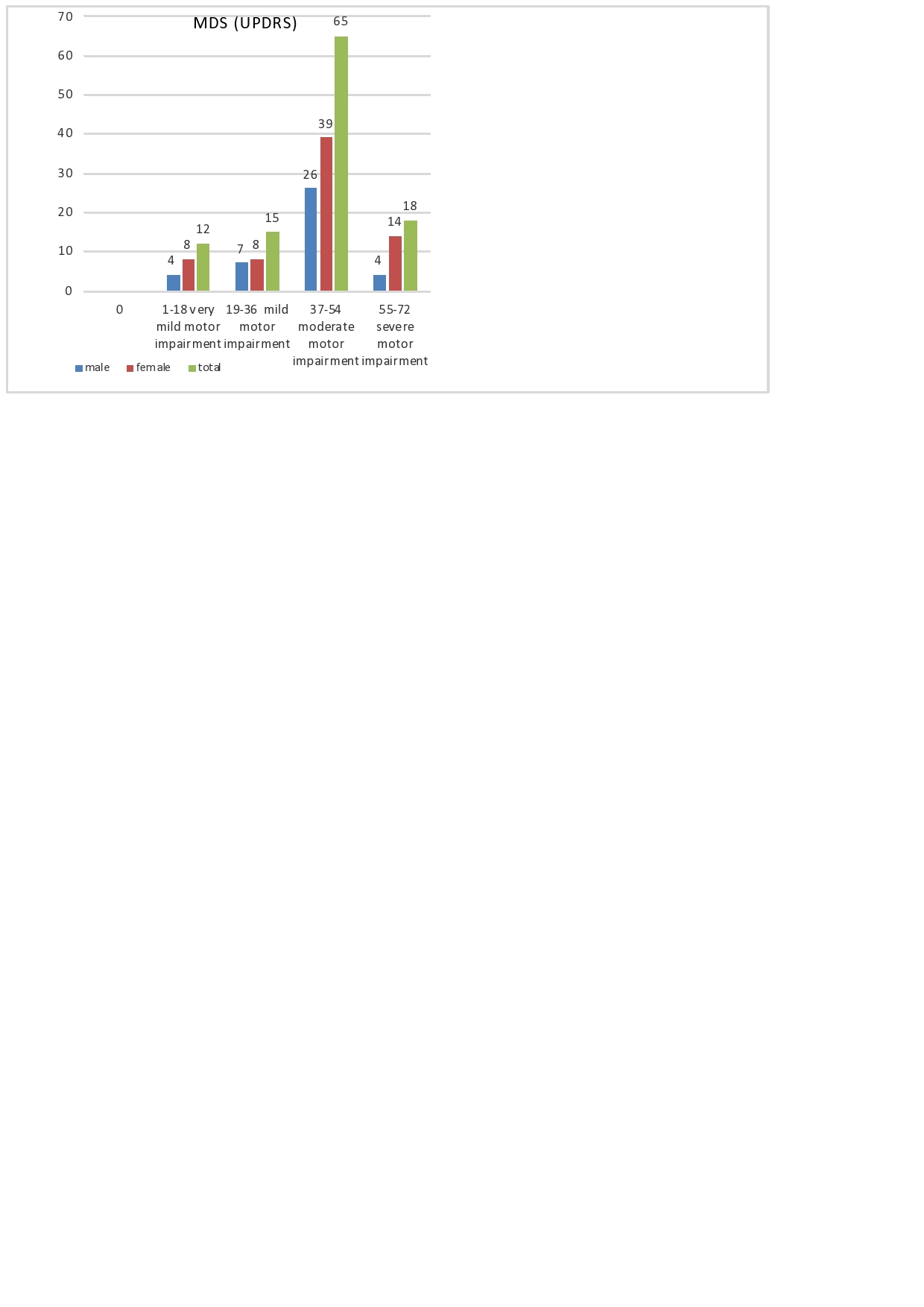 To cite this abstract in AMA style:
A. Aralbayeva, S. Kamenova, A. Kondybaeva, K. Kuzhibaeva. Severity of Motor Symptoms in Parkinson's Disease in Kazakhstan (on the example of the city of Almaty) [abstract].
Mov Disord.
2020; 35 (suppl 1). https://www.mdsabstracts.org/abstract/severity-of-motor-symptoms-in-parkinsons-disease-in-kazakhstan-on-the-example-of-the-city-of-almaty/. Accessed November 29, 2023.
« Back to MDS Virtual Congress 2020
MDS Abstracts - https://www.mdsabstracts.org/abstract/severity-of-motor-symptoms-in-parkinsons-disease-in-kazakhstan-on-the-example-of-the-city-of-almaty/