Objective: To explore sexual dysfunction (SD) in a dystonia patient with deep brain stimulation of the Globus Pallidus pars interna (GPi DBS).
Background: There is scarce information on SD in patients with GPi DBS. STN DBS may cause worsening and GPi DBS improvement of sexual function in patients with Parkinson's disease (PD) [1]. Hypersexuality was reported after pallidotomy for PD [2, 3]. No reports on sexual function in dystonia patients with GPi DBS were published.
Method: We report SD in a dystonia patient following multiple GPi DBS implantation and removal surgeries.
Results: A 72-year-old patient with progressive focal dystonia which was resistant to several oral drugs and Botulinum Toxin injections, underwent bilateral GPi DBS surgery. Motor response was excellent but 2 months later the system was removed due to infection. 3 years later he had a second bilateral GPi DBS surgery with a good motor response. He reported erectile dysfunction (ED) after surgery, creating an inability to masturbate. Tadalafil and Sildenafil were ineffective. Different stimulation configurations were tested but none had a beneficial effect on his ED. A year after, the system was infected and removed. Following removal, he regained normal erectile function. Five months later, he underwent a third bilateral GPi DBS surgery but again, along with the motor improvement he developed ED.
Conclusion: The timeline is strongly suggestiveof GPi DBS causing ED (Figure 1)
Stimulation was not turned off (he refused), so it is unclear if the ED was stimulation induced or due to electrode placement alone.
We postulate several mechanisms by which GPi stimulation may cause ED.
– Direct pallidal activity in sexual behavior [4-6] might be reduced due to GPi stimulation.
– GPi stimulation may alter the level of neurotransmitters which are associated with sexual function: dopamine, serotonin, acetylcholine, glutamic acid and NO [7].
– ED might be due to stimulation of nearby structures which are implicated in sexual function.
– Inhibitory GABA afferents are activated by GPi-DBS [8, 9]. GABA neurons inhibit sexual activity [10]. The inhibitory effect of GABA by GPi stimulation may inhibit sexual function.
Further research is needed to understand the effect of GPi DBS on sexual function.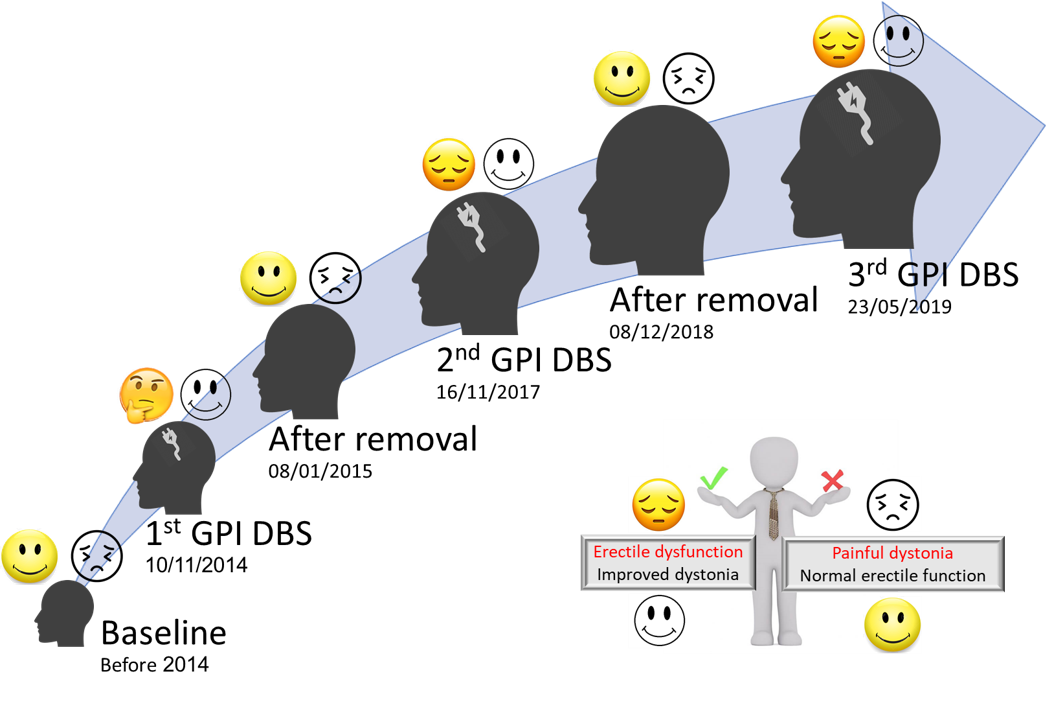 References: 1. Mock S, Osborn DJ, Brown ET, et al. The Impact of Pallidal and Subthalamic Deep Brain Stimulation on Urologic Function in Parkinson's Disease. Neuromodulation. 2016; . 2. Mendez MF, O'Connor SM, Lim GTH. Hypersexuality after Right Pallidotomy for Parkinson's Disease. Journal of Neuropsychiatry and Clinical Neurosciences. 2004. 3. Roane DM, Yu M, Feinberg TE, et al. Hypersexuality after pallidal surgery in Parkinson disease. Neuropsychiatry, Neuropsychol Behav Neurol. 2002; . 4. Rauch SL, Shin LM, Dougherty DD, et al. Neural activation during sexual and competitive arousal in healthy men. Psychiatry Res – Neuroimaging. 1999; . 5. Park K, Seo JJ, Kang HK, et al. A new potential of blood oxygenation level dependent (bold) functional MRI for evaluating cerebral centers of penile erection. In: International Journal of Impotence Research. 2001. 6. Seok JW, Sohn JH, Cheong C. Neural substrates of sexual arousal in heterosexual males: Event-related fMRI investigation. J Physiol Anthropol. 2016; . 7. Argiolas A, Melis MR. Neuromodulation of penile erection: an overview of the role of neurotransmitters and neuropeptides. Progress in Neurobiology. 1995. 8. Shink E, Smith Y. Differential synaptic innervation of neurons in the internal and external segments of the globus pallidus by the GABA‐ and glutamate‐containing terminals in the squirrel monkey. J Comp Neurol. 1995; . 9. Smith Y, Wichmann T, DeLong MR. Synaptic innervation of neurons in the internal pallidal segment by the subthalamic nucleus and the external pallidum in monkeys. J Comp Neurol. 1994; . 10. Steers W. D. (2002). Pharmacologic treatment of erectile dysfunction. Reviews in urology, 4 Suppl 3(Suppl 3), S17–S25.
To cite this abstract in AMA style:
T. Fay-Karmon, G. Bronner, S. Hassin-Baer, S. Israeli-Korn. Sexual dysfunction associated with deep brain stimulation of the Globus Pallidus pars interna [abstract].
Mov Disord.
2020; 35 (suppl 1). https://www.mdsabstracts.org/abstract/sexual-dysfunction-associated-with-deep-brain-stimulation-of-the-globus-pallidus-pars-interna/. Accessed November 29, 2023.
« Back to MDS Virtual Congress 2020
MDS Abstracts - https://www.mdsabstracts.org/abstract/sexual-dysfunction-associated-with-deep-brain-stimulation-of-the-globus-pallidus-pars-interna/