Session Information
Session Time: 1:15pm-2:45pm
Location: Les Muses Terrace, Level 3
Objective: To determine factors influencing mortality in patients who receive percutaneous endoscopic gastrostomy (PEG) in Parkinson 's disease (PD).
Background: PD is a progressive neurological disease associated with dysphagia and risk of aspiration. In these circumstances PEG insertion may be considered. However, data is limited related to outcomes following PEG in PD or the factors associated with favourable outcomes.
Method: We retrospectively reviewed case notes (paper and electronic) for all patients with PD undergoing PEG between 2014 and 2018 at the Queen Elizabeth Hospital in Gateshead. Patient demographics and clinical characteristic prior to PEG insertion were collected. Duration of survival post PEG was recorded.
Results: PEG had been performed in 21 patients with PD. Notes were available for 18 patients (16 male). Median age at PEG was 77.5 (range 53-84). Median duration of PD was 7 years (range 1-25 years). Median Hoehn Yarr score was 4 (range 2-5). Mean Levodopa Equivalent Dose (LED) was 664 (median 800, range 0-1125). Data on nutritional status was available for 11 patients. Median BMI at time of PEG was 20.3 (range 14.9-267). PEG insertion was often considered for medication administration as much as nutrition. 7 patients had capacity to consent to PEG insertion. 8 lacked capacity to decide regarding feeding and after discussion with key decision makers a best interest decision was made for PEG feeding. The capacity of the patient to consent to PEG could not be found in 3 cases. Of the 18 patients for whom data were available, 3 were alive at case review (survival post PEG ranged from 127-1614 days). In the deceased cohort patient's survival post PEG ranged from 6 to 881 days (Median = 65 days). Of the total cohort 33.3% (n=6) died within the first 30 days post PEG insertion. 9 (50%) died within 100 days. Age, duration of PD and rates of cognitive impairment did not significantly differ between those surviving 30 days and those with earlier mortality. [Table 1].
Conclusion: Survival post PEG in PD is very variable. In this small case series there were no clear predictors of outcome. Notably 50% of the cohort were unable to consent to procedure at time of PEG. This demonstrates the need for earlier discussion re patient's wishes. Further studies will need to gather data from multiple centres in order to reliably determine factors associated with favourable outcome following PEG in PD.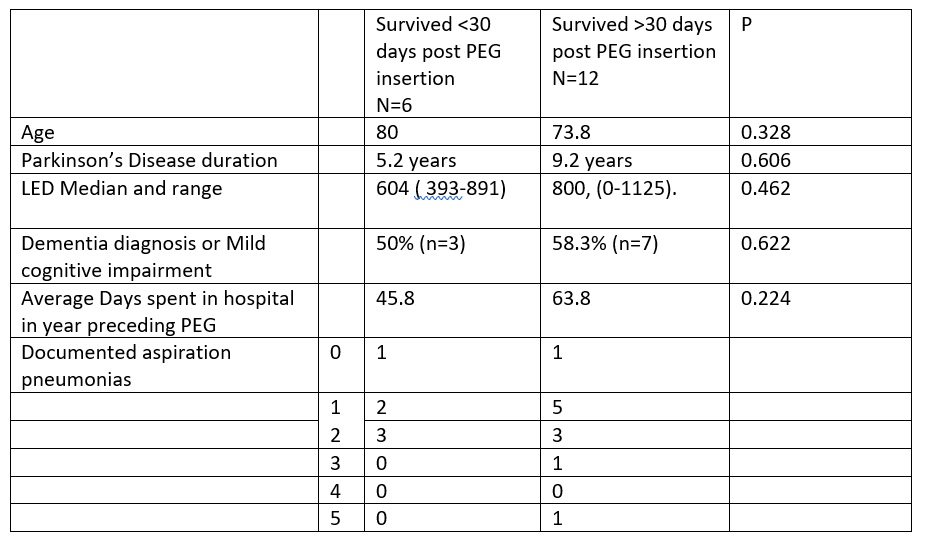 To cite this abstract in AMA style:
H. Fairclough, H. Bashir, R. Beekman, M. Lee, E. Johns, C. Mcdonald. Single Centre Experience of PEG Feeding in Parkinson's Disease [abstract].
Mov Disord.
2019; 34 (suppl 2). https://www.mdsabstracts.org/abstract/single-centre-experience-of-peg-feeding-in-parkinsons-disease/. Accessed November 28, 2023.
« Back to 2019 International Congress
MDS Abstracts - https://www.mdsabstracts.org/abstract/single-centre-experience-of-peg-feeding-in-parkinsons-disease/