Objective: This study aims to explore the potential of once-daily opicapone (OPC) 50 mg to enhance the clinical benefit of levodopa (L-dopa)/dopa decarboxylase inhibitor (DDCi) in patients with early-stage Parkinson's disease (PD) without motor fluctuations.
Background: Following oral administration, levodopa is extensively metabolised in the periphery by dopa decarboxylase and catechol-O-methyltransferase (COMT). OPC, a third-generation COMT inhibitor, proved effective for the treatment of end-of-dose motor fluctuations in patients with PD. Co-administration of OPC with L-dopa/DDCi preparations inhibits peripheral COMT, thereby increasing L-dopa bioavailability and reducing motor fluctuations.
Method: Patients aged 30−80 years with idiopathic PD, treated with 3-4 daily oral doses of up to 500 mg L-dopa, with signs of motor disability will be randomised to receive OPC 50 mg once daily or placebo (1:1) during a 6-month double-blind follow-up period. The L-dopa/DDCi regimen should remain stable throughout this period, and at the end, patients may enter a 1-year, open-label period of OPC 50 mg treatment [figure1]. A total of 162 patients per group are planned to be recruited.
Results: The primary endpoint is change from baseline in the Movement Disorder Society-Unified Parkinson's Disease Rating Scale (MDS-UPDRS) Part III. Secondary endpoints include tolerability, motor and non-motor assessments and global impression of change. As of December 2021, 106 patients have been screened, 77 patients have been randomised and 57 study-initiation-visits in 11 countries have been performed. The study has been approved in all participating countries.
Conclusion: This study will evaluate the effect of OPC on motor symptoms when given as add-on to stable L-dopa/DDCi therapy in patients with early-stage PD.

Supported by Bial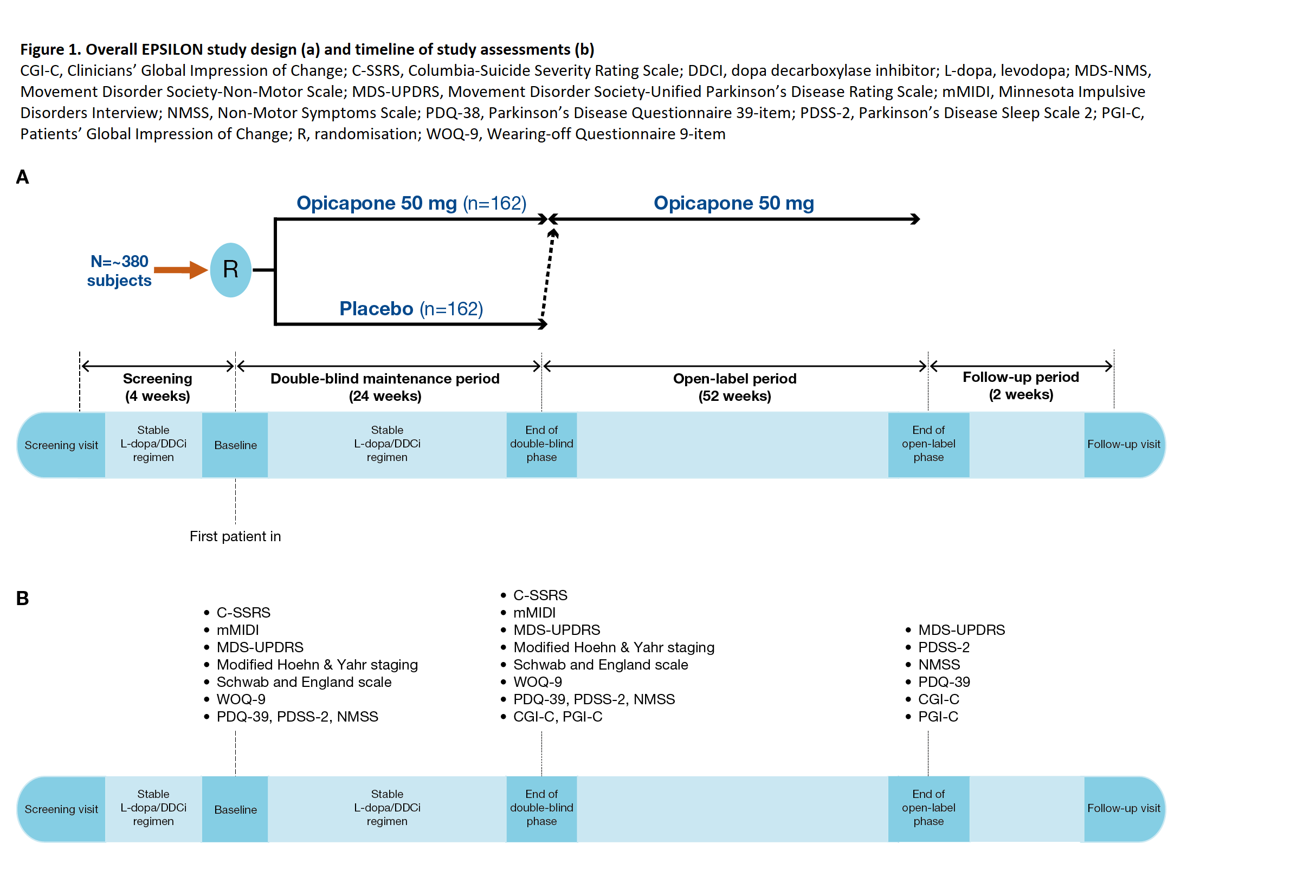 To cite this abstract in AMA style:
J. Ferreira, W. Poewe, O. Rascol, F. Stocchi, A. Antonini, J. Moreira, J-F. Rocha, P. Soares-da-Silva. Status Update of EPSILON: a Phase III, Randomised, Placebo-Controlled Study of Opicapone in Early Parkinson's Disease [abstract].
Mov Disord.
2022; 37 (suppl 2). https://www.mdsabstracts.org/abstract/status-update-of-epsilon-a-phase-iii-randomised-placebo-controlled-study-of-opicapone-in-early-parkinsons-disease/. Accessed December 7, 2023.
« Back to 2022 International Congress
MDS Abstracts - https://www.mdsabstracts.org/abstract/status-update-of-epsilon-a-phase-iii-randomised-placebo-controlled-study-of-opicapone-in-early-parkinsons-disease/