Session Information
Session Time: 1:15pm-2:45pm
Location: Les Muses Terrace, Level 3
Objective: To present and discuss a case of stereotactic ablation of bilateral nucleus accumbens (NAc) in a mentally retarded patient to alleviate symptoms of severe aggression.
Background: Aggression is commonly observed in mentally retarded patients, imposing a burden on the caregiver. Despite many pharmacological and non-pharmacological treatments, some cases can be refractory which arises a need for surgical interventions. Hereby, we present a case of severe aggression treated with bilateral NAc stereotactic ablation.
Method: A 28-year-old mentally retarded male presented with complaints of physically aggressive behavior since he was two years old. His aggressive behavior continued through years despite many pharmacological treatments and gamma-knife ablative surgery of bilateral anterior limb of the internal capsule which was performed seven years ago. He had sleep problems and having trouble concentrating in his school. He was mute and unable to cooperate to neurological examination, upon manipulation, he showed aggressive behavior such as hitting himself or beating his head against the wall. As he was unable to cooperate procedures of deep brain stimulation (DBS), permanent indwelling hardware wasn't a reasonable choice. We preferred ablative surgery of bilateral NAc. Under general anesthesia, stereotactic coordinates for NAc was determined. Radiofrequency ablation at 80 degrees was applied for 65 seconds to the target and 1,5 cm superior and inferior. Brain magnetic resonance imaging of the patient after surgery showed bilateral thermal damage in NAc region [figure 1].
Results: Two weeks after surgery the patient's aggression attacks declined approximately 60% according to his parents. Furthermore, he started to participate in lessons for longer time without a decline in cognitive performance and his sleeping problems diminished. After two months of follow-up, this improvement continued with no side effects.
Conclusion: The physiological basis of aggression is not yet fully understood but NAc is found to be an important site for both DBS and ablative surgery for medically refractory aggressive behavior [1, 2]. Despite little evidence in the literature, we treated a patient with aggressive behavior by ablating the NAc bilaterally using stereotactic surgery with significant clinical improvement. In selected patients, NAc may be a good candidate target for the treatment of medically refractory aggression.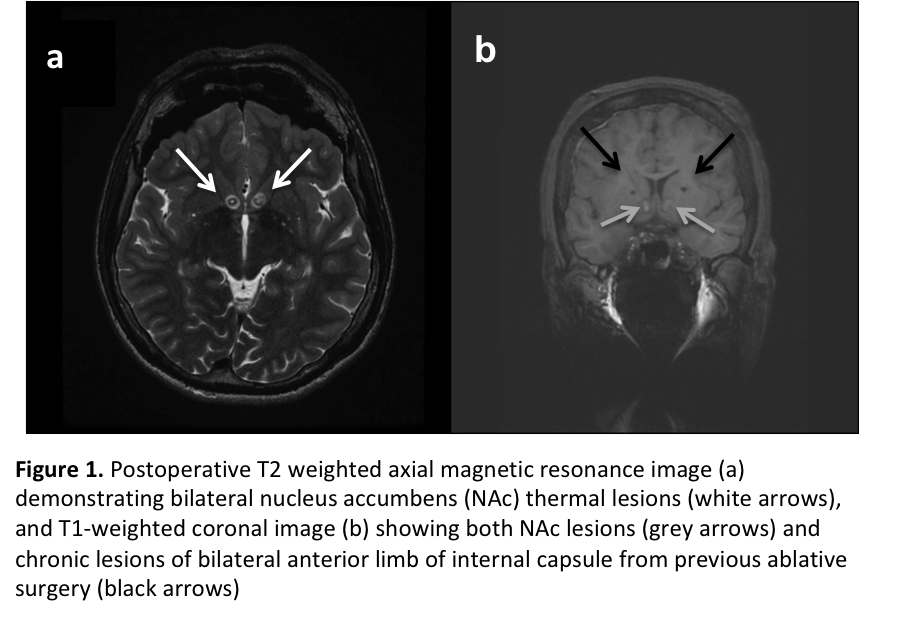 References: 1. Harat M, Rudas M, Zielinski P, Birska J, Sokal P. Deep Brain Stimulation in Pathological Aggression. Stereotact Funct Neurosurg. 2015;93(5):310-5. 2. Maley JH, Alvernia JE, Valle EP, Richardson D. Deep brain stimulation of the orbitofrontal projections for the treatment of intermittent explosive disorder. Neurosurg Focus. 2010;29(2):E11.
To cite this abstract in AMA style:
N. Durmaz çelik, M. Vural, S. özkan. Stereotactic Lesioning of Nucleus Accumbens for Treatment of Aggression in Mental Retardation [abstract].
Mov Disord.
2019; 34 (suppl 2). https://www.mdsabstracts.org/abstract/stereotactic-lesioning-of-nucleus-accumbens-for-treatment-of-aggression-in-mental-retardation/. Accessed September 25, 2023.
« Back to 2019 International Congress
MDS Abstracts - https://www.mdsabstracts.org/abstract/stereotactic-lesioning-of-nucleus-accumbens-for-treatment-of-aggression-in-mental-retardation/