Objective: To report a case of stereotypy after bilateral opercular infarctions.
Background: Stereotypies are repetitive, patterned and purposeless involuntary behaviors that are usually distractible[1, 2]. Primary stereotypy occurs in otherwise normal individuals, while secondary stereotypy coexists with other psychiatric or neurological disorders, such as attention deficit hyperactivity disorder or autism[1, 2].
Method: Chart review.
Results: 62 year-old woman presented for evaluation of involuntary mouth movement. She had a history of left opercular infarction at age 24 and right opercular ischemic infarction at age 60 (Figure 1). She first developed movement approximately one year after her right opercular ischemic infarction and movements resolved without treatment. Movement reappeared approximately 3 to 4 months prior to visit, presenting as involuntary, mouth chomping movements. Movements involve mouth opening and closing on its own throughout the day while awake. She denies any urge to perform these movements and there is no relief after they occur. She does not wear dentures and denied any recent dental procedures and the movements do not impact her speech or swallowing. She has no prior antipsychotic or anti-emetic exposure.
Figure 1. T2 FLAIR image showing encephalomalacia and hyperintensities secondary to bilateral opercular infarctions.
Exam shows intermittent, semi-rhythmic mouth opening and closing movements. There are no horizontal jaw movements. The movements stop when she talks or holds her mouth open. The movements are diminished when she is asked to perform other tasks. There are no features of dystonia or chorea. The patterned, repetitive and distractible nature supports the diagnosis of stereotypy.
Conclusion: pathophysiology of stereotypy is not well understood, but some studies suggest involvement of cortico-striatal-thalamo-cortical pathways[3-8]. Post-stroke stereotypy is rare, accounting for only about 3% of post stroke movement disorders[9]. Most stereotypies are usually unilateral movements contralateral to the side of infarction, and often develop acutely within days to weeks following the ischemic infarction. It has also been reported after parietal, midbrain, cerebellar, thalamic, lenticular or putaminal infarctions[6, 7, 10-12]. To the best of our knowledge, this is the first reported case who presents with delayed stereotypy secondary to bilateral opercular infarctions.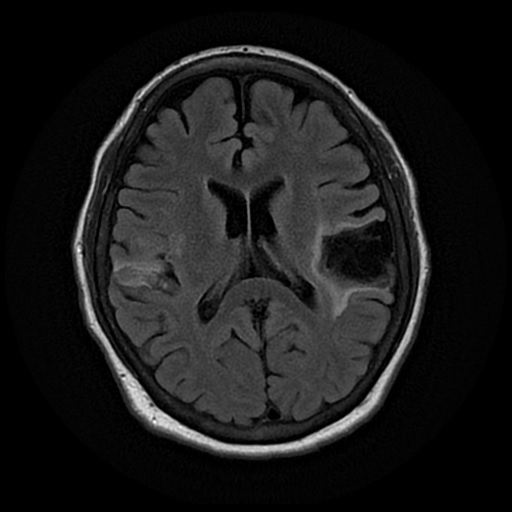 References: 1. Muthugovindan, D. and H. Singer, Motor stereotypy disorders. Curr Opin Neurol, 2009. 22(2): p. 131-6. 2. Shukla, T. and S. Pandey, Stereotypies in adults: a systematic review. Neurol Neurochir Pol, 2020. 54(4): p. 294-304. 3. Carter, J.C., G.T. Capone, and W.E. Kaufmann, Neuroanatomic correlates of autism and stereotypy in children with Down syndrome. Neuroreport, 2008. 19(6): p. 653-6. 4. Graybiel, A.M. and J.J. Canales, The neurobiology of repetitive behaviors: clues to the neurobiology of Tourette syndrome. Adv Neurol, 2001. 85: p. 123-31. 5. Kates, W.R., D.C. Lanham, and H.S. Singer, Frontal white matter reductions in healthy males with complex stereotypies. Pediatr Neurol, 2005. 32(2): p. 109-12. 6. Kelley, A.E., C.G. Lang, and A.M. Gauthier, Induction of oral stereotypy following amphetamine microinjection into a discrete subregion of the striatum. Psychopharmacology (Berl), 1988. 95(4): p. 556-9. 7. Maraganore, D.M., A.J. Lees, and C.D. Marsden, Complex stereotypies after right putaminal infarction: a case report. Mov Disord, 1991. 6(4): p. 358-61. 8. Sato, S., et al., Stereotyped stepping associated with lesions in the bilateral medial frontoparietal cortices. Neurology, 2001. 57(4): p. 711-3. 9. Suri, R., et al., Post-stroke Movement Disorders: The Clinical, Neuroanatomic, and Demographic Portrait of 284 Published Cases. J Stroke Cerebrovasc Dis, 2018. 27(9): p. 2388-2397. 10. Kulisevsky, J., et al., Unilateral parkinsonism and stereotyped movements following a right lenticular infarction. Mov Disord, 1996. 11(6): p. 752-4. 11. Lee, D., D. Lee, and T.B. Ahn, Stereotypy after cerebellar infarction. J Neurol Sci, 2014. 344(1-2): p. 227-8. 12. Pandey, S. and N. Sarma, Stereotypy After Acute Thalamic Infarct. JAMA Neurol, 2015. 72(9): p. 1068.
To cite this abstract in AMA style:
H. Wang, K. Mongeon-Wahlen, F. Ali. Stereotypy after bilateral opercular infarctions. [abstract].
Mov Disord.
2021; 36 (suppl 1). https://www.mdsabstracts.org/abstract/stereotypy-after-bilateral-opercular-infarctions/. Accessed November 29, 2023.
« Back to MDS Virtual Congress 2021
MDS Abstracts - https://www.mdsabstracts.org/abstract/stereotypy-after-bilateral-opercular-infarctions/