Objective: To determine the prevalence of Subjective Cognitive Complaints (SCC) in early Parkinson's disease (PD) and examine the correlates between SCC in early PD and affective symptoms – anxiety, depression and apathy.
Background: SCC is highly prevalent in PD, with incidence of 30.3% in early PD cohorts and 85% in advanced PD. The significance of SCCs remains poorly understood. Affective symptoms are also increasingly recognised to be common in PD. Previous studies have described an association between SCC and affective symptoms in PD. However, SCC prevalence and its affective correlates specifically in early PD, using recommended MDS Level II Diagnostic Criteria to categorize the underlying cognitive impairment, have not been explored.
Method: 123 early PD patients (disease duration ≤ 2 years) were recruited from two large tertiary hospitals in Singapore. SCC was defined as Non-Motor Symptoms Scale Domain-5 Score ≥ 1. Comprehensive neuropsychological testing was conducted and cognitive impairment (Mild Cognitive Impairment (PD-MCI) or PD-Dementia (PD-D)) was defined based on the recommended MDS guidelines. Affective symptoms were assessed using validated Hospital Anxiety Depression Scale (HADS), Geriatric Depression Scale (GDS) and Apathy Scale (AS). Analysis using linear regression model was performed.
Results: In our early PD cohort, SCC prevalence independent of actual cognitive status was 39.8%. Although the prevalence of SCC in cognitively impaired PD patients, 15 of 44 (34.1%), was lower compared to cognitively normal PD patients, 34 of 79 (43.0%), this was not statistically significant. (р =0.345) [table1] In cognitively normal PD patients, SCC presence was significantly associated with anxiety (HADS-A: β=0.265, 95% CI=0.037-0.386, р=0.018), depression (HADS-D: β=0.227, 95% CI=0.011-0.822, р=0.044; GDS: β=0.306, 95% CI=0.049-0.288, р=0.006) and apathy (AS: β=0.288, 95% CI=0.398-2.829, р=0.010). [table2]
Conclusion: SCC is highly prevalent even in early PD. Its implications in early PD differ depending on underlying cognitive status. SCC in cognitively impaired patients underestimates the true prevalence of PD-MCI and PD-D. In contrast, SCC in cognitively normal patients are suggestive of an underlying affective disorder.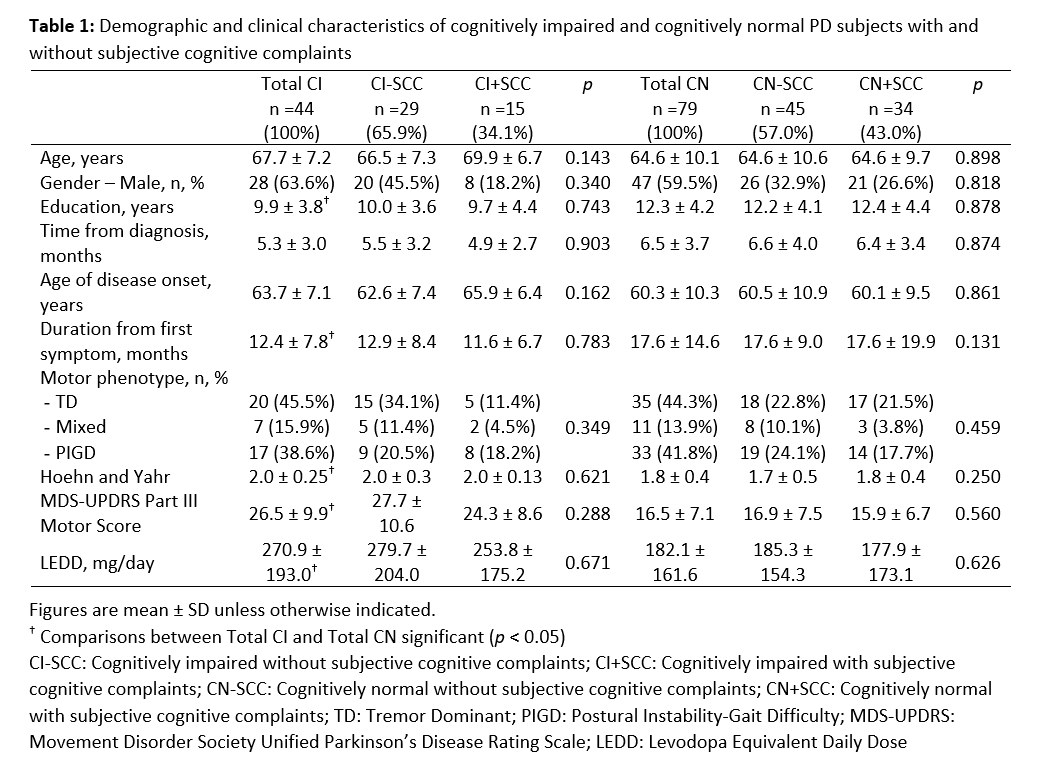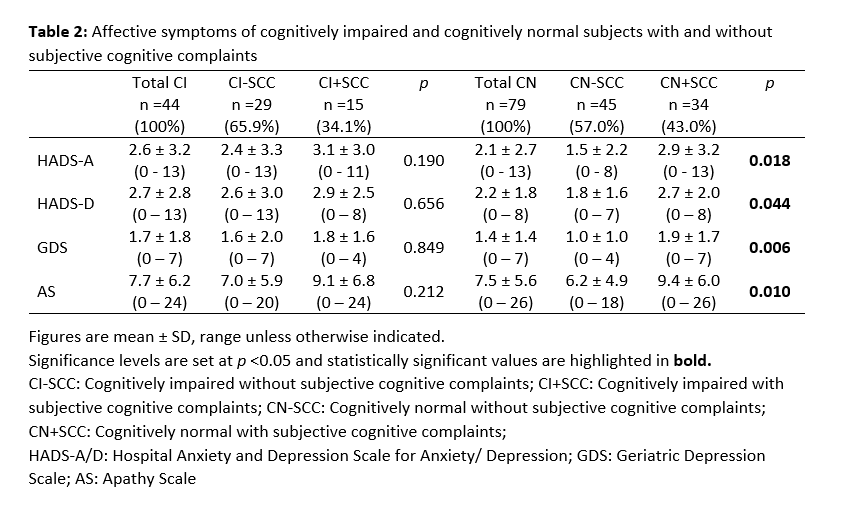 To cite this abstract in AMA style:
C.Y Chua, M.E Koh, N.Y Chia, S.E Ng, S.E Saffari, M.C Wen, R.Y Chen, X. Choi, D.L Heng, S.X Neo, K.Y Tay, W.L Au, E.K Tan, L.S Tan, Z. Xu. Subjective Cognitive Complaints in early Parkinson's Disease patients with normal cognition are associated with affective symptoms [abstract].
Mov Disord.
2020; 35 (suppl 1). https://www.mdsabstracts.org/abstract/subjective-cognitive-complaints-in-early-parkinsons-disease-patients-with-normal-cognition-are-associated-with-affective-symptoms/. Accessed November 29, 2023.
« Back to MDS Virtual Congress 2020
MDS Abstracts - https://www.mdsabstracts.org/abstract/subjective-cognitive-complaints-in-early-parkinsons-disease-patients-with-normal-cognition-are-associated-with-affective-symptoms/