Session Information
Session Time: 1:15pm-2:45pm
Location: Hall 3FG
Objective: A systematic literature review was conducted to synthesize the current state of knowledge on the role of T lymphocytes in Parkinson's disease (PD) pathology and therapy.
Background: While the mechanisms underlying the progressive, degenerative aspects of PD are not entirely clear, several lines of evidence have suggested that immune dysregulation may play a role. It is being increasingly recognized that interactions between the microglia and infiltrating T lymphocytes shape the pathogenesis of Parkinson's disease and modulating the T cell response has resulted in neuroprotection in numerous preclinical models.
Methods: MEDLINE search was performed with the MeSH terms "t lymphocytes" and "Parkinson disease," yielding 89 abstracts that were reviewed and screened for relevancy to the review topic. Papers that passed this screening process were reviewed in full, and other relevant publications cited in this group were added to the body of literature reviewed, for a total of 100 publications.
Results: This systematic review shows that 1) T cell regulation modulates neuroprotection in preclinical models of Parkinson's disease (13 references), 2) PD patients can be distinguished from healthy controls by evidence of altered T cell status in peripheral blood (15 references), 3) Dopamine has important immunomodulatory effects which may confound study of T cells in patients on dopaminergic therapies (7 references). 4) Glatiramer acetate, an FDA-approved therapy for multiple sclerosis that works through modulating the T cell response, has had success in preclinical PD models and is a promising target for translation.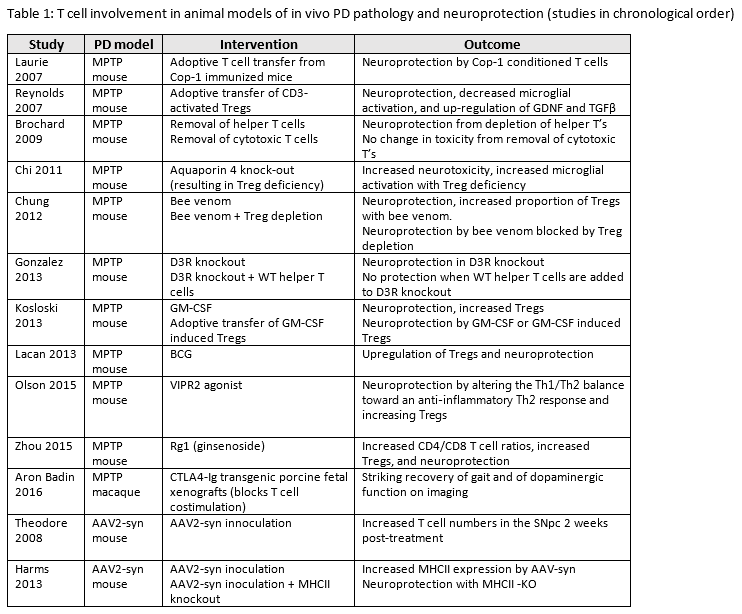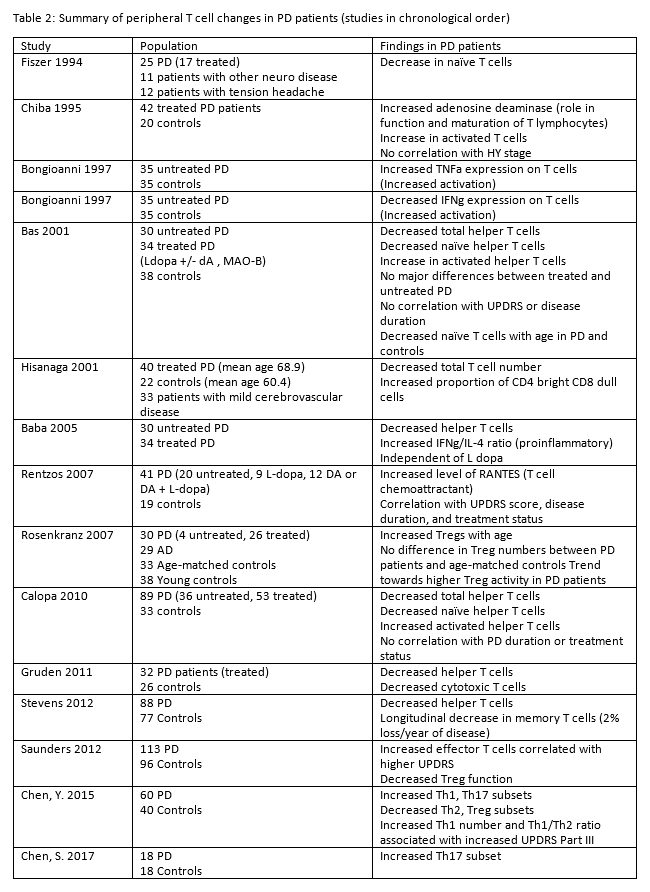 Conclusions: The last few decades of Parkinson's disease research have produced an enhanced understanding of the neuroinflammatory basis for this neurodegenerative disease. The T cell response is central to many of the most promising neuroprotective therapies awaiting translation to human subjects.
To cite this abstract in AMA style:
J. Baird, J. Quinn. T lymphocytes in Parkinson's disease pathogenesis and therapy: A systematic review [abstract].
Mov Disord.
2018; 33 (suppl 2). https://www.mdsabstracts.org/abstract/t-lymphocytes-in-parkinsons-disease-pathogenesis-and-therapy-a-systematic-review/. Accessed November 29, 2023.
« Back to 2018 International Congress
MDS Abstracts - https://www.mdsabstracts.org/abstract/t-lymphocytes-in-parkinsons-disease-pathogenesis-and-therapy-a-systematic-review/